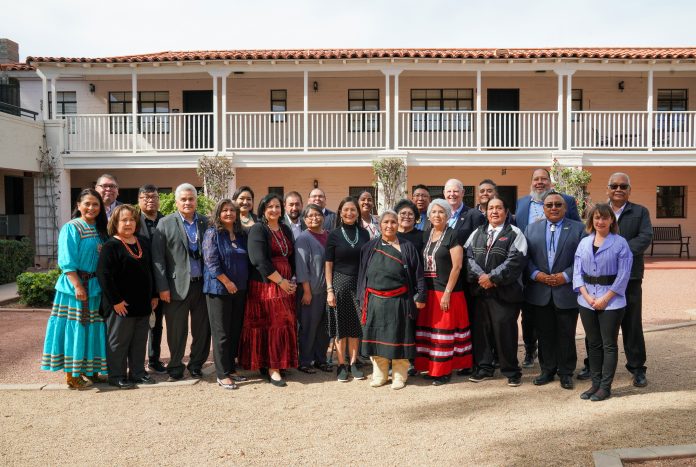 On February 21, Secretary of the Interior Deb Haaland (Laguna Pueblo) made a stop at the office of the Inter Tribal Council of Arizona (ITCA) in Phoenix with Congressman Tom O'Halleran for a listening session with tribal leaders and a discussion of the Bipartisan Infrastructure Law.
The Bipartisan Infrastructure Law is bringing $13 billion to Indian Country, including $216 million for climate resilience programs and $250 million to support water and health infrastructure.
The Department of the Interior said that these investments will help bolster community resilience, replace aging infrastructure, expand access to clean drinking water, and ensure that everyone has access to high-speed internet.
At the session, each tribal leader was able to voice the concerns they are having within their communities.
Salt River Pima-Maricopa Indian Community President Martin Harvier said he was thankful that Haaland is emphasizing better communication with tribal leadership when it comes to issues that affect Native American communities.
With a seat at the table, he discussed issues that are important to the Community.
"For so long, when issues involving tribes have been discussed, it seems like the tribes aren't there until a certain point," said Harvier.
"One of the things that we are concerned about is the protection of cultural items that are located throughout the area and the state. We are concerned about a current case going on and—again—how tribes aren't a part of the process until they are told that there is an agreement that's been made with some of the individuals that committed the crimes. It's a big concern that the Four Sister Tribes had because we were all listed as victims but we were not a part of the plea agreement negotiations."
Harvier also shared that the Community hopes that the land buy-back program, in which funds were given to tribes with land that was highly fractionated, would continue to be funded.
The ITCA provides a united voice for 21 tribal nations in the state, and hosting the discussion at their headquarters showed how tribal leaders can be unified for a common cause.
As a nonprofit organization, the ITCA is not permitted to engage in any discussion about legislation, so it has a separate political advocacy arm, the Inter Tribal Association of Arizona (ICAA), which hosts meetings with tribal leaders, roundtables and listening sessions.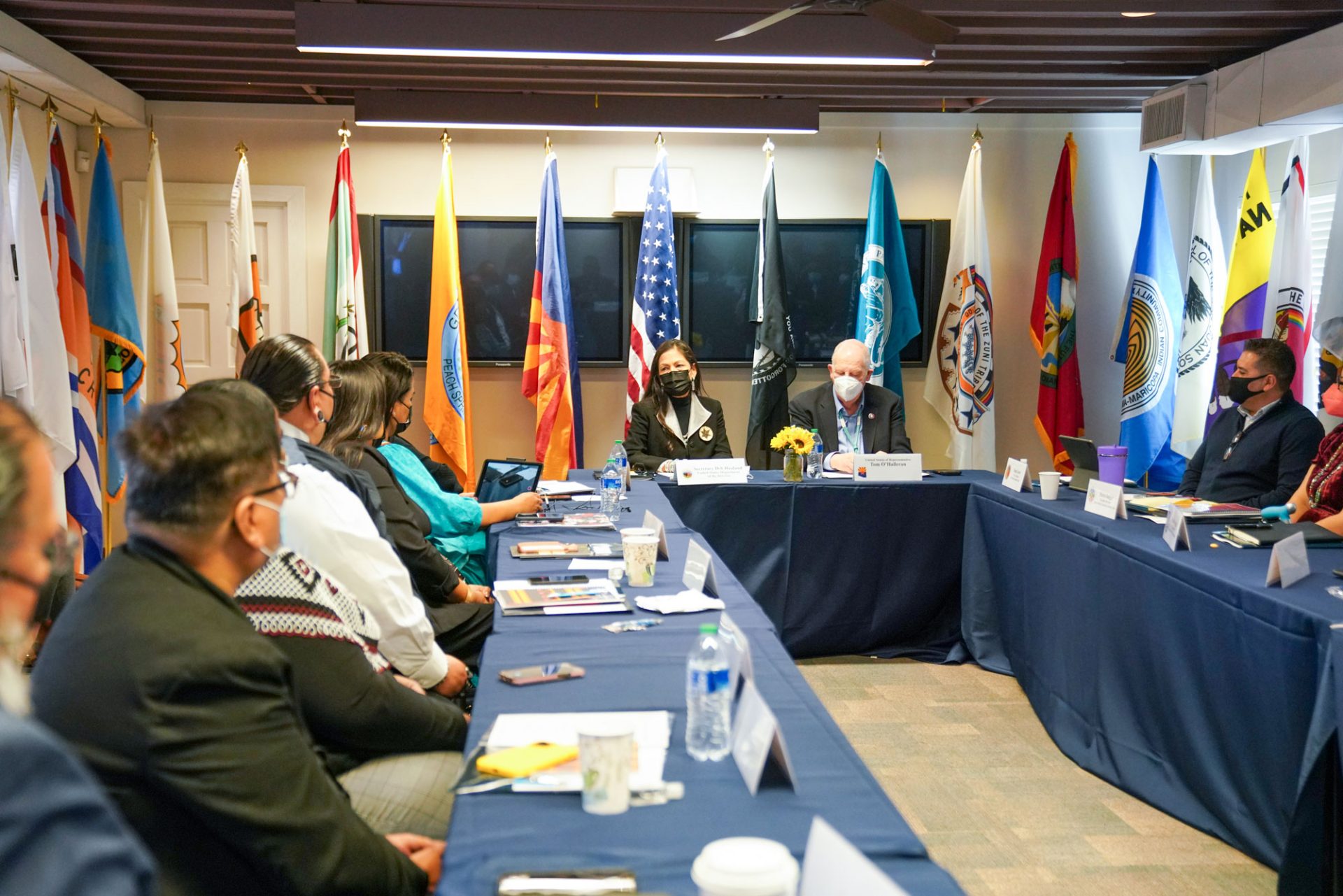 ITCA Executive Director Maria Dadgar said that Secretary Haaland wanted to meet with the highest elected officials for the 21 tribes. "We went to work right away on short notice. We had a wonderful meeting," said Dadgar.
On February 22, Haaland, Arizona Senator Mark Kelly, Chairman Raúl Grijalva, and Congress members O'Halleran, Greg Stanton and Ruben Gallego visited the Gila River Indian Community to talk about the new announcement that, following feedback received from tribal consultation, the Department of Interior will allocate $1.7 billion from President Biden's Bipartisan Infrastructure Law funding this year to fulfill settlements of Indian water rights.
In a press release, the Department of Interior said that, working in consultation with tribes, "this funding will help deliver long-promised water resources to Tribal communities, certainty to all their non-Indian neighbors, and a solid foundation for future economic development for entire communities dependent on common water resources."
"Water is a sacred resource, and water rights are crucial to ensuring the health, safety and empowerment of tribal communities. With this crucial funding from President Biden's Bipartisan Infrastructure Law, the Interior Department will be able to uphold our trust responsibilities and ensure that tribal communities receive the water resources they have long been promised," said Haaland.
"I am grateful that tribes, some of whom have been waiting for this funding for decades, are finally getting the resources they are owed."
A total of $224 million will be invested in building out the infrastructure for the Southern Arizona Indian Water Rights Settlement with the Tohono O'odham Nation and will fund the White Mountain Apache Tribe's Water Rights Settlement and complete the Gila River Indian Community Water Rights Settlement.
The Bipartisan Infrastructure Law's Indian Water Rights Settlement Completion Fund and funds available from the existing Reclamation Water Settlement Fund make it so that the following tribes and settlements will receive funding this year: New Mexico's Aamodt Litigation Settlement (Pueblos of San Ildefonso, Nambe, Pojoaque and Tesuque), Blackfeet Nation, Confederated Salish and Kootenai Tribes, Crow Nation, Gila River Indian Community, Navajo-Utah Water Rights Settlement and Navajo-Gallup Water Supply Project, San Carlos Apache Nation, Tohono O'odham Nation and White Mountain Apache Tribe.
"Securing Arizona's water future means ensuring the federal government follows through on its commitment to our tribal communities. It's why I worked on the Bipartisan Infrastructure Law to fully fund Arizona tribal water settlements, which will benefit our entire state's water supply while also completing water infrastructure projects needed for tribal communities to access clean, reliable drinking water now and for generations to come," said Senator Kelly, a co-author of the tribal water settlement provisions in the Bipartisan Infrastructure Law.
Later in the day, Haaland, Arizona Senator Kyrsten Sinema, Phoenix Mayor Kate Gallego, O'Halleran and Stanton visited the Salt River to discuss the Urban Waters Federal Partnership and the Rio Salado Project that aims to protect, restore and revitalize the Salt and Middle Gila River Watershed.
"Over the last year, there has been a dramatic shift in how we engage with Indian tribes. We are ensuring that Indigenous people have a seat at the table before decisions are made," Secretary Haaland tweeted on February 22. "Tribal leaders know what is best for their people, and I am grateful to the ITCA for hosting yesterday's listening session and discussion."