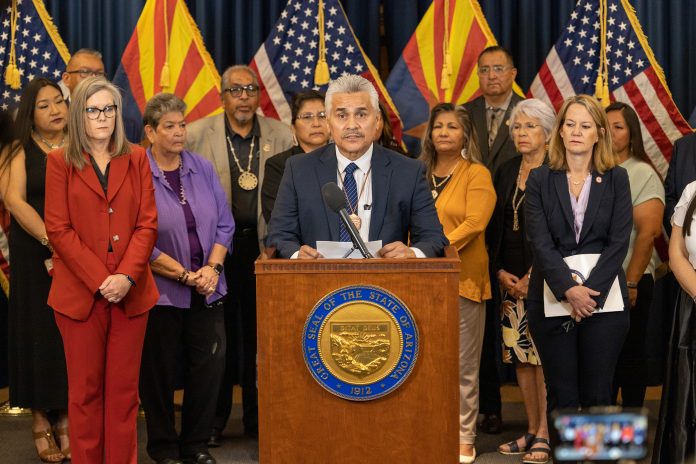 On May 16, Arizona Governor Katie Hobbs, Arizona Attorney General Kris Mayes and tribal leaders gathered at the state capitol for a press conference addressing the fraudulent billing practices of certain behavioral health treatment centers across the Valley.
"Today we are announcing actions against over 100 providers of behavioral health, residential and outpatient treatment services that we have credible reason to believe have defrauded the state's Medicaid program of hundreds of millions of dollars," said Hobbs in her opening address before the local media.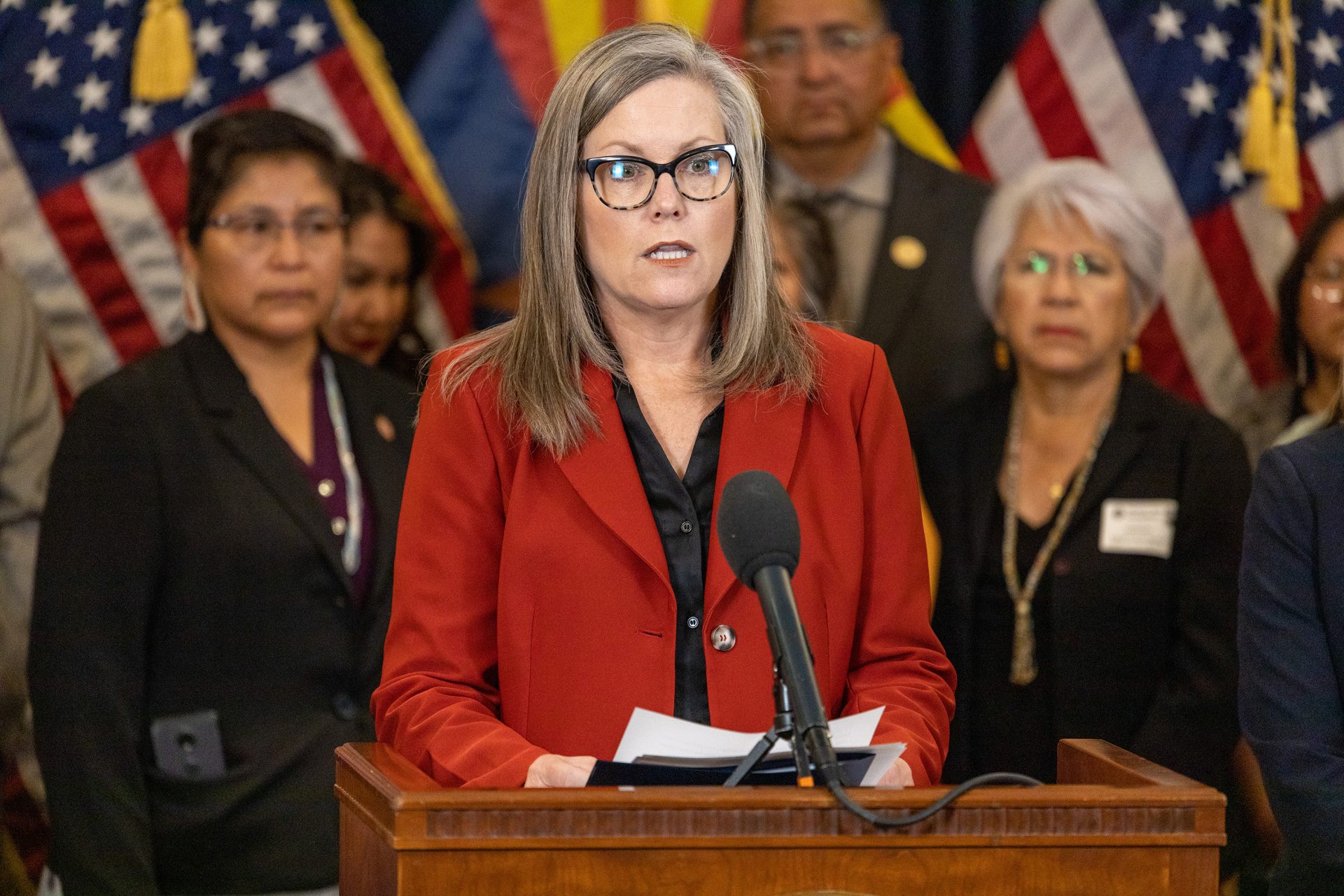 "It's alleged that these providers target the most vulnerable people, offering them the false promise that they will be given food, housing, and access to treatment at a group living home or rehab facility. People are then left in these facilities without proper access to healthcare and treatment services."
Hobbs said many who were recruited to enter these treatment facilities were from rural tribal communities, who were then exploited and cut off from their families and loved ones. "People with nowhere to go and nobody to turn to are isolated by these organizations. People had to escape out of windows and jump over fences in the middle of the night just to access a phone to reach the outside world," said Hobbs.
Following Hobbs' address, Mayes said, "Our new administration is taking aggressive action to stop fraudulent Medicaid billing practices by scam artists masquerading as legitimate behavioral health service providers."
She thanked Arizona's tribal leaders for continuing to advocate for changes to "a system that allowed these alleged crimes to occur, harming vulnerable individuals and deceiving taxpayers." Mayes said, "For very nearly three years, special agents and investigators at the Arizona Attorney General's Office, the AHCCCS Office of Inspector General, and our law enforcement partners at the federal level have been investigating [these cases], indicting, pursuing financial remedies and attempting to disrupt these fraudulent bad actors."
The Arizona Health Care Cost Containment System, or AHCCCS, is Arizona's Medicaid program.
How do these "bad actors" under the guise of behavioral treatment facilities work?
Mayes said, "Generally they began with fraudulent treatment facilities recruiting Native Americans, typically those residing on a reservation or part of the urban homeless population. These vulnerable individuals are incentivized to participate in … 'treatment' at an outpatient clinic with offers of things like free food, cash incentives or free rent."
Once they are recruited into a treatment facility, they are given a simple intake process through which the bad actors obtain personal information and their AHCCCS identification card. Mayes said, "If the potential patient was not yet eligible for benefits under the American Indian Health Plan, the fraudulent behavioral health facilities contacted AHCCCS [and then obtained] eligibility for the patient based on the unchallenged assertion that the patient was eligible for the plan simply by being Native American."
Mayes added, "These scammers didn't even bill AHCCCS for people they were in contact with; they simply purchased lists of names and dates of birth of people and used those to bill AHCCCS. They also billed for services that were impossible to render. In one case, we discovered that AHCCCS had been billed for more than 13 hours a day for alcohol rehabilitation services to a 4-year-old. This poor child was not in one of the facilities and did not need alcohol rehabilitation."
Stories like these and countless others have been the backdrop for several instances where fraud and mistreatment have been present in these treatment facilities. Mayes said, "The human impact of this fraud is the most heartbreaking of all. While these scammers are using random ID's to bill for millions of dollars worth of services, thousands of Arizonans are in real need" of services that are being wasted.
SRPMIC President Martin Harvier, who spoke at the press conference along with other tribal leaders and representatives, said, "This crisis is a direct result of the predatory practices of many behavioral health facilities that have targeted our tribal members who are most in need. I want to thank you personally for the hard work that you and your teams have done over the last couple of months to help tribes resolve this crisis."
He said Governor Hobbs' administration has been steadfast since taking office on January 2, which shows that her office is committed to not only recognizing the problem, but also directing state and federal agencies to act.
"Our community has established a team that includes members from our Department of Health and Human Services, our Community Development Department, our police department and our communication team who are all working to provide services to Community members that may be displaced [by these fraudulent treatment centers]," said Harvier.
He added that it takes a coordinated effort through communicating with the Federal Bureau of Investigation and local law enforcement to place crimes that may include missing and murdered Indigenous people on their watch list.
He also mentioned the Community's own residential treatment facilities as places where Community members can obtain treatment without traveling off of tribal lands.
Carmen Heredia, director of AHCCCS, said, "We are working together in cooperation with our esteemed attorney general, Kris Mayes, as well as multiple agencies and law enforcement represented here today. First and foremost, … we have to make sure that AHCCCS members can receive the services they need and deserve. To that end, we have instituted a hotline at 211 that will provide guidance for affected members when they have questions about their Medicaid services."
A new website, www.211Arizona.org/MMIP, has been established to respond to any individual who feels they have been impacted by a fraudulent treatment center. Calling the 211 hotline can provide mobile crisis teams ready to deploy when members need hands-on, immediate behavioral health services, transportation or care coordination, and coordination of immediate housing, transportation and health services related to a provider's closure.
Heredia added that her office is working to equip law enforcement agencies with guidance and materials to help any individual they may come into contact with who's been targeted. In addition, AHCCCS has suspended payment to the 100-plus fraudulent treatment facilities and is developing a recommendation on how to further hold these parties accountable.
With a multifaceted approach, the state of Arizona, tribes and federal partners are addressing this issue to prevent more individuals from falling victim to predatory treatment centers.