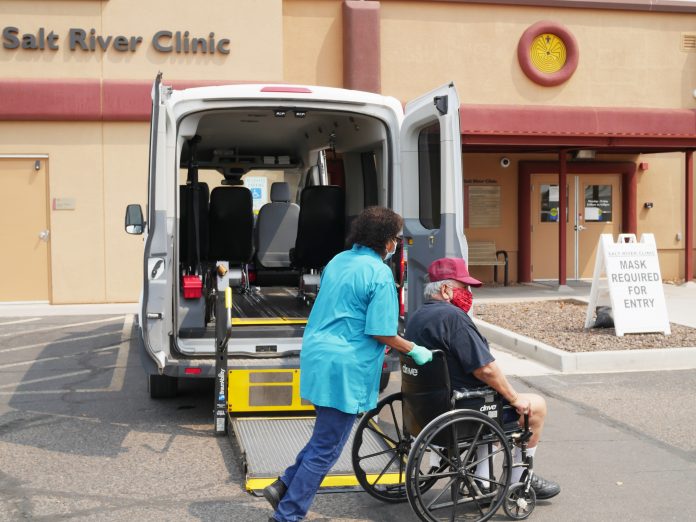 The last issue of O'odham Action News featured a variety of essential workers in the Salt River Pima-Maricopa Indian Community who have made an impact on the Community and kept it running smoothly during the COVID-19 pandemic.
This article will focus on Health Service Transportation drivers in the Health & Human Services Department. The drivers pick up Community members for medical appointments, many of them for dialysis. Drivers are trained in the Community Health Representative (CHR) role.
The CHR program is a unique concept for providing healthcare, health promotion and disease-prevention services. CHRs have demonstrated how they assist and connect with the Community, and their work has become essential to the spectrum of tribal community–oriented primary healthcare services.
According to the Indian Health Service, CHRs are great advocates, in part because they are familiar with the communities they serve and have tribal cultural competence. Their dedicated work has assisted many Community members in meeting their healthcare needs. The health promotion and disease-prevention efforts that CHRs provide have also helped people from the Community improve and maintain their health. By providing health education and reducing hospital readmissions, CHRs have contributed to lowering mortality rates. The demand for CHRs continues to grow.
We talked with a few of the drivers about what it has been like working during the pandemic in such an important role.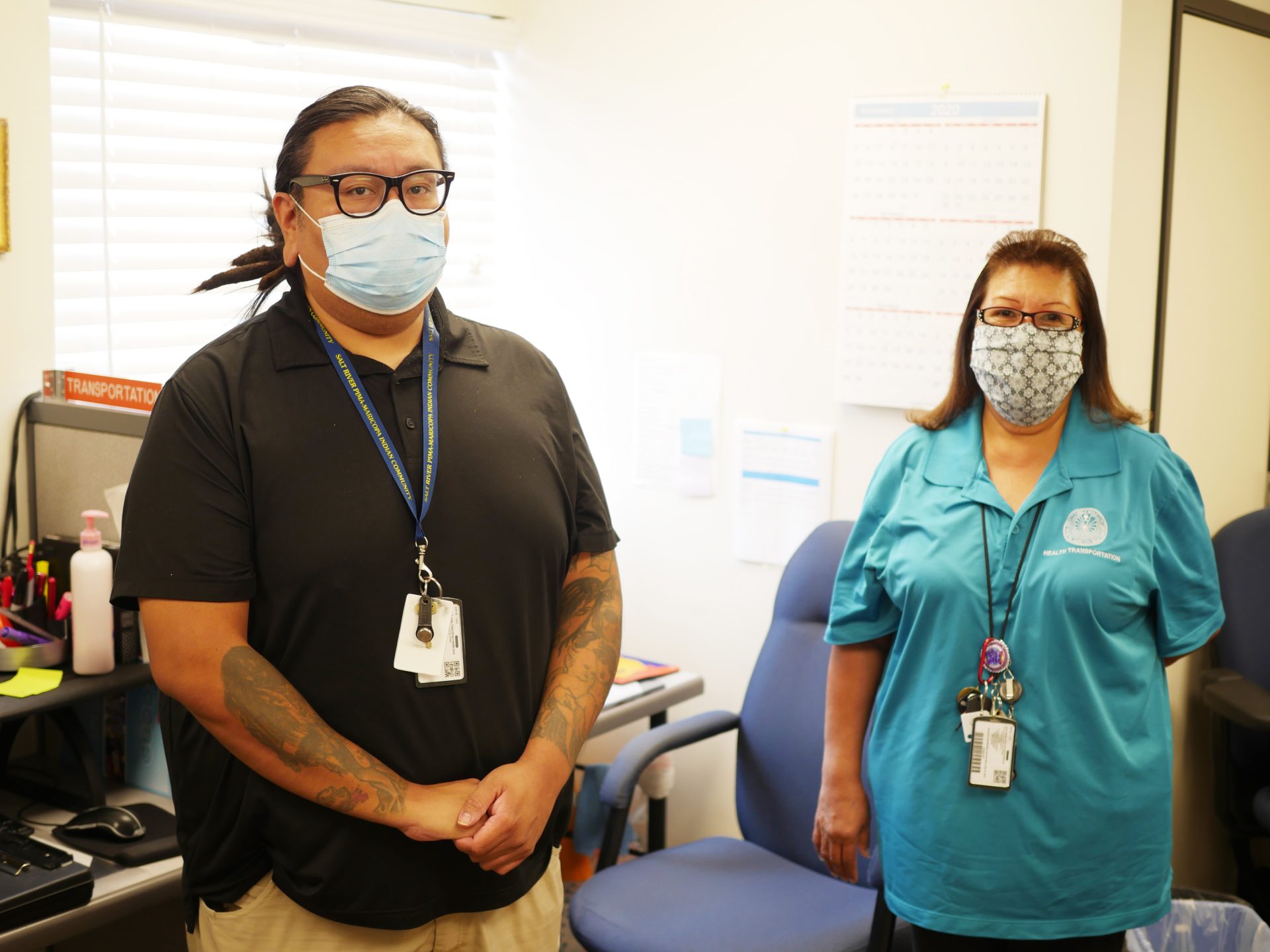 Q: What are the drivers' duties, and what is the schedule like for drivers?
Celeste Lomavaya: The schedule changes all the time; there's something new and interesting every day. We mainly transport people to dialysis and pick up prescription medications for people who don't have transportation. The job has changed a lot since COVID-19; now we only go if it is dialysis or another really important appointment.
Tina Lewis: We pick people up for any medical appointment. During the COVID quarantine, it's mostly for dialysis. Every two weeks we change schedules. I like the early morning best, because we are so busy with that schedule that the shift goes by really fast.
Cheryl Montaño-Lewis: Our schedule changes every two weeks. I like it because we get to see different people all the time.
Kevin Jose: I like my schedule. I like how it changes. I like the opportunity to meet different Community members and other clinical staff. I like knowing all the staff in the different clinics like [SRPMIC] Behavioral Health, the Salt River Clinic, Wellness and dialysis.
Q: What are HHS employees doing during the pandemic to keep the Community going strong?
Cheryl: Transporting clients to their appointments so that they stay healthy, especially dialysis patients who shouldn't miss their treatments.
Kevin: We encourage Community members to stay healthy and stay home. We get a chance to reinforce the "Zero Hero" message. We get to encourage Community members to take care of themselves: wear a mask, wash their hands, take care of their family.
Tina: We have always worn gloves, but now we wear masks all the time as well, to keep everyone safe. We wipe our vans down after every client, not just at the end of day. We also require clients to wear their masks in the van.
Q: What are your experiences as essential workers during this time?
Celeste: Our clients are really thankful. They tell us to be safe. They are glad we are still here to transport them to appointments.
Tina: We knew we had an important role in picking up and driving clients. But with the virus, it was scary. The patients we take already have a medical condition, so we had to be even more careful because we want to keep them and ourselves safe. The patients are so grateful and thankful. They thank us every time we transport them. It gives us a good feeling to know that they appreciate what we do, but it is more important to know that we are helping them out.
Cheryl: It has been harder during this time because we have to wear our masks all the time and wipe everything down after every transport. We have to do that to keep everybody safe.
Kevin: We have had to be a lot more careful during this time. We have the responsibility for the health of our clients, and what we do reinforces the message that we care.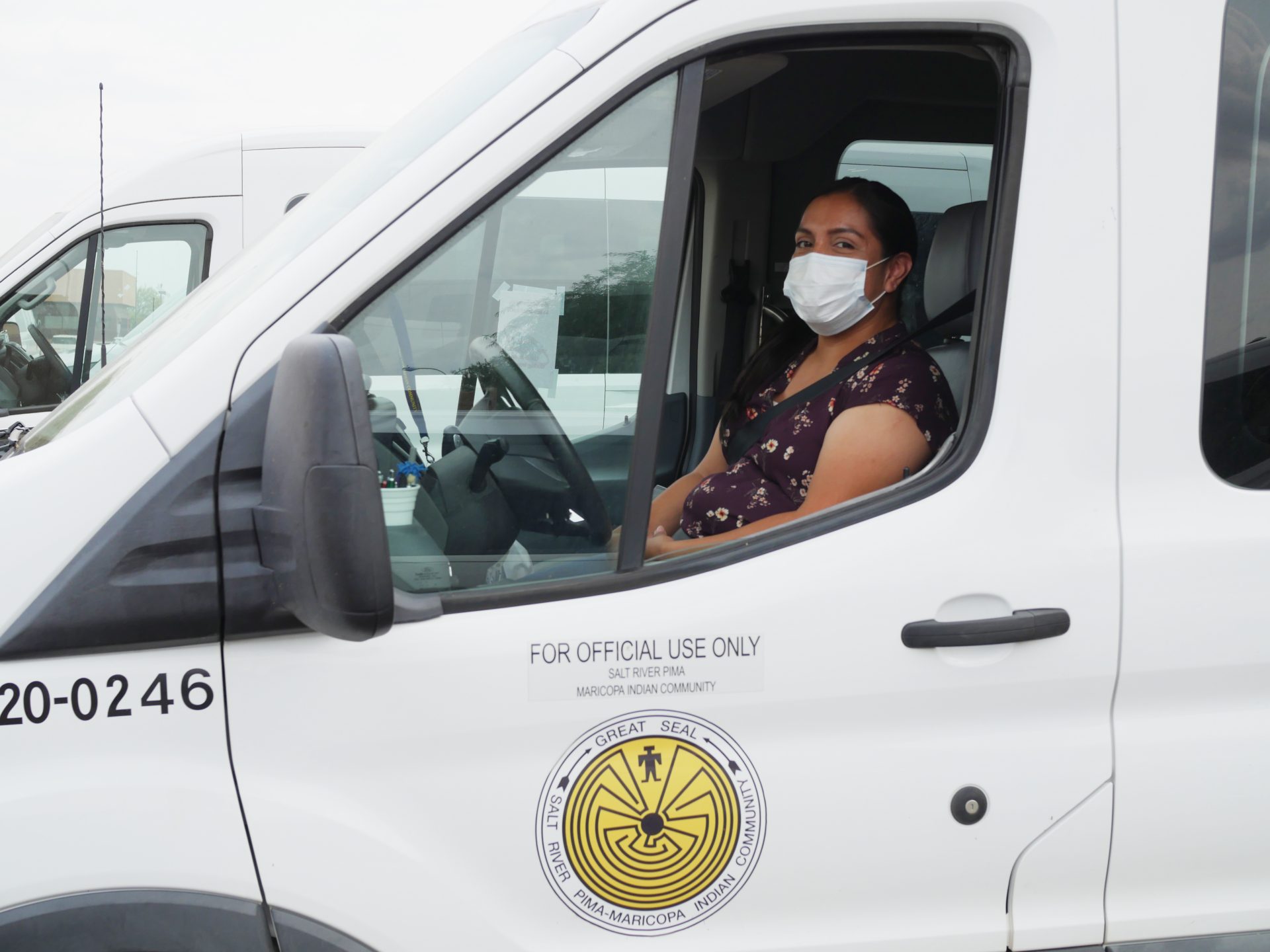 Q: What are the challenges that the department is facing?
Celeste: [We are] short-staffed because we didn't hire. It takes longer [for pick-ups] due to cleaning between customers so we can stay safe.
Tina: I find it challenging when clients are not ready when we get to their home. We can only transport one family or client at a time, so if a client isn't ready, it might make the next client late. I will call my supervisor and she will go pick up the next client so that I can wait for the client who is running behind.
Cheryl: We are short-staffed sometimes. We mostly transport dialysis patients, because most other medical clinics are doing telehealth visits when they can.
Kevin: It is a challenge to be careful so that we don't get sick. We are a small team and we work together great. We are supportive of each other. We are like-minded and all really care about our clients.
Q: What are some of the positives coming from your experiences?
Tina: I have learned to be more aware and ask more questions of the clients so that I know what is going on. I knew what was going on before COVID, but I am more careful to talk to my clients now about how they are doing.
Kevin: This has been an amazing experience to work with such a great team.
Q: Is there anything else you would like to add?
Celeste: We have a really good team. Everybody has been giving 100%. We have been working hard to continue doing what we do.
Tina: Our boss is brilliant. Melinda Thomas has been a really good leader. She has taught us a lot, and she is always willing to help us by transporting patients when we need that done. We are a good team.
Cheryl: It makes our work a lot easier because our team rarely calls out sick. Everyone shows up and spreads out the work.