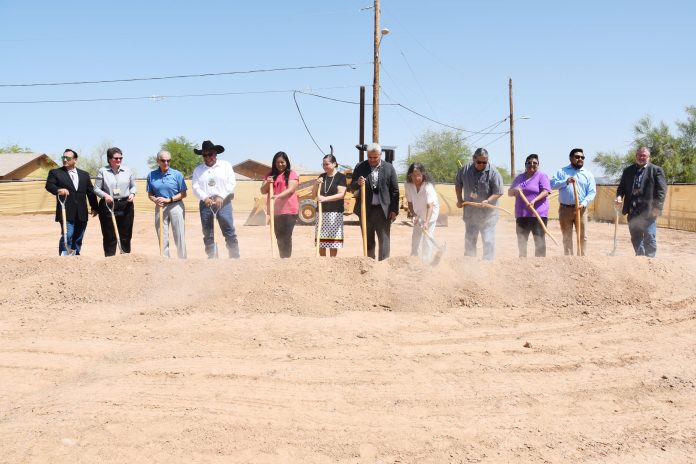 On May 3, a new "Building the Future of Housing" initiative officially broke ground in the Salt River Pima-Maricopa Indian Community at the Lonely Cactus Expansion Rentals site.
The Lonely Cactus Expansion Rentals will be located across the street from the Way of Life Facility (WOLF) and will feature six new units in a "triplex" layout, each with two bedrooms and two bathrooms.
Christi Andrews, assistant director for the SRPMIC Community Development Department, was the emcee at the groundbreaking, and Council Member Tom Largo provided the blessing.
"We're truly happy to be able to serve the seniors and disabled Community members first. This groundbreaking today is the first of many," said Andrews. "One thing that makes this a truly remarkable day and event is that this [residential development] is 100% tribally funded. Historically, the tribe has been very dependent on grant funds to support housing. With this being tribally funded, it allows for flexibility to provide more housing opportunities within the Community that meet our needs."
SRPMIC President Martin Harvier said that this groundbreaking was a very important occasion for the Community. He explained that, a little over three years ago, Council sat down as a body and each member was asked to write down the most important goals they wanted to accomplish during their time in office. The lists were compared to see which issues came up most often.
"The number-one [goal] was housing," Harvier said. "So I know that Council is committed [to increasing housing opportunities]. In the next couple of weeks, there will be groundbreakings for other housing units here in the Community."
Those events will be for the Social Services Young Adult Program, or PALS, which consists of two quadplexes and two triplexes, for a total of 14 new units; and the Mesquite Trails Rentals, which will consist of four quadplexes and one duplex, for 18 new units. There will also be new transitional and temporary housing which will consist of 31 single and double tiny living units.
Community member-owned MayDall Construction will be building the housing, and company president David Dallas was present at the groundbreaking.
"It's important, in all of the development that we do here in our Community, to have our own (Community-owned businesses) build these units," said Harvier. "It's going to be a quality development."
Future Lonely Cactus residents introduced themselves at the groundbreaking before SRPMIC Vice-President Ricardo Leonard talked about the importance of Community members having a safe place to live.
"This is where the Phoenix water line came through. Our people used to call it 'miracle water'. We cooked our beans in it," Leonard said about the Lonely Cactus development site. "It's a sign of the times that we put homes on this [land]. These homes are going to benefit quite a few people in the Community." Council, Community partners and Community departments ended the ceremony by gathering for a photo opportunity and the official groundbreaking with shovels turning the dirt.