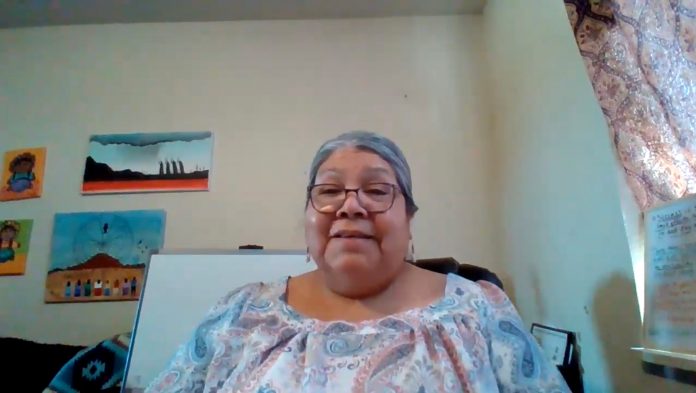 On March 17, Salt River Schools (SRS) held a virtual O'odham Language Family Event to help students learn O'odham vocabulary words for colors, numbers, nature and household items.
The streamed video event was hosted by Teresa Gonzales, one of the Education Native Language Culture (ENLC) instructors at SRS, and featured a scavenger hunt with prizes for students enrolled at the Early Childhood Education Center, Salt River Elementary School and the Accelerated Learning Academy.
Gonzales went into detail about the differences in pronouncing O'odham words compared to how they might be pronounced in English.
The video started off with colors in O'odham, one of them being svegium (pink). Next were some things you would see outdoors, such as a hodai (rock) or gogs (dogs). After that came household items; huasa'a means "plate" in English. Finally, the numbers from 1 to 10 were taught (or hemako to vestma:m).
The O'odham vocabulary words were part of the scavenger hunt, for which students used their cameras. Students picked out 10 of the words from a list covering all of the categories. They took photos of the items they identified at home or out in the Community and emailed them to instructor Hilary Richards with their name, school, grade and homeroom teacher by March 19. Winners received an email indicating where to pick up the prize.
SRS Language Culture Specialist Ipa Dutchover said that the event went great.
"I feel these events that we put on for the Community are very important. There are many students who are interested in learning the O'odham language and the culture, and who also do a good job in the class, but once they leave [the classroom] there aren't very many speakers in the Community for them to practice with," said Dutchover. "These events give the opportunity for our students and their families to learn together and use our language every day, no matter how little it might be. We need to normalize using our language everywhere within our Community, from home to gatherings to the office. It's the only way we are going to preserve what we have. It's what makes us unique from the rest of the world. Dai Hegai!"