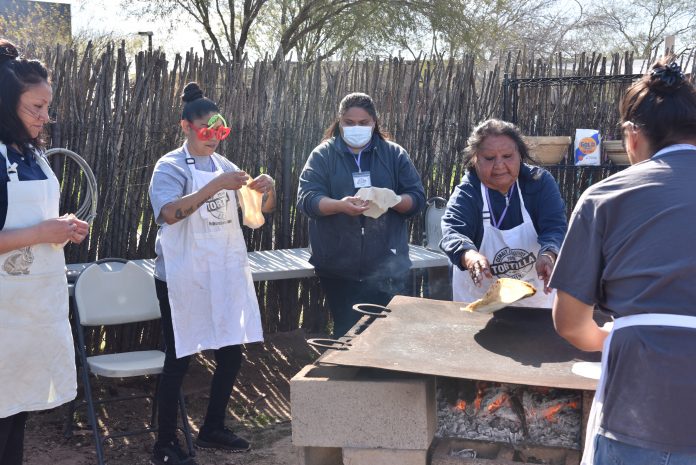 On Saturday, March 18, the Salt River Pima-Maricopa Indian Community Cultural Resources Department held the 2023 Tortilla Festival at the Huhugam Ki: Museum. (The word "tortilla" is cemait in O'odham and modiily in Piipaash.)
The first tortilla festival in the Community was held in 2019, but the event then was put on hold for the next two years. Now that COVID-19 precautions are lifted in the Community, the festival is once again back and full of fun for everyone.
Sharilyn Belone (baḍ) was a big part of the first festival and was the instructor for the tortilla-making classes at the time. Museum manager Gary Owens said that the festival was carrying on in her honor.
"We couldn't have done [this festival] without Mrs. Belone (baḍ), because she was so knowledgeable," said Owens. "Her belief and her strength was in teaching adults and children to make tortillas. If we didn't have that, we wouldn't have even tried [to put on] the festival."
Owens said that growing up in Salt River, everybody made tortillas. "You couldn't toss a tortilla without hitting somebody who made tortillas," he said. So the CRD decide that it would be a great idea to have a festival about nothing but tortillas.
"We wanted to make sure that people coming here got a tortilla, either as a sample, by making their own or taking a class," Owens said. "What people don't realize is that there were Community members who went and helped Los Olivos to make tortillas for their restaurant in the early days."
Owens also said that businessman Charles T. Hayden got the idea to mill flour from the Community members living here and on the Gila River. He had first established and operated a ferry service taking people and freight across the Salt River, in 1871, before building the Hayden Flour Mill.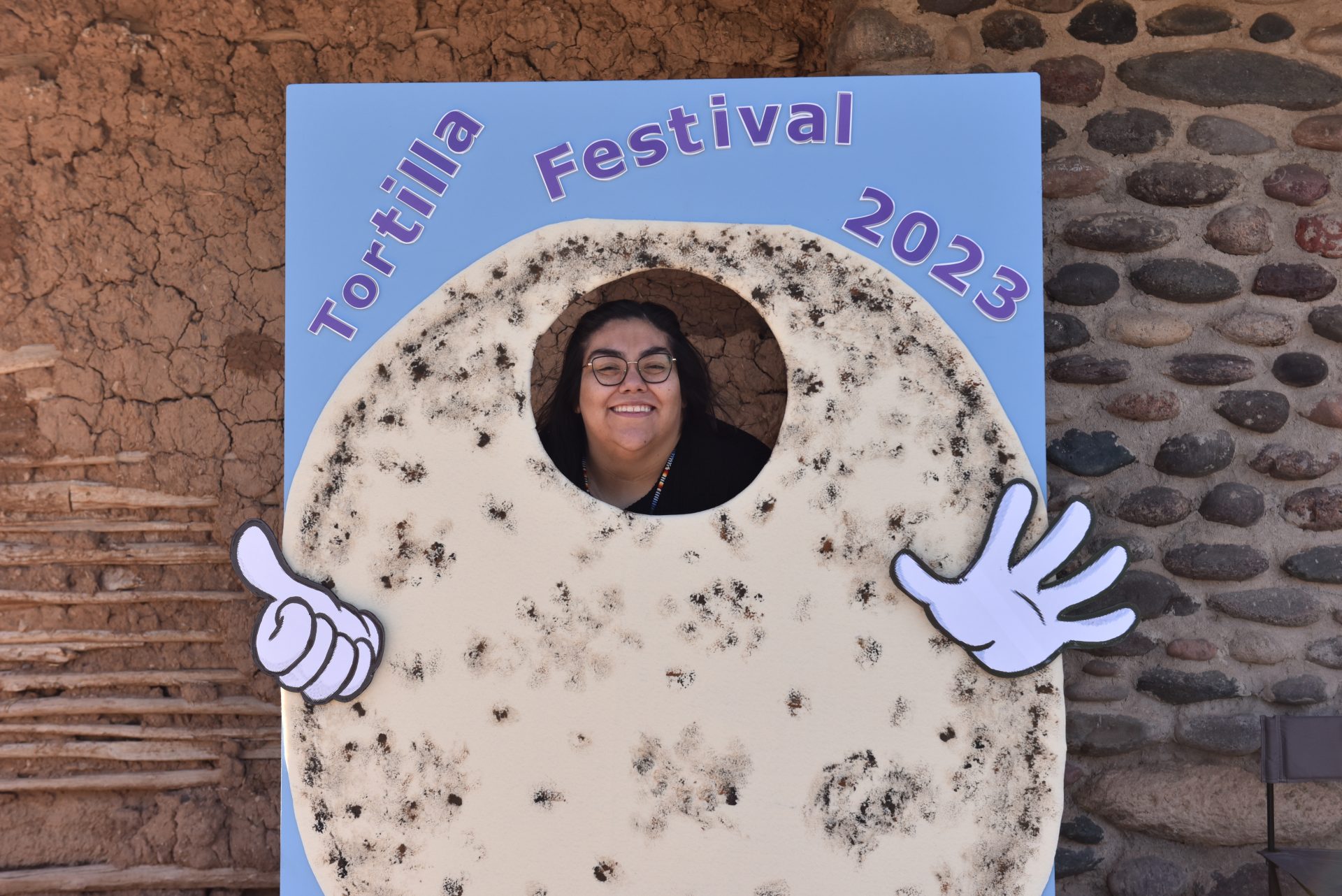 Attendees enjoyed their food and gathered under a tent to listen to the band Two Waters, who played cumbia music in front of a backdrop showing a large image of tortillas. They played a special birthday cumbia dance for CRD Director Kelly Washington.
Other tortilla-inspired fun included throwing tortilla-like discs onto a target and getting your photo taken with your face in the middle of a tortilla picture.
The CRD Community Garden team held demonstrations on cutting firewood and building a fire, and the nonprofit seed conservation organization Native Seeds/SEARCH distributed resources for Native gardeners and farmers, as well as seed packets.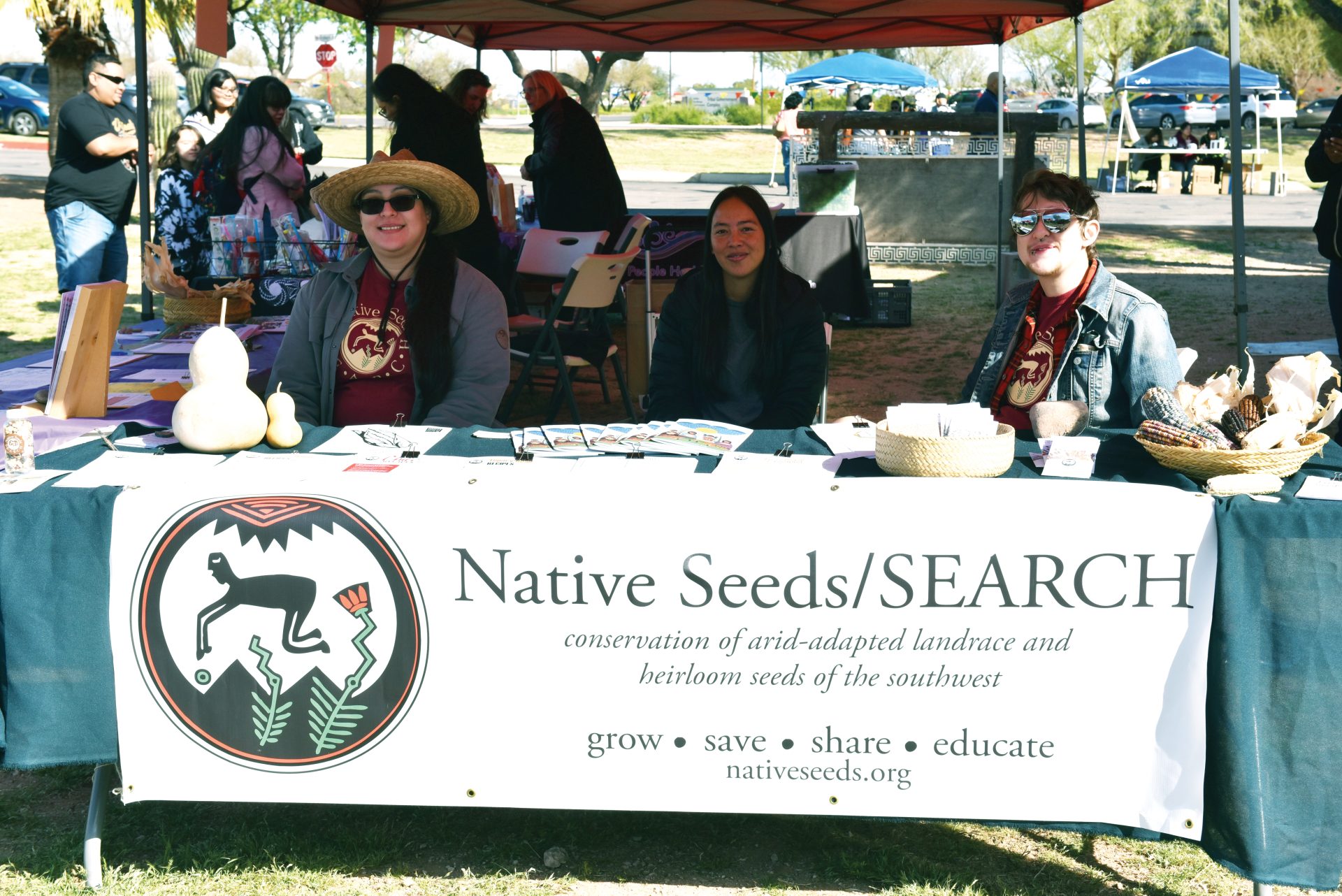 "The packets we handed out [contained seeds for] the Ki:kam Hu:n (60-day corn), the S'oam Bawi tepary beans and the Pima Club wheat. [These] are varieties that originated from the Gila River and Tohono O'odham communities," said Native Seeds/SEARCH seed conservation associate Helena Gonzales.
Other booths provided information about the traditional O'odham and Piipaash uses of saguaro and mesquite pods, and the tools used to gather and process them.
The information booth gave out promotional items such as measuring bowls and a booklet with easy step-by-step instructions for making traditional cemait and modiily.