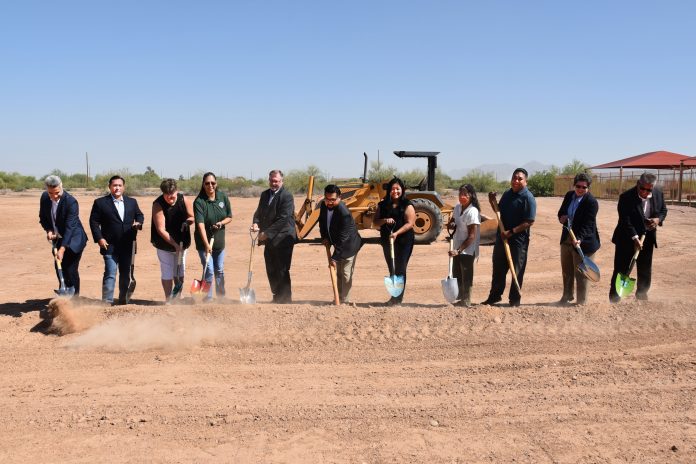 On May 9, the Salt River Pima-Maricopa Indian Community broke ground on the new Program to Develop Adult Living Skills (PALS) housing facility, located on the northeast corner of Alma School and Osborn roads.
The new housing for PALS, a Social Services program that helps young adults transition into adulthood, will have 14 new two-bedroom/two-bathroom units.
Present at the event were Council members Cheryl Doka, Diane Enos, Michael Dallas and David Antone.
"We want to teach all these young adults what it is to have the responsibility to have someplace to live," said Antone, who spoke at the groundbreaking event. "We went through it, and we learned from it. It's a great idea, and a great project."
Social Services Director Stephen Hudson said that the seeds of the program began between 2000 and 2004, when the Community conducted a needs assessment and a grant proposal was written and submitted.
"I want to thank the people way back when; they were thinking about how we could actually have a program to help young adults transition to adulthood," said Hudson. "Nowadays, housing is a major issue—not only in the Valley, but across the nation. Young people are definitely looking for a place to live and thrive."
All funding for this housing project came from the Scottsdale AutoShow, a project that was headed by former Engineering and Construction Services Director Todd Auger and current Community Development Department Director Stacey Gubser, among many others.
The PALS housing facility is within walking distance of many tribal government services, which will be helpful to residents without transportation.
Some of the shovels used for the groundbreaking were painted by four residents and group home staff. They were asked to paint something that represented their culture and to give it their own personal flair.
At the event, new street signs for the site were displayed: Hu'u Vo:g (Star Road in O'odham) and Kui Vo:g (Mesquite Road in O'odham).