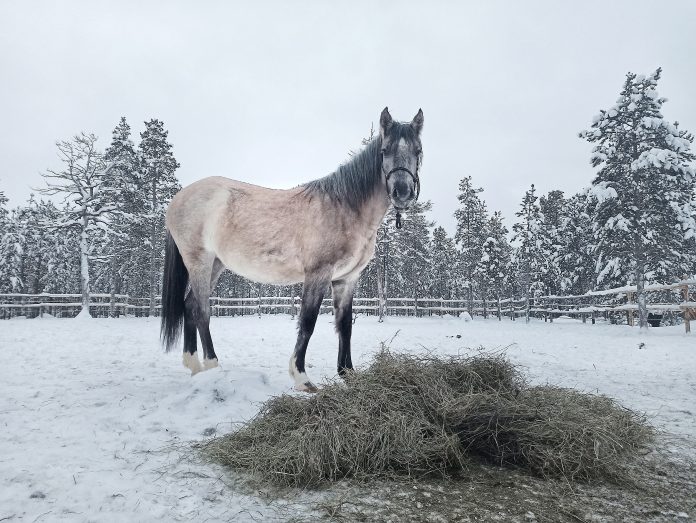 The Salt River Pima-Maricopa Indian Community wild horses are a sacred and protected part of the Himdag (way of life), and each horse within the Community is unique, with its own features and personality. One of the strongest attributes these horses share is their ability to adapt to different environments. 
In fall 2020, a SRPMIC mustang named Nube ("cloud" in Spanish) began an incredible journey that would lead her to the wintry white wilderness of Lapland in northern Finland. After a summer capture, a 30-day quarantine and a stay in Concho, Arizona, Nube took a nine-hour flight to Europe and then proceeded an extra 1,800 miles to the Muotkatunturi.
When Nube arrived, the temperature was 31 degrees below zero. She was immediately brought into a warm stable heated by a firewood stove. The next day it was a warmer 28 degrees, so Nube was led out into the snow, where Siperia owner Tinja Myllykangas says Nube loves to roll around in her new daily routine.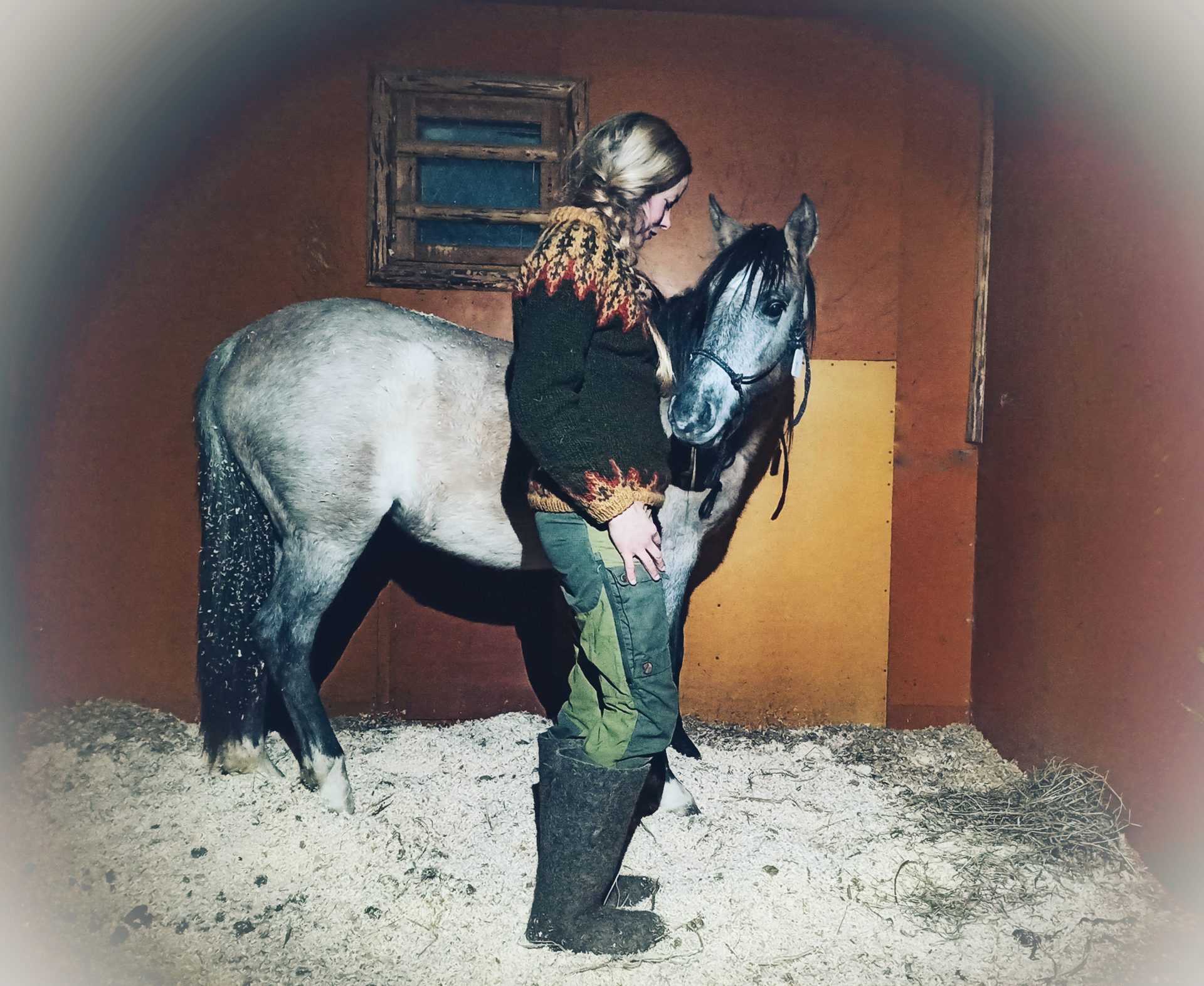 "She is completely full of life and happiness. I really love to work with her; she is really focused and intelligent," said Myllykangas. "We have trained relaxation with her and she is trusting us now perfectly. We are not putting much pressure on her, just making everything as easy for her to trust [us] as possible. And her daily handling is so good."
Initially, Nube was scheduled to arrive after winter, but she started to look pregnant according to the adoptees husband and wife team Amber and Isidro Espinoza, who were Nube's destination in Concho. They checked her progesterone levels checked, and the results indicated that she is very likely in the second half of her pregnancy, so the journey was sped up for Nube. 
The Espinozas specialize in colt starting, problem horses and wild mustangs. They primarily work with the Bureau of Land Management (BLM) and are new to working with reservation mustangs. 
"When we got Nube in for training, we thought she had the perfect temperament and beauty and that Tinja might like her. We contacted Tinja and sent her pictures and video of Nube," said Amber Espinoza. "She immediately wanted her. We then spent a couple months gentling and training Nube enough that she could be prepared for being shipped first via trailer to Houston and then by plane to Europe with many different people handling her."
The Espinozas are involved in what are called Extreme Mustang Makeover competitions, and all mustangs are auctioned off at the end of the competition. , who had heard about the competitions and liked the look of the Espinozas' mare, was interested in purchasing one of the mustangs. That mare's name was Luna ("moon" in Spanish), and she was the first American mustang in Finland. wanted another horse that was trained by the Espinozas, and she ended up importing several more BLM mustangs.
Espinoza really enjoys visiting the SRPMIC wild horses. "They are managed really well in a calm environment where they have only had good interactions with humans," she said. "We have found them to be highly intelligent and willing to work with. We have found them to be by far easier to train than BLM horses, and we believe that is largely [due to] how the herd is managed."
Community Development Department Environmental Protection & Natural Resources (CDD/EPNR) Senior Environmental Specialist Brian Gewecke is responsible for the care of the wild horses in the Community.
"In Finland, it's hard to get horses. These people are particularly excited to have a wild horse that has some of the Spanish conquistador horse traits to them. The horses are very hardy, and they're able to withstand things that domestic horses just wouldn't be able to get through," said Gewecke. 
The Community has only a limited amount of acreage for the wild horses, and adopting out some of the horses helps to keep the herd at a steady, healthy population, Gewecke said. Eleven SRPMIC wild horses were adopted last year. is the first and only Salt River wild horse to travel to Finland and most likely all of Europe. Future adoptions could take place in Germany and France.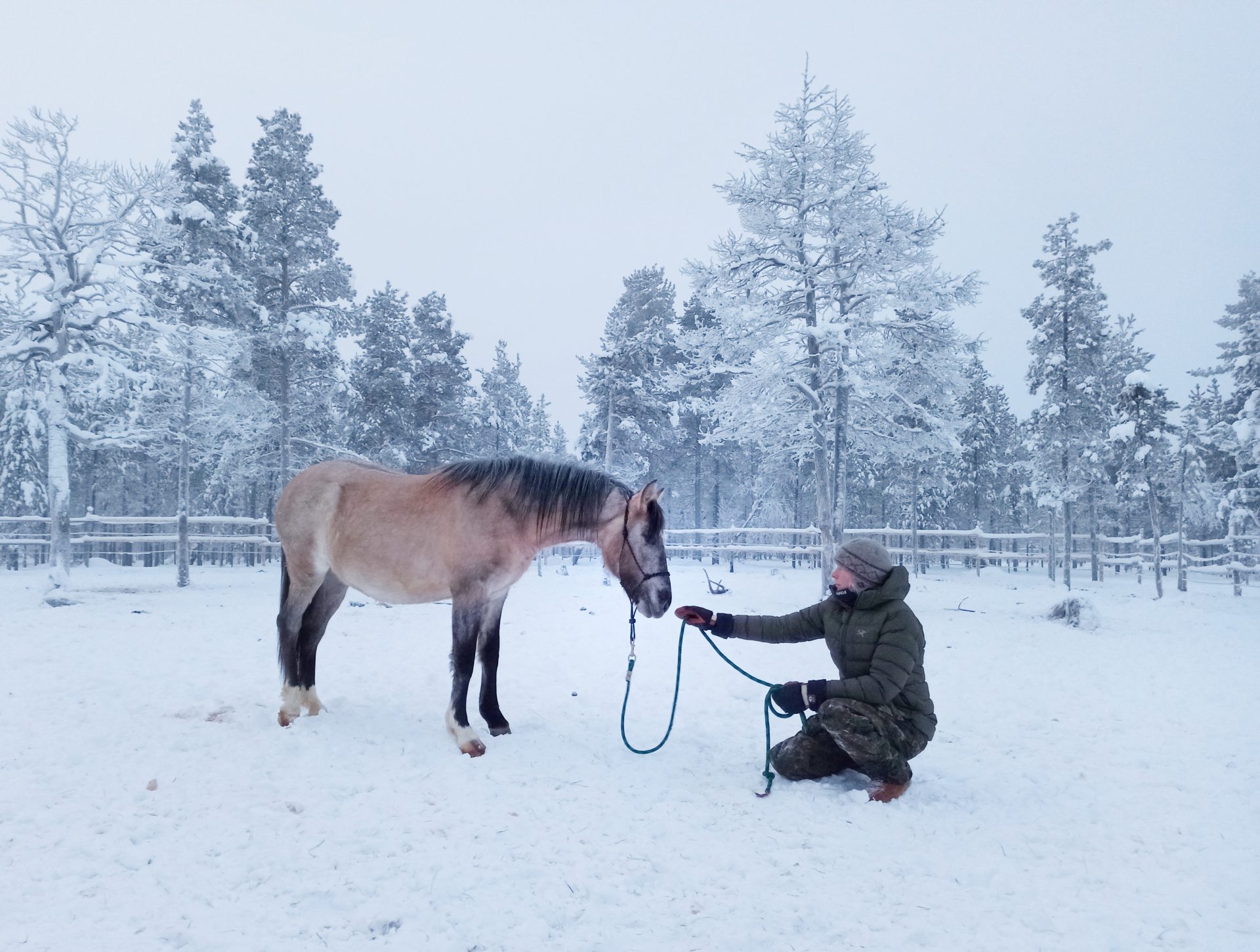 is excited to welcome Nube's foal sometime this spring. Nube is eating plenty of hay, which said is the biggest key to keeping horses warm in Lapland's temperatures. 
The Siperia Arctic experience tourist destination in Finland is the only place in Finland with wild mustangs. They have 13 in total, seven coming from the wild. said that her and her partner Alex are interested in the mustangs because they are made by nature. "Nature makes the best horses. We are learning from mustangs so much about horses and we are willing to let them be happy. Our horses live in groups and their social life is strong but really sensitive. Beautiful. Mustangs are perfect [in all ways]," she said.
"For us, this is a great honor to have a mustang from SRPMIC. [We give you] the biggest thank you for you letting us have this horse."
Besides mustangs, Siperia also has huskies, Arctic sled dogs. The destination operates without electricity or running water and prides itself on being a place to enjoy the natural beauty of the land. Visit http://www.siperia.eu/ for more information.