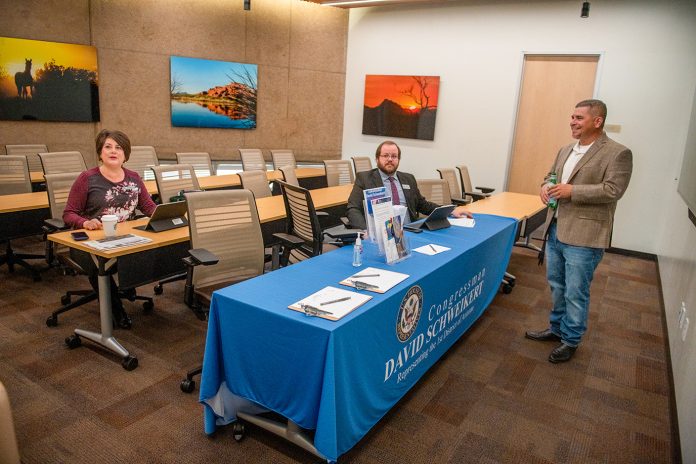 David Schweikert's office made a visit to the Salt River Pima-Maricopa Indian Community to set up a mobile outreach office within the Round House Café on March 22. The visit was part of Schweikert's initiative to reach out to his constituents in Arizona's Congressional District 1. 
"It's a good way for his team to disseminate information to the Community and offer assistance on things such as housing issues and access to Veterans Affairs services for those who served in the military," said SRPMIC Council Representative Jacob Butler.
He said it was good to have Schweikert's staff on-site to meet Community members and make connections, because it demonstrates his office's ability to reach out to local communities.
"We act as the advocate or intermediary between the public and, for example, a federal agency, [working] on their behalf when there is a delay in processing paperwork or they are having difficulty getting an answer," said Ernestina Borquez-Smith, director of Constituent Services for Rep. Schweikert's office.
Borquez-Smith said her team sets up mobile offices at various locations across Congressional District 1, such as senior centers, public libraries and their district office, located at Loop 101 and Raintree Drive. Geographically, District 1 extends from Fountain Hills to West Phoenix and Cave Creek to the City of Mesa.
"We try to be out in the community, where we can be more accessible to the public," said Borquez-Smith. In addition to helping members of the public who are dealing with federal agencies, she said the job of the Constituent Services team is to provide a variety of resources, such as connecting young people with internship opportunities in Arizona and in Washington D.C., helping them enter the annual national Congressional Art Competition, and offering them assistance with applying to the nation's military academies.
Rep. Schweikert's office also recognizes students for special achievements. "We might [hear of], you know, students or kids who got special recognition at school or received a national honor. We recognize [that achievement] and present them with a Congressional certificate," said Borquez-Smith.