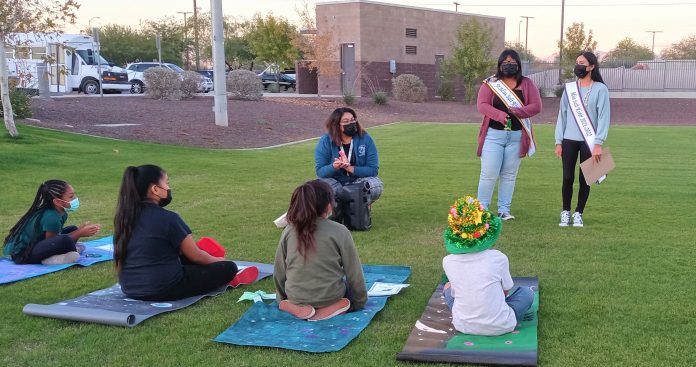 On December 8, Miss Salt River Sistine Lewis and Jr. Miss Salt River First Attendant Raina Cisneros taught the holiday classic song "Jingle Bells" in O'odham to the Quail Group, a co-ed group of second- and third-graders who are part of Youth Services' After School Program.
"It was so fun hearing you all sing with us!" Lewis and Cisneros posted on the Miss Salt River Committee Instagram page.
Youth Development Specialist Christy Lopez reached out to Salt River Royalty because they are great role models for the youth.
"The pageant committee was quick to respond to let me know that the girls would love to meet [the Quail Group]. I asked if Miss Salt River could teach the group a song in O'odham," said Lopez.
"Our group has been learning O'odham vocabulary words and phrases, but we haven't sung a song yet, so this was our first time as a group."
Lewis and Cisneros provided the group with holiday bells and written music sheets to use.
The kids said they enjoyed the girls' visit because they had never sung that song before in O'odham. One child said they liked the teddy bear and jingle bells that the girls gave to all the members of the Quail Group, and another was excited because Miss Salt River came to her class at Salt River Elementary School the week before.
The Quail Group has been working hard to learn the O'odham language, and every week the group meets with a language specialist in the Community, Isaac Lopez.
"We were fortunate to have Jessica Ruiz from the Salt River pageant committee also share some traditional knowledge with the kids that day, as she helped the kids and myself with pronunciation," said Lopez.