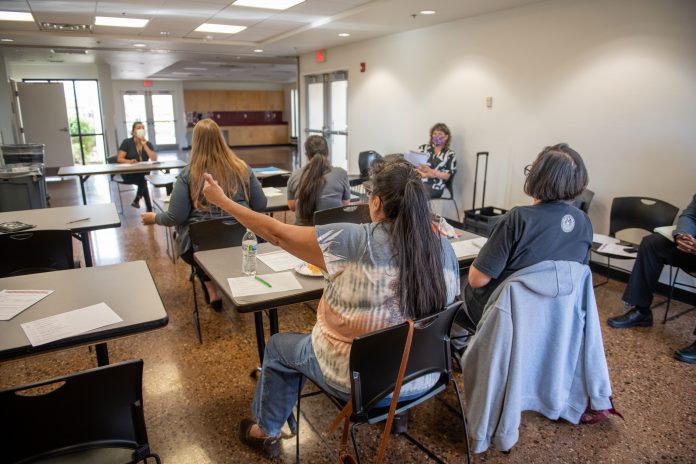 On March 27, residents of the Canalside neighborhood who have concerns about the safety of their neighborhood had an opportunity to share their observations with representatives from the Salt River Pima-Maricopa Indian Community's Housing Services and the Salt River Police Department at a neighborhood watch meeting.
The meeting was held at the Canalside Neighborhood Center, where residents of the housing complex were invited to share concerns regarding suspicious activity and other activity that they believe may be hazardous to Community members.
Housing Services Community Outreach Supervisor Lori Calderon said the meetings provide opportunities for residents to act as a block watch for the neighborhood. "We assist the residents … by working with them and supporting them through hosting meetings that include Salt River police officers."
The meetings encourage resident participation in the various Community rental housing subdivisions. "With a coalition of Community residents looking out for one another, [that] is an effective crime-prevention tool," said Calderon.
Other subdivisions that host the neighborhood watch meetings are Lonely Cactus, VAII, Red Mountain, Evergreen and Dobson Heights. Meetings take place monthly and are open to any interested Community members who seek an outlet to voice their concerns to an SRPD Police Liaison Officer.
According to Calderon, the Police Liaison Officers are primarily assigned to work with SRPMIC members on crime prevention and public safety. Often they work through Community departments, like Housing Services.
"[The PLOs] usually attend our block watch meeting every month. They collect information on the issues that are occurring [as reported by the residents], and then they take that information back to their department head for additional action," said Calderon. This leads to efforts such as extra patrols or specific services in certain areas as needed, keeping watch over resident-reported activity, and following up with residents after suspicious activity has been investigated.
Calderon said these meetings help Community members voice their concerns to those who are capable of making actionable decisions. They also build a good working relationship between Community residents and the SRPD by collaborating on important safety issues.
Goals for the neighborhood watch meetings include opening up communication between neighbors, creating new friendships, and developing a bond among neighbors and commitments to one another to improve the quality of life in their neighborhood. Calderon said the meetings will continue on a monthly basis.