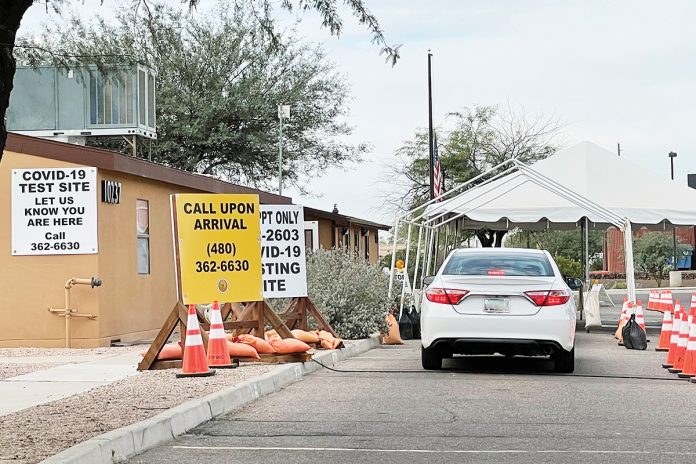 The holiday season is here, and with COVID-19 still out there, Health and Human Services would like to provide an update on COVID-19 testing and vaccination in the Salt River Pima-Maricopa Indian Community. They are testing not only for COVID-19, but also for influenza, respiratory syncytial virus (RSV) and strep throat.
COVID-19 Testing
The COVID-19 testing continues at the SRPMIC COVID-19 site located at 10237 E. Osborn Road in Scottsdale. This testing site has recently added testing for influenza, RSV and strep throat. These tests are offered as nasal or oral swabs and saliva tests. The testing site is open Monday through Friday, from 7:30 a.m. to 6 p.m. (closed for lunch from 12 to 1 p.m.).
"We do the rapid [test] and we also have a saliva test for COVID," said Nurse Administrator David Kiss. "We are in the process of working with Sonora Quest Laboratories to have a quad test that will test for COVID, influenzas A and B, RSV and strep, all in one swab test."
As the holidays begin, the testing team is starting to see an increase in the number of positive COVID-19 cases. They encourage everyone to follow the precautions of social distancing, wearing a mask, washing their hands and getting vaccinated.
"If you're having symptoms, come in and get tested just to be on the safe side," said Kiss.
Those who have scheduled appointments take priority, although walk-ins are welcome. To make an appointment, call the COVID-19 Hotline at (480) 362-2603.
COVID-19 Vaccinations
Community Health Services Manager Marianne Bennett has been operations manager for the vaccine clinics. She and other HHS staff members have been working on getting the vaccinations out, starting with the first vaccination clinic in January 2021. Since that first clinic, they have vaccinated 17,000 people.
"We are offering all of the vaccines that are available out there. We started out with Moderna, then we added Johnson & Johnson for the single-dose option," said Bennett. "But Moderna was never approved for 12- to 17-year-olds, nor has it been approved for 5- to 11-year-olds. So, we added Pfizer to have that option for the youth and anyone else who wanted Pfizer."
The Community started giving the vaccine to children ages 5 to 11 on Tuesday, November 9, immunizing 24 children at the Salt River Clinic.
"There are 240 slots per week for the 5- to 11-year-olds at the COVID-19 Vaccine Clinic held each Friday, so there are a lot of spots to fill each week," said Bennett. "The 5- to 11-year-olds must have an appointment because the guardianship information needs to be squared away before they come to the vaccination clinic."
Parents, be sure to bring a driver's license or government-issued ID, and if your children do not have a chart at the Salt River Clinic, please bring their birth certificate along with your ID.
COVID Boosters
The SRPMIC has started offering the booster to those 65 and older and those 18 and up with underlying medical conditions that put them at higher risk for severe COVID-19.
"When you get a booster, you do not need to get the same brand [of vaccine] that you got previously; you can choose any one you want," said Bennett. "The Pfizer and Moderna are the same vaccine, just the brand name is different."
COVID Team
The COVID Team is a group of HHS, Senior Services and volunteer SRPMIC staff along with a group of Day Labor workers. They help run the SRPMIC COVID-19 Vaccination Clinics each Friday held at the Salt River Pi-Copa Gym.
"This team [consists] of those whose duties range from runners, registration and check-in to incentive staff and data-entry staff, and we have an observation team and rescue team outside as the individuals wait to see if they have any reactions to the vaccine," said Bennett.
The check-in team gives the person's paperwork to the registration team. The registration team makes sure the person is in the vaccine management system and takes the person to the vaccinator, who administers the vaccine. Community members show their tribal ID to the incentive team, who will give the individual their incentive (a debit gift card).
After they get their vaccination, people will wait in their vehicles for 15 minutes, watched over by the observation team. If they experience any complications, the observation team will flag down the Salt River Fire Department for assistance.
"At the end of the day, after making sure everyone who came to the clinic got their data entered, we have a team that takes all of the documentation for those who have charts and enters it into their medical records," explained Bennett.
"With [Community] services opening back up, we will be losing some of the workers from Senior Services," said Bennett. "We are hoping to hire some interns to help with the data entry, registration, check-in and scheduling process. We really want to have a dedicated team that can help us get these things done. If there are any interested people for the intern positions, [they should] contact the Human Resources Department."
For more information on the SRPMIC COVID-19 Vaccination Clinic/ COVID-19 Testing or to schedule an appointment, call (480) 362-2603 or visit the SRPMIC Facebook page at www.facebook.com/SRPMIC. The page also has updated information on COVID-19 testing and vaccinations.