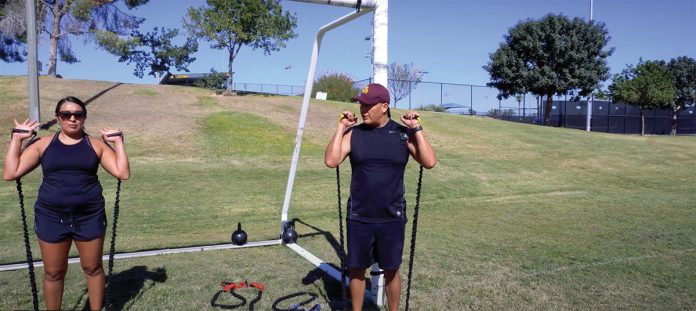 Salt River Pima-Maricopa Indian Community departments have had to be creative and find new ways to deliver their services during the COVID-19 pandemic, such as through Zoom.
The latest from Diabetes Prevention Services is their Journey to Wellness 2020 program. Everyone's daily routines have been interrupted because of COVID-19, and this includes workout routines as well. However, just because the gyms have closed does not mean that working out can be canceled. This is the focus of the Journey to Wellness program.
Journey to Wellness consists of individual Zoom sessions that focus on weight loss, food and diet, diabetes management, mindset, exercise tips, resources and strategies for change. Using Zoom, these sessions are easily accessible to people in the comfort of their own homes.
The Journey to Wellness 2020 Virtual Event took place November 16-20, with big giveaways and prizes for participating. Goodie bags were given out to those who registered to help aid them in the cooking sessions. The bags were filled with a cast-iron pan, a heat-resistant spatula set, a mason jar, The Sioux Chef's Indigenous Kitchencookbook and nutrition pamphlets.
Guest speakers at the event included Jennell Clark, nurse and Certified Diabetes Care and Education Specialist; MaryLynn Marshburn, registered dietitian; nurse practitioner Christina Interpreter; fitness specialist Dion Begay; therapist Jessica Hunter; and pharmacist Robert Boyle.
For example, on November 16, chef Lois Ellen Frank hosted a cooking demonstration, preparing red chili sauce made with dried pods and blue corn mush (corn pudding). The raffle prizes in this session included a grill/cookbook combo and a gift basket from Ramona Farms. The Zoom session muted the audience upon entry to ensure everyone could easily follow along with Frank's cooking instructions, but the chat window remained open for questions and comments. On November 18, Dion Begay showcased an hour-long exercise session focusing on resistance training. Begay's video focused on the entire body and how to properly use the equipment.
The powerful thing about having these sessions online is the ability to record them. Diabetes Prevention Services records every session to post online for free access to anyone. So, if you missed a session, they all will be posted at a later date.
To sign up for the Journey to Wellness program, go to Fitnessfest.org/journeytowellness. If you have any questions regarding these sessions, email Diabetes Prevention Services at info@fitnessfest.org.