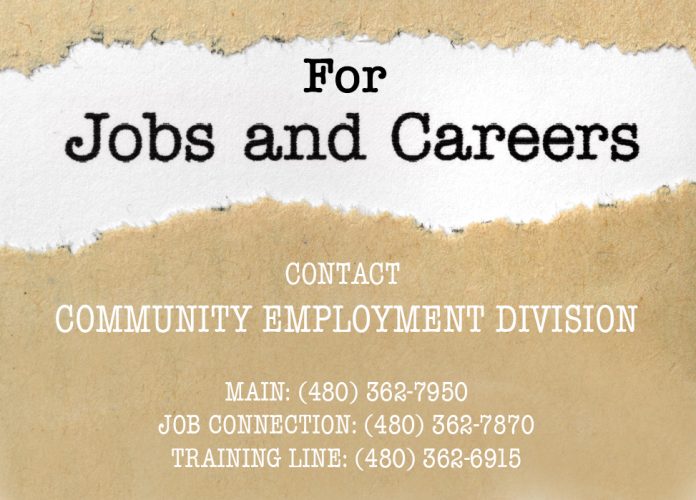 Senior Human Resources Manager Crystal Banuelos and Workforce Development Manager James Smith of the Salt River Pima-Maricopa Indian Community Human Resources Department gave a presentation at the Lehi Council District meeting on Tuesday, June 15, describing the work-readiness and job-training opportunities that the Community offers its members.
"Our outreach is a critical aspect that our division is responsible for in relation to working with the Community," said Banuelos. "Typically, [the Community Employment Division] would average about 500 visitors a month; when everything slowed down [due to the pandemic], we had to make some adjustments."
Banuelos and Smith gave an overview of the programs that help with job preparedness, training, guidance and workforce support: the Internship Program, the Day Work Program, the WIOA Program for Adults and Youth, the Apprenticeship Training Program and the Special Needs Resources Program.
Internship Program
The Internship Program works with students currently in college or trade/vocational school, or recent graduates within one year of attaining a postsecondary certificate or degree. These individuals have to be 18 or older; undergraduates must have completed at least 24 college credits with a minimum C average. Graduates enrolled in a master's or doctorate program must be in good standing within their program. Those in vocational school must complete and pass the classroom training; usually they are moved to an externship and work closely with the Internship Program. The program can be credit or non-credit, depending on the need of the student.
"We work with the department in supporting the students. We are very flexible on hours; a lot of times students are going to school full time and maybe want to be in the Internship Program part time, and we can make it work," said Banuelos.
Day Work Program
The Day Work Program provides short-term daily work through various needed government and enterprise projects. This program has been on hold due to the COVID-19 pandemic; as things start to get back to normal, this program will return. Participants receive payment in a flat fee after work has been verified. Payment is issued from the Finance Department according to their process. Prior to being added to the list, participants must attend a virtual orientation and successfully pass a drug test and complete a participant agreement. The participant agreement includes new guidelines that support COVID-19 guidelines and protocols that include minimizing in-person contact, social distancing, wearing a mask and regular handwashing.
WIOA Adult and Youth Program
The Workforce Innovation Opportunity Act (WIOA) Adult and Youth Program is operated via a grant awarded to the SRPMIC under the U.S. Department of Labor. The program supports adults and youth through case-management services to help them pursue their career goals through training and educational opportunities. Staff works with eligible adult participants to help them with their educational plans, including support toward tuition and/or other services. For the youth, the program runs during the fall and spring for the in-school work program and the summer work experience program for SRPMIC youth ages 14 to 18. It helps encourage youth to start developing work-readiness skills and exposes them to the work environment. This program is currently on hold due to limited worksites.
Apprenticeship Program
The Apprenticeship Program provides vocational training paths so interested individuals may become skilled in their chosen field. Trades available include accounting, office technology, dental assistant, medical assistant, pharmacy technician, healthcare administration, HVAC, carpentry, plumbing and heavy equipment.
Each trade begins with related training, and then students move to on-the-job training (OJT). The required OJT hours are predetermined by the Bureau of Apprenticeship so the student may become a journeyman.
"The classroom training lasts up to six months. The on-the-job training, depending on the trade, can go from one year to five years," said Smith.
During the pandemic, the department tried a new approach, offering employment and training opportunities to Community members by posting flyers to the SRPMIC websites and social media accounts. As a result, the number of Community members seeking training in the medical field increased from one to 20.
"These individuals are still in the program, although there were a couple that made the decision that it was not for them and they stepped away early on. But we're glad a lot of people tried it out and are sticking with it," said Banuelos. "The one area that a lot of people are not interested in is becoming a dental assistant. We've been trying to encourage people to try it out if that's what they're passionate about."
Something else the program offers is the Job Connection, which helps employers within the Pima Corridor offer job opportunities to SRPMIC members.
"During the pandemic, we were receiving—and are still receiving—job opportunities from employers from the Corridor frequently and regularly," said Banuelos. "We have the phone line where individuals can let us know of their interest, and we work to connect them with one of the job opportunities."
Special Needs Resources Program
The Special Needs Resources Program helps people file for social security and disability. A liaison helps families go through the Individualized Education Plan (IEP) process and provides additional resources.
"We want individuals who leave any of our programs to be able to have gainful employment," said Banuelos.
For more information on the Community Employment Division, call (480) 362-7950.