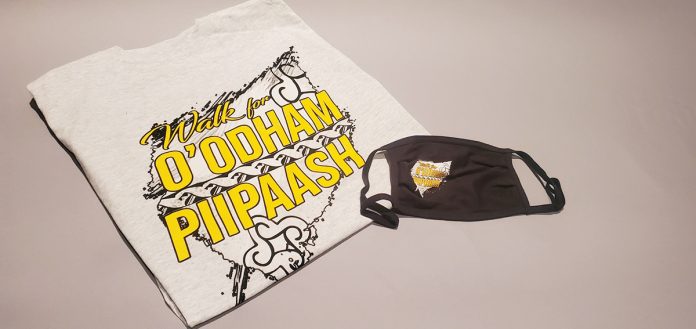 The Walk for O'odham Piipaash is taking place virtually February 4-6. Registration began on January 14, with participants receiving a T-shirt and mask after signing up.
"The Community Relations Events team had reached out to the Diabetes Prevention Program and Recreation to ensure our first-ever virtual walk is a success," said Events Coordinator Julian Rivers. "With the direction given, a system of online registration where 300 Community members could receive a shirt and mask. We were happy to see our numbers exceed well over 450, being our first ever virtual walk. Where loved ones of all ages can walk together from the 4th to the 6th. We were also able to bring on SRPMIC government employee program Wellpath and tribal program StrongLife."
Both the O'odham and Piipaash have been known for their athleticism. Before cars and even before horses, the O'odham and Piipaash walked or ran whenever they had to go someplace. For example, one of the key "coming of age" rituals for the O'odham is the Salt Run, in which a young male runs to the ocean and back within a two-week time frame.
The Walk for O'odham Piipaash is a time for prayer, to remember our Himdak (way of life), and to remember and respect those who have gone before us.