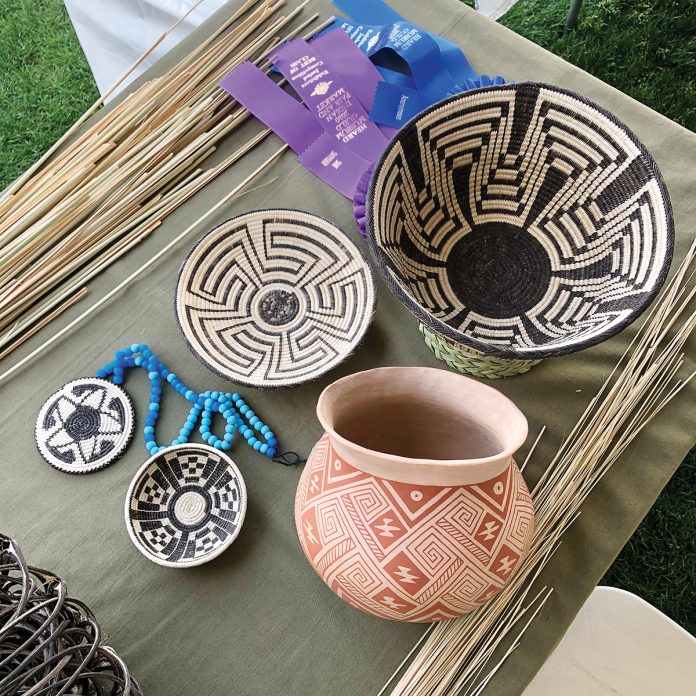 Going to a museum and looking at the traditional arts of the Huhugam, one will see tightly woven baskets, clay pots and many other interesting pieces. There is a history behind those artifacts, but maybe the most impressive thing about them is that they are still being made today, by hand and using the same processes.
Salt River Pima-Maricopa Indian Community member August Wood is a local traditional artist who creates baskets and clay pots. He explained his artwork and how he got started.
"I mainly make willow baskets and clay pots from natural materials that were used by the Akimel O'odham," Wood said. "There have been a couple other things I have picked up over the years, such as burden basket/cordage making, O'odham/Piipaash cradleboards, Piipaash bark skirts and beading. I would see old baskets and pots in old pictures and at museums and wonder how they were made. Learning and knowing that they came from this area specifically is what really interested me."
Wood shared a glimpse into the process of creating his favorite pieces: the baskets.
"My main focus, and favorite, is basketry, as it was the first traditional art/skill I learned," Wood said. Akimel O'odham basketry utilizes willow, cattail and devil's claw. "All are gathered at different times of the year and stored until you're ready to start work on a basket. If you're not paying attention, you could miss them and have to wait till the next year to harvest what you need.
"When I'm ready to start a basket, I begin processing all the materials by hand, as there is no shortcut to making a basket," Wood continued. "After I've spent a great amount of time prepping my materials, I begin the actual basket, which I tend to start with devil's claw. Most of the time, I'm unsure about which design I'm going to weave into the basket until way later." Depending on the size and design, baskets can take weeks, months or possibly years to complete.
According to Wood, while the basketry itself is pretty easy, it is labor-intensive and requires a lot of time, which can be very difficult for those who do not have the time or patience needed.
Wood shared how traditional basketry and pottery steered him into other artists around Salt River.
"In learning O'odham basketry, I've been able to meet and learn from other local traditional artists, like Royce Manuel, from whom I learned how to make a burden basket from agave cordage, and traditional O'odham/Piipaash potter Ron Carlos. These particular arts have allowed me to travel [to demonstrate them] in various O'odham communities, which in turn has allowed me to learn more of the O'odham Niok, though I do not consider myself fluent at all."
Wood also has been given access to collections of traditional baskets and pottery for research purposes. "Being able to go through different collections to view old baskets and pots for further research has been amazing," Wood said.
When thinking about the skill and patience required, it becomes quite clear that creating baskets and pottery is not just an art form, but a continuation of culture. Wood knows this.
"It is an art and skill that is in critical danger of being lost. So, finding someone that is willing to be patient enough to learn from start to finish would be a great benefit for others. Until then, I will continue to make baskets on my own, with or without students. Having the knowledge and skills of those who came before us, I feel, helps us have a better understanding of who we are as O'odham."
To view August Wood's pottery and baskets, view his Instagram account at @grimbear.