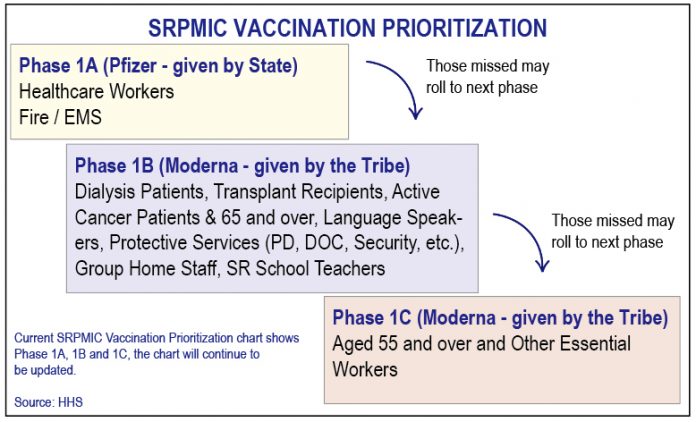 The COVID-19 response team of the Salt River Pima-Maricopa Indian Community is actively managing the Community's vaccine distribution. The Health and Human Services staff have been contacting people in Phase 1B, the group currently receiving the vaccine, which includes dialysis patients, transplant recipients, active cancer patients, and Community members and residents age 65 and older. Phase 1B also includes language speakers, public safety professionals (police department, department of corrections, security, etc.), group home staff and teachers with Salt River Schools (see chart).
"We're having a hard time reaching our 65-and-older Community members and residents. We have phone numbers, but people are not answering or getting back to us," said Assistant Health and Human Services Director John Godfrey. "If you or someone you know fits this Phase 1B category, please call the COVID-19 Hotline number at (480) 362-2603, press option 2 and leave a message. Our staff will get back with you to set up an appointment for the vaccine."
The Community is at the initial stages of receiving a limited amount of the vaccine. The chart on this page is the most current guidance from the Centers for Disease Control and Prevention, and the Community is following these recommendations. Most Community members in Phase 1A have already received the vaccine. The Community has moved on to Phase 1B, and as more vaccine becomes available, Phase 1C will follow.
The Community has decided to use priority lists that include Community members most vulnerable due to age and particular underlying health conditions. Priority conditions are those which put an individual at the highest risk for a severe COVID-19 infection.
Once people in the 1B priority category have made appointments, it is very important that they follow up and get the vaccination. If you need to cancel because you can't make the scheduled date and time, please call and let the HHS staff know so that vaccine can go to another individual.
"This is important to keep your scheduled appointment or call in if you cannot make the scheduled date and time because the shelf life for the vaccine is short; once the vaccine vial is thawed, it can be refrigerated for only 30 days; and when the seal on the vial is broken, the contents must be used within six hours," said Godfrey.
This is a two-part vaccination; you will get the first shot, and the second shot follows 28 days later. You cannot get a COVID-19 vaccination if you are sick or recovering (in the 10-day isolation period) from COVID-19; you must wait until that isolation period is completed. You also must wait 14 days for the COVID-19 vaccine if you just had another vaccine (flu shot, shingles vaccine, etc.). You cannot mix vaccines; for example, someone who received the Pfizer vaccine for their first dose cannot get the Moderna vaccine as their second dose. If you have the first shot in Salt River, you shouldn't get the second shot at Phoenix Indian Medical Center, explained Godfrey.
A COVID-19 vaccination clinic for Community members and residents 65 and older and who are in the Phase 1B category will take place on Saturday and Sunday, January 23 and 24, at the Salt River Community Center (see sidebar).
The Community will inform all other Community members when they will have the opportunity to take the vaccine at the earliest possible time. Thanks for your patience.
"When you get the vaccine, it doesn't mean your bullet proof and you can stop taking precautions," said Godfrey. "It's possible that even if you don't get sick, you still may be able to infect other people. That's why we still need to remain vigilant: wear a mask, maintain social distancing and wash hands. People shouldn't have this false sense that they are invincible after they get the vaccine."
For more information, call the SRPMIC COVID-19 Hotline at (480) 362-2603.
In the interim, please continue to do all you can to protect yourself and your families by remaining vigilant in adherence to the COVID-19 protocols.