In March, a group of Indigenous aerosol artists from across Arizona was invited by Morehouse College to spend a week on its campus in Atlanta, Georgia, to create a mural and open a dialogue between the Native and African American cultures.
Neoglyphix is an all-Indigenous aerosol artists' collective founded in 2014 by Martina Dawley, Ph.D., and Salt River Pima-Maricopa Indian Community member Dwayne Manuel. Dawley, senior archaeologist with the Hualapai Nation, is a former manager and assistant curator of American Indian relations at the Arizona State Museum in Tucson. The group of more than 15 artists hosts workshops and youth projects and creates commissioned murals all over the country. They strive to give a positive image of Indigenous art and culture and give artists a platform for Indigenous issues in a contemporary framework.
Seven artist representatives from Neoglyphix made the trip to Atlanta. Charles Norton, professor of Foreign Languages at Morehouse, once worked at the University of Arizona and extended the invitation to the group. The Neoglyphix artists spent a week in Atlanta painting a mural, performing live art demonstrations, and hosting a workshop and artist-student discussions on the Morehouse campus.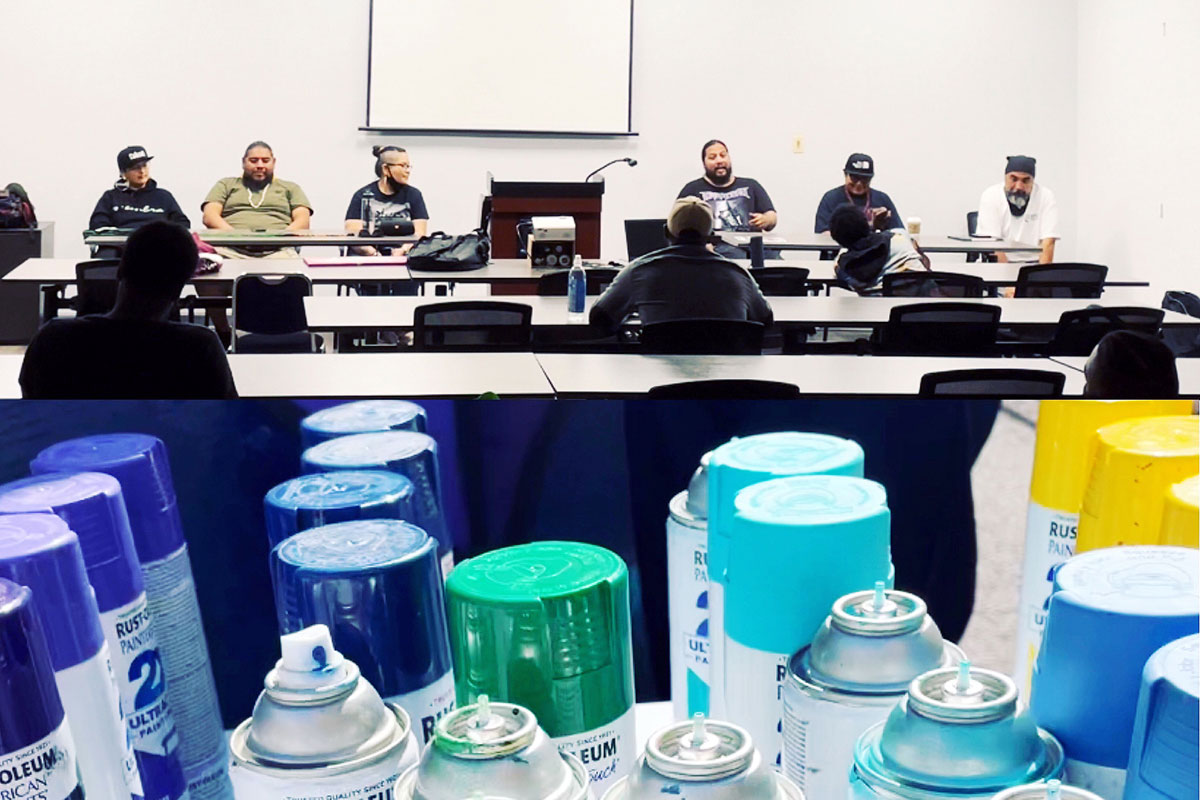 Morehouse College is one of four historically black colleges and universities (HBSU) in the Atlanta University Center consortium, which also includes Morehouse School of Medicine, Spelman College and Clark Atlanta University.
"We were able to engage and talk to students and faculty about our experiences as Native people," said Neoglyphix member Thomas "Breeze" Marcus. "Obviously, the history that we've gone through, they related to that—the African American experience was terrible as well. But the main thing we all walked away with is that even though our ancestors experienced that, we came out of it stronger, we're still here, we're still striving to be better for ourselves and our people."
The artists did live painting at Hump Wednesday, a mid-week campus block party where everyone gets together for music, food, art demonstrations and vendors. During their final two days in Atlanta, the group installed a permanent mural on the Morehouse campus representing Indigenous and African American solidarity.
"The idea got thrown around about doing something that shows ancestral African Americans and Native Americans, the meeting of the ancestral groups," said Marcus. "As far as the African side, we did some research and asked for some opinions and input. The Native American side of the mural is not specific to one tribe, because those of us who went are from different tribes. A majority of us were from O'odham tribes, but we did have Navajo, Hopi and Pueblo artists as well."
Marcus explained that they included Kente cloth in the piece. Kente cloth is the traditional or national cloth of Ghana and represents African honor; the cloth is woven specifically for someone to wear for honor or prestige. The other element incorporated to closely tie the two cultures together were cowrie shells, used to make necklaces that served as currency in trading.
"Even though we're different, we have a lot of similarities," said Marcus about the two cultures.
Neoglyphix member Natasha "Rezmo" Martinez said she is taking away from this experience the hospitality of the people in Atlanta.
"You hear the phrase 'Southern hospitality'—I've heard it so many times, but I've never been in a place where people are so nice, positive and kind," said Martinez. "People will be walking next to you and they will stop to say good morning or good afternoon. I have never met so much positivity and goodness [like] we encountered on [the Morehead] campus from the faculty and the students."