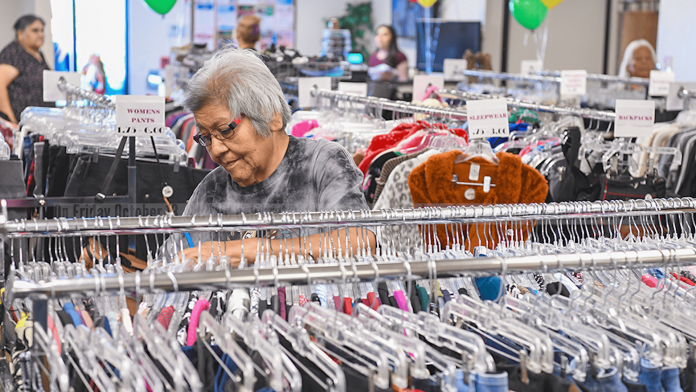 By Juan Ysaguirre
On Friday, October 13, the Salt River Pima-Maricopa Indian Community's Helping Hands Thrift Store celebrated the opening of a brand-new location in the Community, west of the Cultural Resources Department building. The store is operated under the Life Enhancement and Resource Network (L.E.A.R.N.), a division of SRPMIC's Social Services Department.
The open house was held from 10 a.m. to 3 p.m. and included shoe and clothing giveaways for adults and children.
The opening began with SRPMIC Social Services Manager WinterElk Valencia welcoming and blessing all in attendance. "We hope that with this store, we are able to help those in need," said Valencia.
At the grand opening, shoppers filled the store right as it opened. The outside wall was lined with free shoes and T-shirts for adults and children. Many shoppers made sure to grab their free pair of shoes before entering the store. To help celebrate the opening, Helping Hands staff offered cookies, cupcakes and other goodies to shoppers.
The aisles inside the store are fully stocked with clothing ranging from newborn to plus size. The store also features kitchen appliances, linens and blankets, and toys for newborns and toddlers.
Several name-brand items were on display: Nike baseball hoodies, Phoenix Suns sweaters, kitchen appliances, Van's sneakers and more. Depending on the item, most prices were under $5. Items that were priced a bit higher were also available, as was the store's layaway program.
Shoppers can now place one item on layaway with zero money down. However, there is a two-week hold on all items, and shoppers are only allowed one layaway item at a time. Once payment has been received in full, shoppers can then take their item home. The Helping Hands store promotes a "no exceptions" rule and suggests shoppers talk with store staff if they have specific questions regarding the layaway program.
The store also offers the Helping Hands Clothing Referral program three times a year to receive shirts, bottoms, undergarments, socks and shoes.
The new Helping Hands Thrift Store is open Monday to Friday from 9 a.m. to 4 p.m. Currently the store accepts cash only. For more information, call the store at (480) 362-5625.