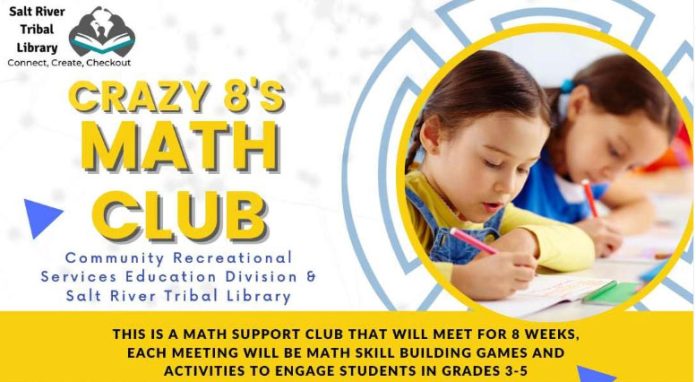 The Salt River Tribal Library has added a new club for young Salt River Pima-Maricopa Indian Community patrons in grades 3-5 called the Crazy 8's Math Club.
With the newly formed Educational Division under Community Recreational Services, the library had a chance to bring a new club into the equation.
"This [club] was something the library has wanted to do for a long time," said librarian Melissa Rave, who worked by herself for the most part until recently. "Now that that we have a staff on board, we can put more services out there for Community families and their students and make things more enriching."
Rave will be overseeing the club, which will meet for eight weeks on Wednesdays from January 11 to March 1 and will focus on math skill-building games and activities to engage students.
Families had been looking for more support for their students, and Rave said that the club is the library's response to that problem.
"The Way of Life Facility is an accessible point for most families since we are centrally located in the Community," said Rave. "I think that there is more to come. We are looking for a great turnout and we are looking for some families who want to attend all dates and see the benefit in attending all sessions so that we can offer more in the future."
In order to measure how the library can best estimate the dates, times and days of the week to offer clubs like this, Rave said that she looks forward to hearing feedback from families.