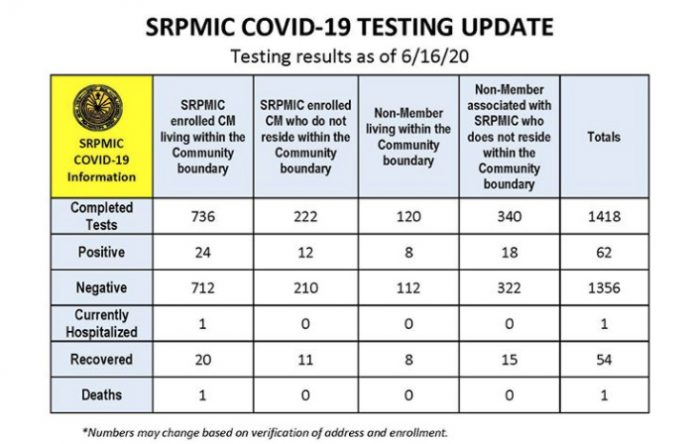 On June 11, Salt River Pima-Maricopa Indian Community President Martin Harvier reported via video post the first COVID-19–related death of an enrolled Community member resident.
"I'm very sad to report this message today regarding the death of our first enrolled Community member resident due to the coronavirus," said Harvier. "Our prayers go out to the family on the passing of their loved one."
He said the Salt River Health representatives have reached out to the family to assist and provide support.
President Harvier reminded everyone that no one is immune to this virus and that everyone is at risk. "We ask that everyone maintain caution when out in public and practice preventive measures," he said.
The Community's Local Emergency Declaration is still in effect, requiring Community members to stay home except for essential trips and to limit gatherings to 10 people or fewer.
The State of Arizona and some businesses may have reopened; however, the coronavirus is still a threat, and Arizona has been experiencing increased numbers of new coronavirus cases and deaths.
Please continue to follow preventive measures:
• Wash your hands thoroughly and frequently with soap and water
• Practice social distancing
• Wear a mask when out in public
• Limit gatherings to no more than 10 people
We care about your safety and health. Please take care of yourself and keep your families safe.