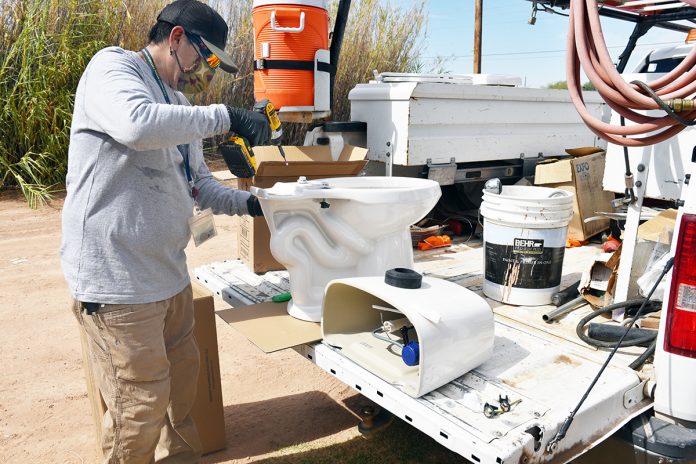 Although the COVID-19 pandemic has slowed down many Salt River Pima-Maricopa Indian Community governmental services over the last four months, the Senior Home Repair and Replacement Program (SHRRP) has continued to provide limited services to Community elders and residents with disabilities. The program also recently received approval to move forward on some roof-replacement projects.
The SHRRP was set up by the SRPMIC Council as a way to help Community elders and residents with disabilities maintain their homes up to health and safety standards. The program has helped Community residents with home repairs, training on home maintenance, home replacement, home renovations and day-to-day services, including repairs for plumbing, electrical, carpentry, painting, concrete and HVAC (heating, ventilation and air conditioning).
"Right now, the two main services we provide are our day-to-day services, which include household repairs such as plumbing fixtures, HVAC issues and carpentry, for instance installing grab bars in bathrooms. These projects will be completed [either] the same day or [in] up to three days," said SHRRP Supervisor Rito Lopez. "We also have preventative maintenance services, which is where we do air filter replacement. We also do weed abatement services; we worked with the Salt River Fire Department to [clear away weeds and vegetation] from around homes." They cleared an area of about 100 feet around the houses as a buffer zone against wildfires.
Lopez explained that the SHRRP completes an average of 8,000 day-to-day jobs each year. That includes 3,000 air filter replacement jobs, which is considered an essential service.
"We have been doing air filter replacements for 350 homes each month. When the COVID-19 pandemic hit, we slowed down on those replacements and we started getting calls about HVAC units. We noticed that the air filters weren't being replaced, so before the units started to [sustain] damage, SHRRP started going out and replacing the air filters," said Lopez about why changing air filters has been added back to the list of essential services for the SHRRP. "When we started the preventive maintenance of changing air filters, it actually cut down on a lot of the HVAC repairs. Before, a lot of people weren't changing their air filters, and they would have a lot of coil damage due to the dust out here in the Community."
The SHRRP also works on bigger projects such as full bathroom renovations, kitchen renovations, flooring renovations, full roof replacements and exterior door covers. The program completes anywhere from 120 to 180 such projects a year, using governmental staff and outside vendors on big projects such as roof replacements and bathroom renovations.
"We haven't had many roof replacements for the last year and a half," said Lopez. "There was a big storm that came through a couple of years ago, and we had about 40 homes that had roof damage. We completed all those roofs in about nine to 12 months."
Initially, the SRPMIC earmarked 26 Community homes for full replacement under the SHRRP. The program completed 24 of those 26 home replacements; unfortunately, two Community members passed away before the program could start working on their homes. Overall, the SHRRP has replaced a total of 31 homes since about two years ago. The program was set to start on two more home replacements, but due to COVID-19 those projects had to be placed on hold. Up to seven homes have undergone full renovations.
When the SHRRP began, one of its goals was to provide outreach to help educate customers on how to keep their homes properly maintained.
"Before our program, seniors did not feel comfortable having people come into their homes to make repairs, so they wouldn't call for help on [smaller] home repair issues until they got really bad and [they] needed full replacements on things such as flooring, leaky sinks and other house hold repairs," said Lopez. "Our first program, back in 2006, [offered] a lot of outreach for preventative maintenance, which helped out a lot because Community members learned about home maintenance and taking care of their homes. It's not very often that we have to do a home replacement, which is good because [it means] people are learning how to better maintain their homes."
The program recently received approval to move forward on eight roof replacements, which it hopes to complete by the end of August. Every Thursday the staff works on emergency non-essential services, such as fixing broken windows, and for example replacing things such as toilets and water heaters.
"Everything else has been put on hold right now. Our customer base that we serve is our most vulnerable, so we want to make sure that we're not only protecting our staff but our customer base too, because [with] them being vulnerable we want to make sure they're safe," said Lopez. "[Before starting a project], our staff calls the homeowner and makes sure that no one is sick in the home. [We also] make sure they limit contact with our staff when at the residence, and we [employees] make sure we are wearing our masks and gloves as well as making sure the homeowners are wearing a mask so that we're all safe on both sides." The SHRRP is still handling emergency services Monday through Friday; call their hotline at (480) 362-7800. If there is an emergency on the weekend, call dispatch at (480) 850-9230 and they will alert the SHRRP's on-call staff.