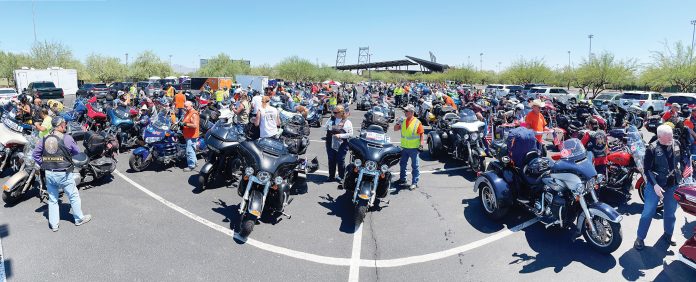 The parking lot at Salt River Fields at Talking Stick roared with the sound of more than 200 motorcycles riding into the USS Arizona Memorial Gardens at Salt River on Thursday, August 26. The riders rode across the country for the American Legion Legacy Run, a cross-country motorcycle-ride fundraiser that has been going on for 15 years to help children of fallen military personnel and the children of disabled veterans who served in the post-9/11 era.
The ride was canceled last year due to COVID-19, but the run took place this year to continue to help provide scholarship funds for children of fallen military members and disabled veterans.
The ride began in Rogers, Arkansas, on August 22, and ended in the Salt River Pima-Maricopa Indian Community. The Legacy Run's theme this year was to honor Native American veterans who have served, and continue to serve, our nation proudly. The group traveled through a number of Native American communities, including the Choctaw Nation in Oklahoma and tribal lands in Texas and New Mexico.
"We came in from Augusta, Georgia [and] made our way to the starting point in Rogers, Arkansas," said George "Big Red" Guthrie, who has been one of the ride captains for 14 years now. "From Rogers we made our way down here, and [we're] having a good run. It's nice and warm here. This is a family who gets together every year to raise money for these children."
Guthrie encourages youth of fallen military and children of disabled veterans to apply for these scholarship monies; the program is open to all who qualify.
Once the riders arrived, they were greeted with lunch, cold drinks and a welcome ceremony. The ceremony started with a prayer and the pledge of allegiance.
SRPMIC Vice-President Ricardo Leonard provided a brief history of the USS Arizona Memorial Gardens and talked about the U.S. flag given to American Legion Post #114 after it flew at the Pearl Harbor Memorial in Honolulu, Hawaii. On display at the USS Arizona Memorial Gardens is the boathouse of the ship, American Legion Post #114 member Thomas Jefferson continued, explaining how the USS Arizona Memorial came to be in the Community.
SRPMIC President Martin Harvier also addressed the riders, welcoming them to the Community and giving them a brief description of the SRPMIC and its people.
"This memorial is really something that I feel is important. It's a place to honor, remember, reflect and … share gratitude," said Harvier as he welcomed the riders. "As a Community, we are proud to honor you, our veterans, and we built this space not only for you, but for your families, your friends and all of us. And we will continue to remember those who served our country today, tomorrow and [in] our future."
The ceremony ended with Vice-President Leonard performing an honor song and American Legion Post #114 performing a breathing ceremony for the USS Arizona Memorial flag. As the riders rode off, they passed between two Salt River Fire Department ladder trucks that displayed a large U.S. flag.