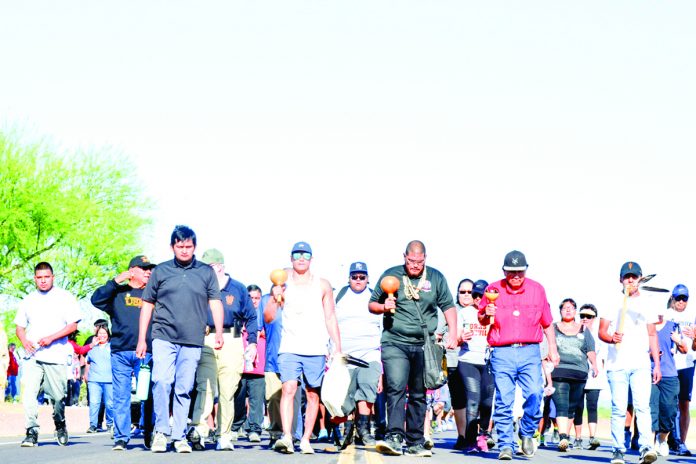 In 2018, the Salt River Pima-Maricopa Indian Community drafted a proclamation to commit to a campaign that would battle the increasing trend of illegal drug use and distribution and its resulting deaths. Council directed tribal government staff to create a comprehensive campaign to strengthen existing programs and launch new initiatives to combat negative drug- and alcohol-related trends.
"We cannot cure substance abuse overnight, and it takes a lot of work from everyone," said Assistant Community Manager Lena Jackson, who has worked on the campaign by getting Community departments involved in the fight.
Taking Action
Prior to and since the launch of the Anti-Drug Awareness Campaign, the Community has undertaken many initiatives to tackle the growing problem of substance abuse in the Community.
• A roundtable discussion was held with 60 Community youth that resulted in feedback and suggestions on what to do about drug and alcohol issues.
• In 2019, the Not One More campaign was launched to provide SRPMIC members with Narcan and education on how to use it to help prevent opioid-related overdoses and deaths. Approximately 1,000 Narcan kits have been distributed to Community members so far, and two lives have been saved.
• Lockboxes have been provided to Community members so they can have a safe place to store their narcotic medications and prevent them from getting into the wrong hands.
• Prior to the COVID-19 pandemic, a sober-living home was in process for inpatient treatment; instead, that location was utilized to quarantine Community members who tested positive for COVID-19. The Journey to Recovery Program continues, but it has had low client numbers due to COVID-19 and space issues. As we move forward from the pandemic, the Journey to Recovery Program will offer expanded services, including a day treatment program for those who don't want or need inpatient treatment.
• Departments such as Health and Human Services and Behavioral Health have been vital in getting education and awareness out to the Community. They have been offering a number of services to help people overcome drug and alcohol addiction, such as counseling, faster access to therapy services, added medication assistance treatment for those using opioids, and access to treatment outside of the Community for adult and child substance abuse.
• The Family Advocacy Center continues its effort to provide services for those experiencing sexual abuse and domestic violence issues. It has been working with the National Native Children's Trauma Center to provide staff training in traumatic stress mitigation.
"It is important we recognize [that] exposure to traumatic experiences, especially during childhood, significantly increases the risk for drug use," said Jackson. "We all have heard opinions that certain drugs are gateway drugs, but through more and more evidence we are seeing that trauma is the gateway to substance abuse. Drug abuse is the symptom of a much deeper issue and almost always stems from a childhood filled with trauma such as sex abuse, neglect, physical abuse, etc."
• Governor's Office of Youth, Faith and Family (GOYFF) Project Coordinator Maria Jagles is working on the Native Spirit Program to focus on improving outcomes for youth and providing opportunities to develop cultural identity, which is a protective factor for youth. She is creating a curriculum to build an intervention/diversion programs for adults.
"I am hoping to create a plan, so if other teachers or health educators would like to teach the curriculum they can deliver the material to their participants," said Jagles. "I had a roundtable with the youth and presented the curriculum to them, and they are very interested in learning the harm reduction–based drug education. We will be implementing that in the beginning of November to our Community youth. For now, it will be for the youth at the WOLF, and we will expand from there. The Boys and Girls Club and a youth basketball league are interested in learning more."
A More Compassionate Approach
Jackson explained that in the future they want to focus on the harm-reduction approach, which is different from the normal punitive approach to drug users. This approach acknowledges the dignity and humanity of those who use drugs.
"Our Not One More team works with the goal to promote the health and well-being of people who use drugs and try to mitigate drug-related harm, such as an overdose. We realize we must continue to seek innovative approaches to drug abuse and treatment in the Community," said Jackson. "Our harm-reduction approach also includes removing the stigma associated with drug use, advocating for compassion and a judgment-free approach to addiction."
The current goal of this campaign is to raise awareness and recognition of drug and alcohol abuse, specifically opioid abuse. According to Salt River Police Department statistics, from October 2020 through August 2021 they responded to 72 Community-member overdoses, 67 in adults and five in youth. Because fentanyl, which is a synthetic opioid 50 to 100 times stronger than morphine, is being mixed into many illegal drugs, even a one-time use can cause an accidental overdose or death. Tragically, 14 Community members died from overdose during this time period; two of those who passed away were 17 years old.
That's why it's important to make sure all Community members have access to Narcan and are educated on what an overdose looks like. Narcan can reverse an overdose and starts to work within minutes.
"This issue has affected all our families, and we don't just give up on our family members even though it causes trauma and discord in our relationships," said Jackson on the effects of drug abuse in the Community. "Our people have always been a forgiving and compassionate people, but the effects of drug use have created trauma for our families and children."