The Salt River Pima-Maricopa Indian Community Young River People's Council (YRPC) ushered in 13 new members on January 14 at the Way of Life Facility (WOLF). The YRPC was joined by tribal leadership and Salt River royalty, who offered their support of the aspiring youth.
"We had all of our Executive Council sworn in first, followed by the membership at-large, by Presiding Judge Darayne Achin," said Youth Services Supervisor Janyse Salinas. She said the representatives were elected back in December of last year and will carry out their terms for one year.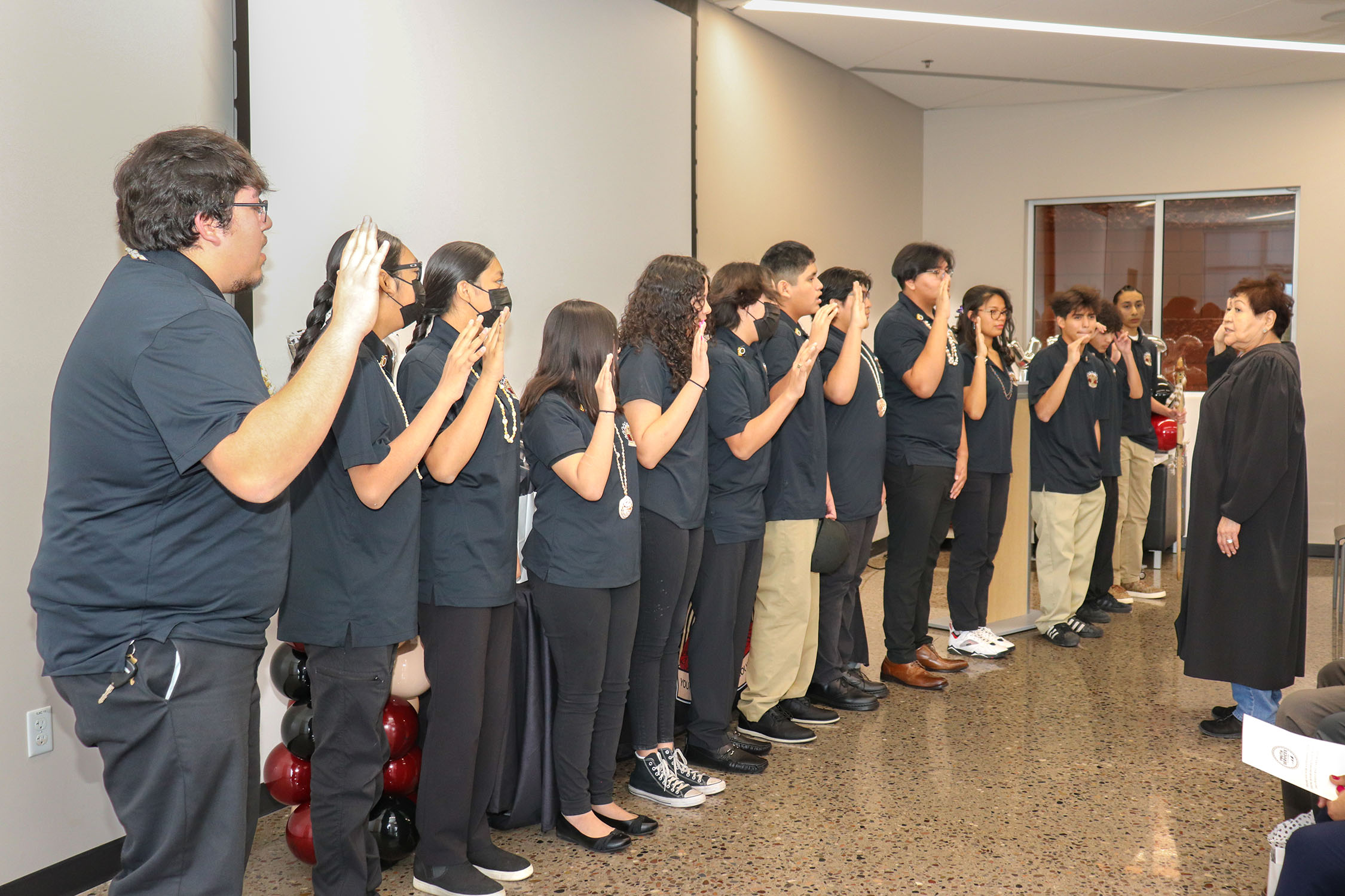 "This is our first inauguration since 2020, and this is also our first year of being under Youth Services," said Youth Development Specialist and past YRPC President Sommer Lopez. She said the membership in the YRPC has steadily increased back to the pre-pandemic numbers.
Salinas said there is not a cap on the number of "at-large" members, as YRPC is always open to receiving more individuals into the fold. "We have 30 on our roster and 24 who are active, like coming to our meetings, events and volunteer opportunities."
With a brand-new crop of youth in YRPC, Salinas and Lopez said that they are ready to take on their responsibilities and possibly introduce their own ideas on what the group should do this year. This new group also creates an opportunity for past members like Lopez to help mentor the executive leadership.
"I think my presence is helpful, especially with Youth Council being transitioned to a whole different department, because I am helping with restarting the groups for the Youth Council, the things that we've built up for them to teach and know," said Lopez. She said they work with the youth to build qualities in them such as leadership, the importance of culture and future skills for use in adulthood.
"I think one of the bigger things that we saw when we hosted our first training was culture," said Salinas. She stated there was a lot of feedback from the youth wanting to explore more topics on culture, like language and crafts.
Another part of the YRPC's goal is to be visible in the Community through service activities, said Lopez. "The Youth Council carries out a lot of community service work, including with a lot of different [SRPMIC] departments, who will reach out to us to help with an event or activity."
When not teaming up on an activity with a SRPMIC department, the YRPC will perform community service work, such as adopting a stretch of roadway for cleanup. "The whole Youth Council helped, and they took a few Saturdays and went out there and would clean up the road. We're slowly getting back to having the kids have choices on projects they want to do," said Lopez.
Throughout the year, YRPC members attend various Community functions, such as the Community member meeting with Tribal Council on January 31 and the Piipaash Matasheevm (People's Gathering) in April of this year. YRPC members met with South Dakota U.S. Representative Dusty Johnson during his visit to the River People Health Center on January 20. On that visit, Johnson was touring the RPHC to learn how the Community has built and now operates the clinic, which serves the Phoenix urban Indigenous population as well as members of the SRPMIC. The visit was a first for the YRPC members and an example of the exposure they have to leaders and governmental subjects.
"They weren't expecting Congressman Johnson to be so engaging with them in conversation, but he was. He was very interested in them, and he was kind of picking their brains, asking them what they thought about certain issues and their favorite school subjects," said Salinas.
SRPMIC youth that are interested in joining the YRPC, can go to https://www.srpmic-nsn.gov/government/youth/yrpc/#YouthCouncil.
The web page provides general information flyer and contact information.