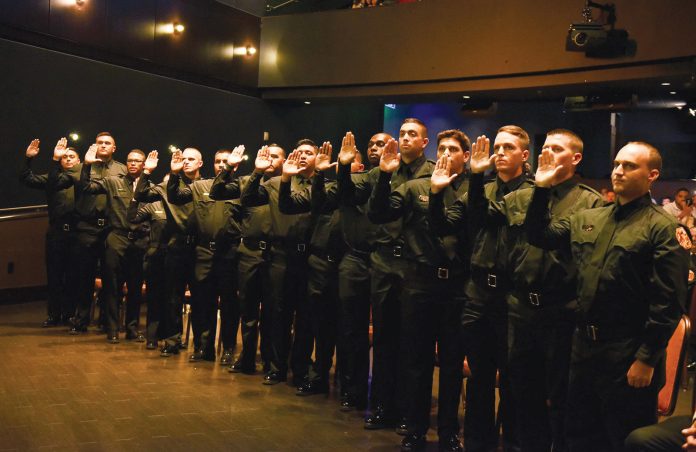 Family members of Recruit Class 22-01 "Super Salty," a class of nine Salt River Fire Department firefighter recruits and six Superstition Fire/Medical recruits, filled the seats of the Talking Stick Resort Showroom to watch the 15 recruits take the Public Safety Oath of Office on Thursday, June 2.
The program began with a presentation of the colors by the Local 2260 Honor Guard, a group of firefighters from East Valley agencies who performed on pipes and drums.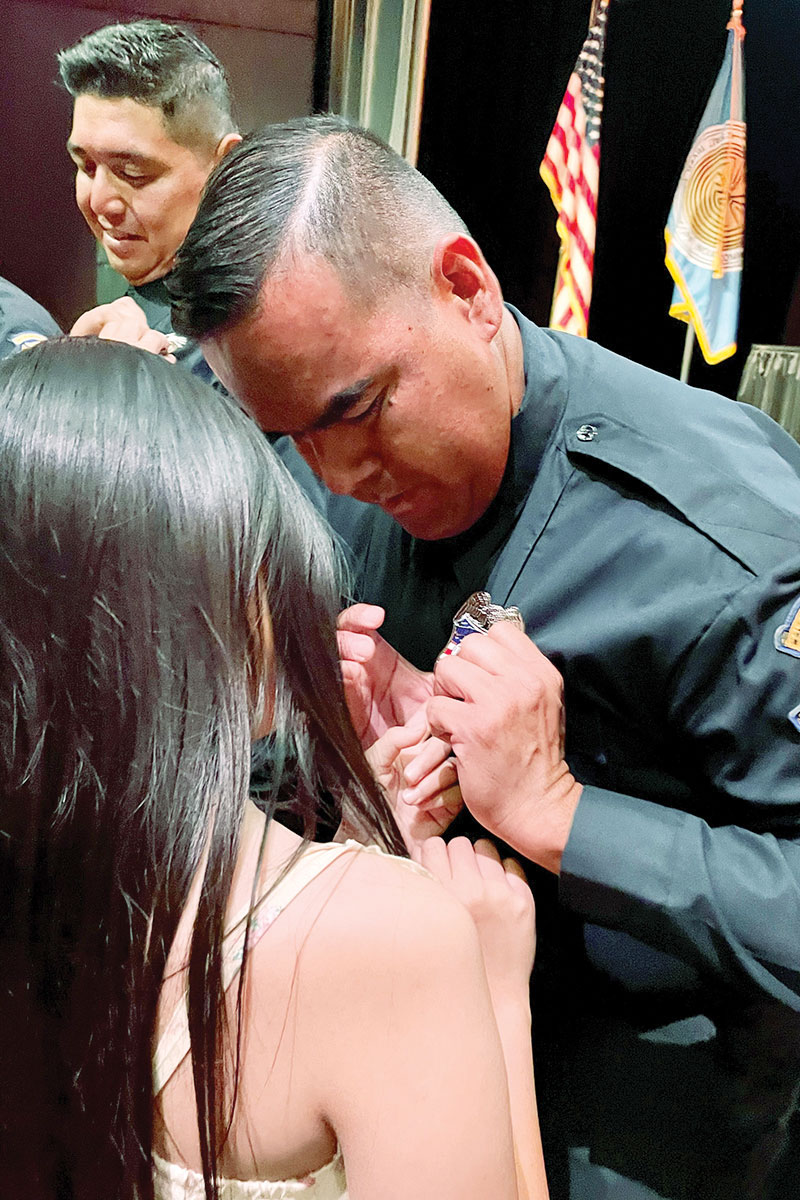 Logan Garman, a fire recruit graduate for Superstation Fire/Medical, spoke for the recruits. He started his speech with a moment of silence for recently fallen SRFD Firefighter/EMT Brendan Bessee, while sending out thoughts and prayers for the continued recovery of SRFD Firefighter/Paramedic Tyler Packer. Garman reflected on the group's experiences during their 15-week training and how the 15 quickly became a close bunch. He said they encouraged one another all the way to the Academy graduation. He thanked all of the recruit training officers (RTOs), who came from East Valley Region fire departments: captains Chris Macchiaroli, Ryan Spade, Troy Walter and Dan Elliot and firefighters Aaron Mireles, Angel Hudgens and Ryan Denning.
SRFD Chief Daryl Dash and Superstition Fire/Medical Chief John Whitney shared some words before the recruits took the oath. Chief Dash explained that this was one of the largest classes for the SRFD that sent Salt River Pima-Maricopa Indian Community members and individuals from other Native American tribes to the Academy. Dash congratulated all of them on their dedication to completing their training.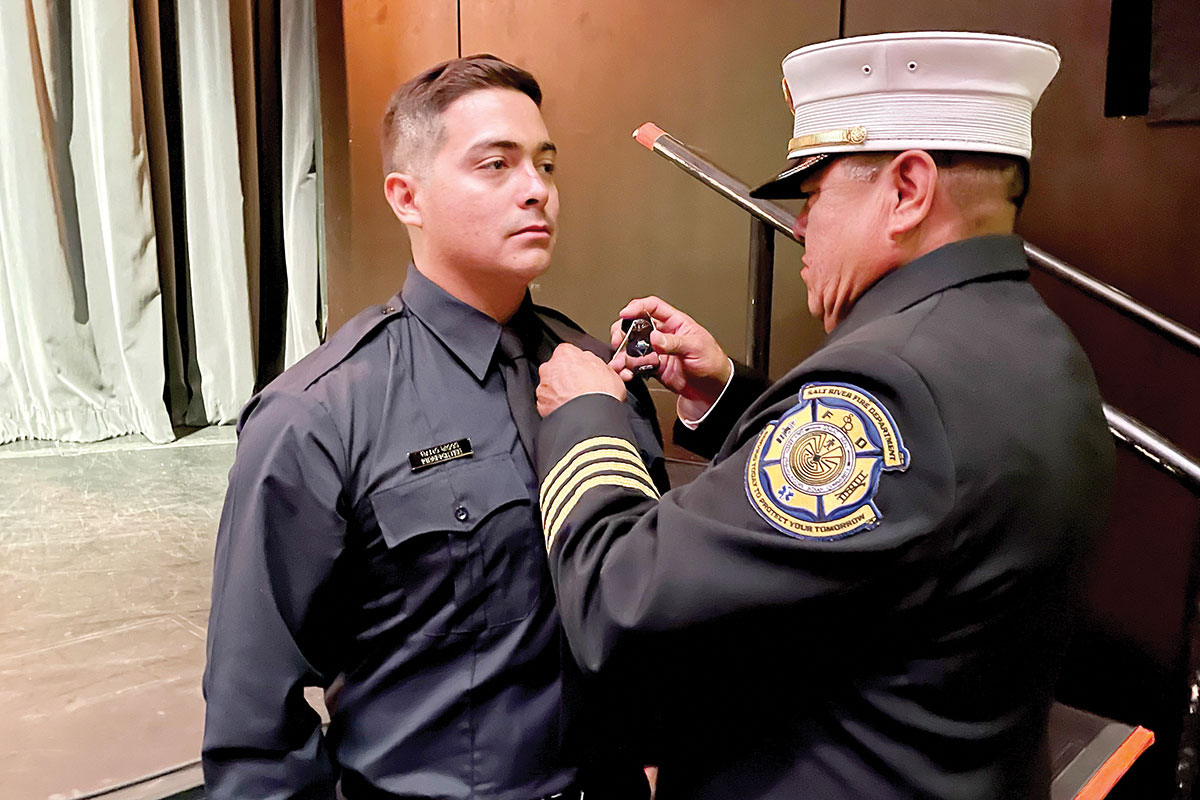 A video made by SRFD Firefighter/Paramedic Lee Grant was screened, showing all of the training that the recruits endured over the last few months.
Mesa Judge Stephen Umpleby administered the Public Safety Oath to swear in the recruits. That was followed by the badge presentation, as the recruits took the stage to receive their helmets and badges. As they made their way offstage, a family member or friend of their choosing came up and pinned on their badge.
Recruit Alicia Randall was the only woman who participated in this Academy class. Previously a Salt River Department of Corrections (DOC) officer, Randall has worked with the Community for 11 years. She chose to pursue a career in the fire department because she wanted to help the Community in a different way.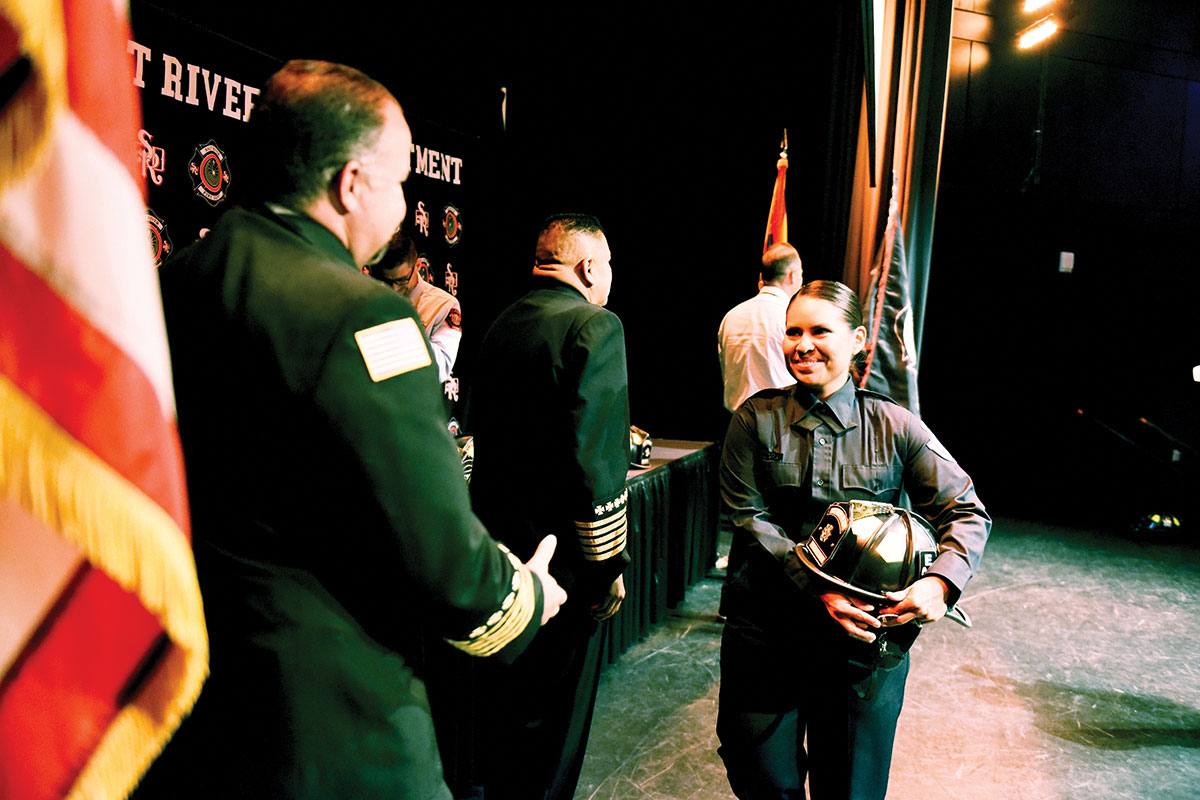 "I would see Community members come into the DOC, then leave and go on their sobriety or work enforcement, and I just wanted to see them outside of the jail," said Randall. "I was in corrections and I loved it, but I just wanted to do something different with my time, so I chose to pursue this career."
Although Randall said she was a bit intimidated as the only woman in the group, she attended training every day. "The guys" encouraged and motivated her to get through each day of the training. She looks forward to being part of a tight-knit group of professionals, something that comes with being a firefighter.
"For the women who want to [become firefighters], don't think you can't [achieve it], because you can," said Randall. "After a few weeks in the academy, I thought I couldn't do it. But my whole perspective was changed. You can do it, you just have to keep pushing yourself, stay determined and find that driver to keep going every day."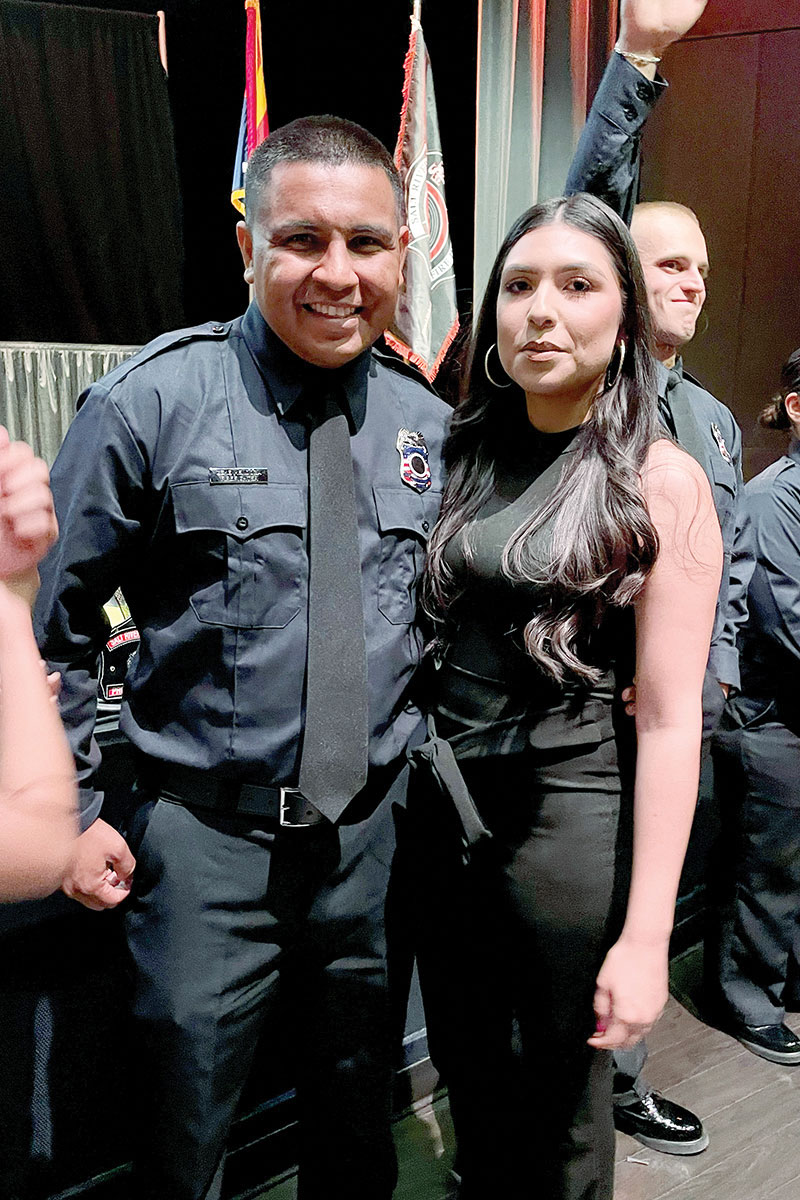 Fire recruits Clifford Lopez and Michael Juan both took part in the firefighter recruitment process. In 2008, Juan made it through the hiring process but was dealing with medical issues that held him back from pursuing this career. Despite passing the written portion of the firefighter test, Lopez was unable to complete the remainder of the examination to complete his training in 2008. For these two, it has been a goal of theirs to finally make it to the SRFD to help serve their community.
"We are there at people's worst times. It's cool to be able to help the Community as a firefighter, but the fact that I am [a member of this] Community and I know a lot of people [here], and to be there for those people and have that connection, is going to be the best part," said Juan.
Lopez received his EMT certification in 2021 and waited to apply for a SRFD position. It has been a long, hard process but well worth it, he explained.
"It's surreal. I am still processing, but it's exciting and I can't wait to move forward in this career and be there for the Community," said Lopez. "That was one of my reasons to join the fire department, to help the Community and serve our people."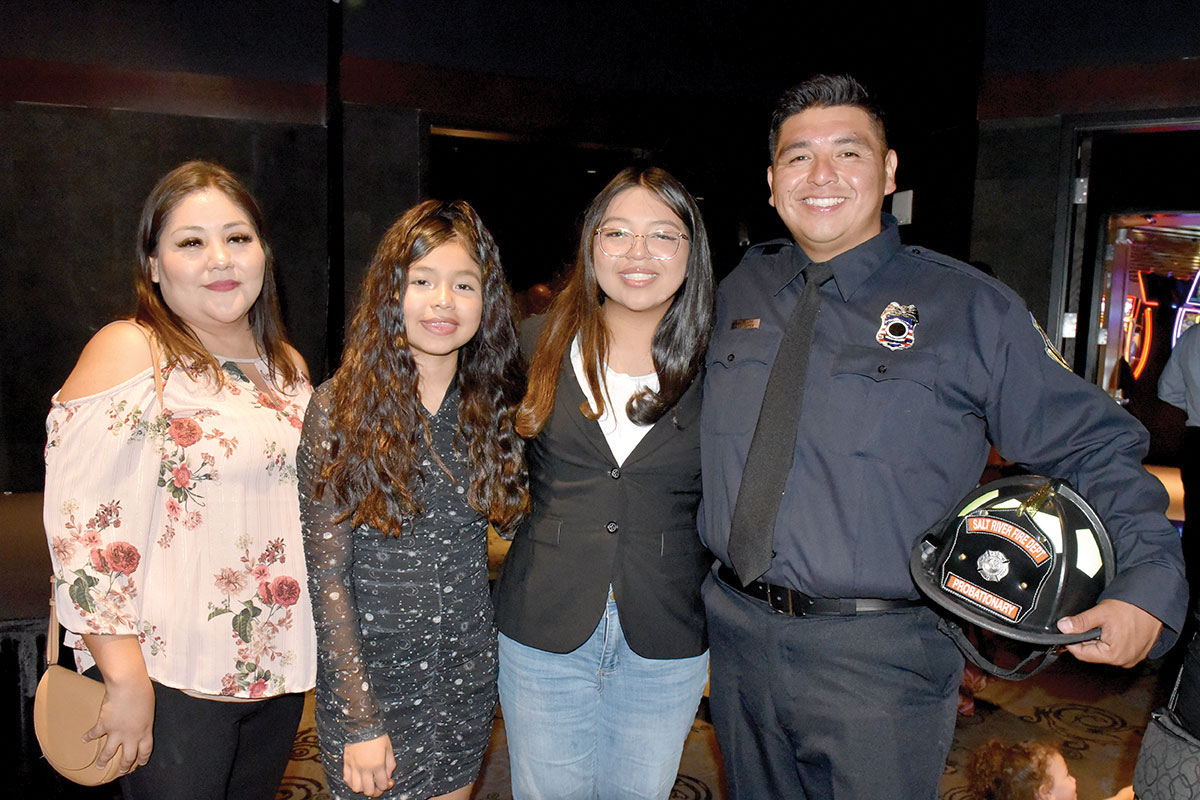 Salt River Recruits
Esiquiel Guerrero
Michael Juan
Clifford Lopez
Ezekiel Mendoza
Jacob Padilla
Alicia Randall
Malcom Rankin
Cole Rennie
Ramo Wood