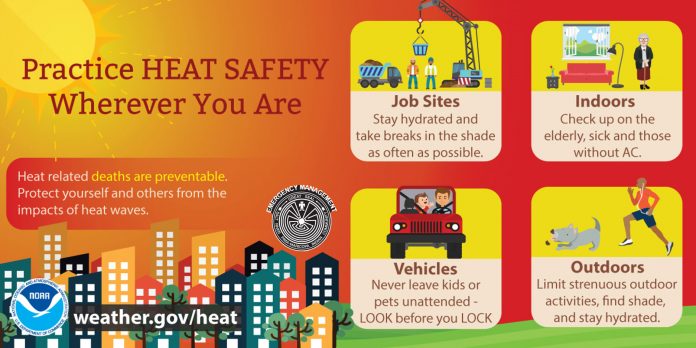 By Terry Nelson, SRPMIC Emergency Management Coordinator
With temperatures rising in the valley and Salt River Pima-Maricopa Indian Community, your Emergency Management team would like to share some information on heat safety. Keep in mind that everyone can be vulnerable to heat, but some more than others. Those who are most vulnerable include young children and infants, older adults, pregnant women and people with chronic medical conditions. Additional measures can be taken to ensure that these members of our Community do not fall victim to heat-related illness.
Being aware of the risk factors and following these tips can help keep individuals and their families safe when extreme heat threatens:
Stay hydrated ahead of the heat by drinking plenty of fluids, preferably water.
Never leave people or pets inside a car.
Check on family members and neighbors.
Avoid strenuous outdoor activity.
Watch for signs of heat exhaustion, heat cramps and heat stroke.
Recognize heat-related illness early and seek medical attention for those who experience severe symptoms.
Seek shelter or find places with air conditioning and stay informed of weather conditions through your local media outlets. For more information on extreme heat and heat safety, contact SRPMIC Emergency Management at (480) 362-7929 or at Terry.Nelson@srpmic-nsn.gov.