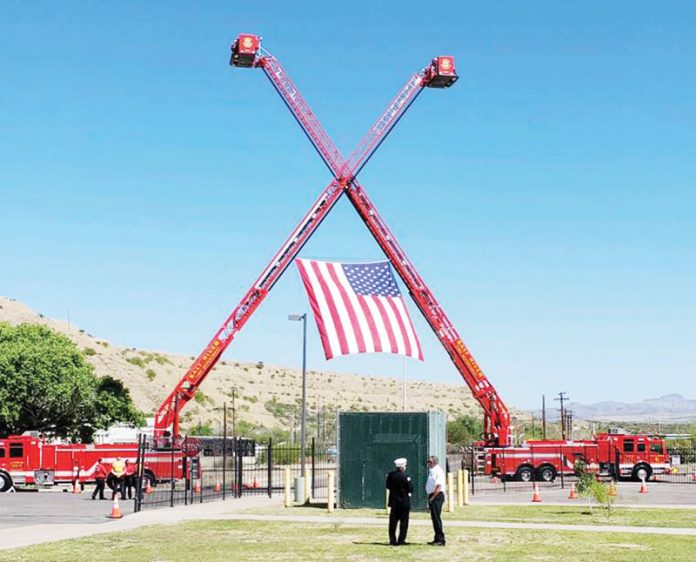 First responders of the Salt River Fire Department were on an emergency call on the afternoon of Friday, April 8, when they were hit by a semi-truck on State Route 87 (Beeline Highway) and Center Street. Firefighter/EMT Brendan Bessee was killed when his ambulance collided with the truck, and Firefighter/Paramedic Tyler Packer was seriously injured.
A vigil was set up at Station 294, located on the southwest corner of Indian School Road and Center Street, on Friday evening. Ribbons were hung on a tree outside of the station in remembrance of Bessee and offering prayers for Packer, who continues to recover from his injuries. Many Salt River Pima-Maricopa Indian Community members, including Council members, stopped by to show their support for the SRFD.
"They were two of my firefighters for the Community and recent hires," said Chief Daryl Dash. "They've been with us for a little over four months, great guys, great individuals. It's a tragic loss that we've lost one of them."
Bessee, from Globe, was escorted to back to his hometown in a procession that passed through the Community on Saturday, April 9. The SRFD and Salt River Police Department helped escort Bessee home, passing by SRFD stations 291 and 294 in the Community before heading to Globe. Many surrounding fire departments honored Bessee by positioning their ladder trucks and hanging flags as the procession passed.
Bessee's funeral was held on Saturday, April 16, in Miami, Arizona. Bessee loved hockey, skiing, golfing, hiking and all other sports. He played hockey at Grand Canyon University and was a reserve with the Globe Fire Department before joining the SRFD.
East Valley Firefighter Charities has set up a GoFundMe account for Packer. You can donate at www.gofundme.com/f/help-injured-salt-river-firefighter-tyler-packer?qid=b3ca86cc9abf7d4242d7677c5e810b02.
Both Bessee and Packer had been with the Salt River Fire Department for less than four months after transferring from other fire departments.