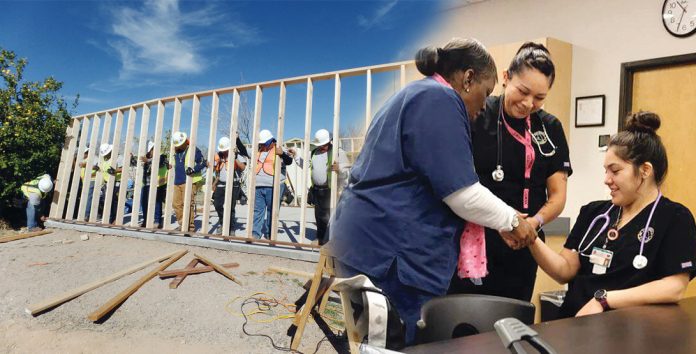 After numerous hours training in a number of different trades, 26 Human Resources Apprenticeship Program graduates were honored with a special graduation event on Thursday, October 28. The Salt River Pima-Maricopa Indian Community's Apprenticeship Program held a grab-and-go event for those who graduated in 2019, 2020 and 2021. The students earned journeyman certification in positions such as accounting technician, carpenter, computer operator, dental assistant, heavy equipment operator, IT help desk technician and medical assistant.
The graduates received a monetary award, a jacket, an etched lamp, some other gifts and a lunch.
"Each trade has different amount of required on-the-job training hours," said Workforce Development Manager James Smith. "For an example, a computer student would need 2,000 hours of on-the-job training, which is basically a year's worth of employment. A carpentry student would need 7,000 hours, and a heavy equipment operator would need 5,000 hours. Once they reach journeyman status, they are considered an expert in their particular field."
Smith continued, "They have certifications through the Department of Labor and through the State of Arizona, and the good thing is that, especially with the Department of Labor, that certification is recognizable all throughout the United States. If they ever decide to move out of the Community and go to some other state, that will definitely help them get employment."
Currently the Apprenticeship Program is focusing on enrolling new trainees in healthcare fields to fill positions at the new River People Health Center.
"Our main focus these last couple of years has definitely been on healthcare: medical assistant, billing and coding, and pharmacy," Smith said. "Currently, two students are finishing their externships, which is a requirement for their certification. After that, they transition to on-the-job training. Smith added that a group of 10 individuals is currently training for HVAC, and we have some guys training to be electricians who are currently attending the Refrigeration School, Inc."
The Apprenticeship Program is open to all enrolled members of a federally recognized tribe, with preference toward Community members. This program is a great opportunity for young adults who are looking to graduate or who recently graduated from school.
"I kind of compare it to … an associate's degree or bachelor's," said Smith. "Not everyone wants to go to a two- or four-year university. This is a great opportunity for the younger people because you can make a good living once you are a journeyman in any of these trades."
To learn more about the SRPMIC Human Resources Apprenticeship Program, call (480) 362-7950.
Apprenticeship Graduates 
Georgia Goodwin-Acosta, Accounting Technician
Salena Aguilar, Computer Operator
Collette Arthur, Accounting Technician
Kayla Carlos, Computer Operator
Luann Chough, Computer Operator
Tyrone Emerson, Heavy Equipment Operator
Penrose Fulwilder, Carpenter
Alan Gonzalez, Carpenter
Ulaney Holloway, Medical Assistant
Durwin Juan, Carpenter
Nazhonii Leos, Medical Assistant
Vergio Lovato, Heavy Equipment Operator
Arlo Manuel, Heavy Equipment Operator
Philomen Manuel, Computer Operator
David Nash, Computer Operator
Anita Perez, Computer Operator
Steven Perez, Carpenter
Jamie Manzanares-Ramirez, Computer Operator
Angelo Robledo, IT Help Desk Technician
Sheila Romero, Computer Operator