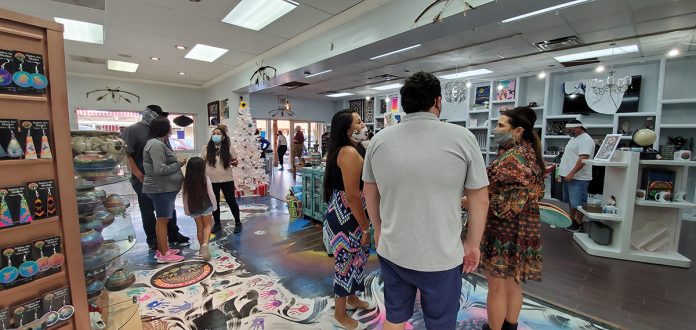 The Pavilions at Talking Stick continues to welcome new businesses. One special event is also very popular: the annual Native Art Market, located near Discount Tire. The open-air market, held during the winter months of November through March, offers all types of authentic Native American jewelry and art, as well as American Indian chefs hosting cooking demonstrations and tribal dancers.
The market is usually up and running at the Pavilions by now. However, due to a delay in receiving outdoor permits, the Native Art Market will be housed in a storefront in Old Town Scottsdale, its first permanent location. The grand opening was held on November 21, for Native American Heritage Month, fulfilling a dream for Heather Tracy and her mother, Denise Rosales, who created the Native Art Market, and for all the volunteers who came out to get the store ready for the opening.
"The Native Art Market is a project that we started about three years ago in 2018," Tracy said. "Originally it was an outdoor market, [but] for about two years now we've been hosting 30 to 40 artists at the Talking Stick Casino. This is supposed to be our third season, but we haven't gotten our outdoor permits yet due to COVID-19. They said any day now we should be getting those so we can restart the outdoor market [at the Pavilions]."
Tracy shared where the idea of the market came from. Rosales, a Navajo, has been weaving rugs, making jewelry and making traditional pottery and dreamed of a location where the pieces could be sold year round.
"My mother was actually accepted into a show at Old Town Scottsdale," Tracy said. "When she set up, they actually told her, her second time setting up, that she could no longer be a part of the market. And that was because she was a Native American selling Native American jewelry. And it was a conflict of competition with the surrounding businesses, because that is what they mainly profit off of. She was pretty upset when that happened, because she was really excited to be accepted into that show. So when she was told that she could no longer be a part of it, she felt 'Well that's not fair; maybe we should go ahead and try to build something specifically for the Native Community.' … So, that is how we came up with the idea.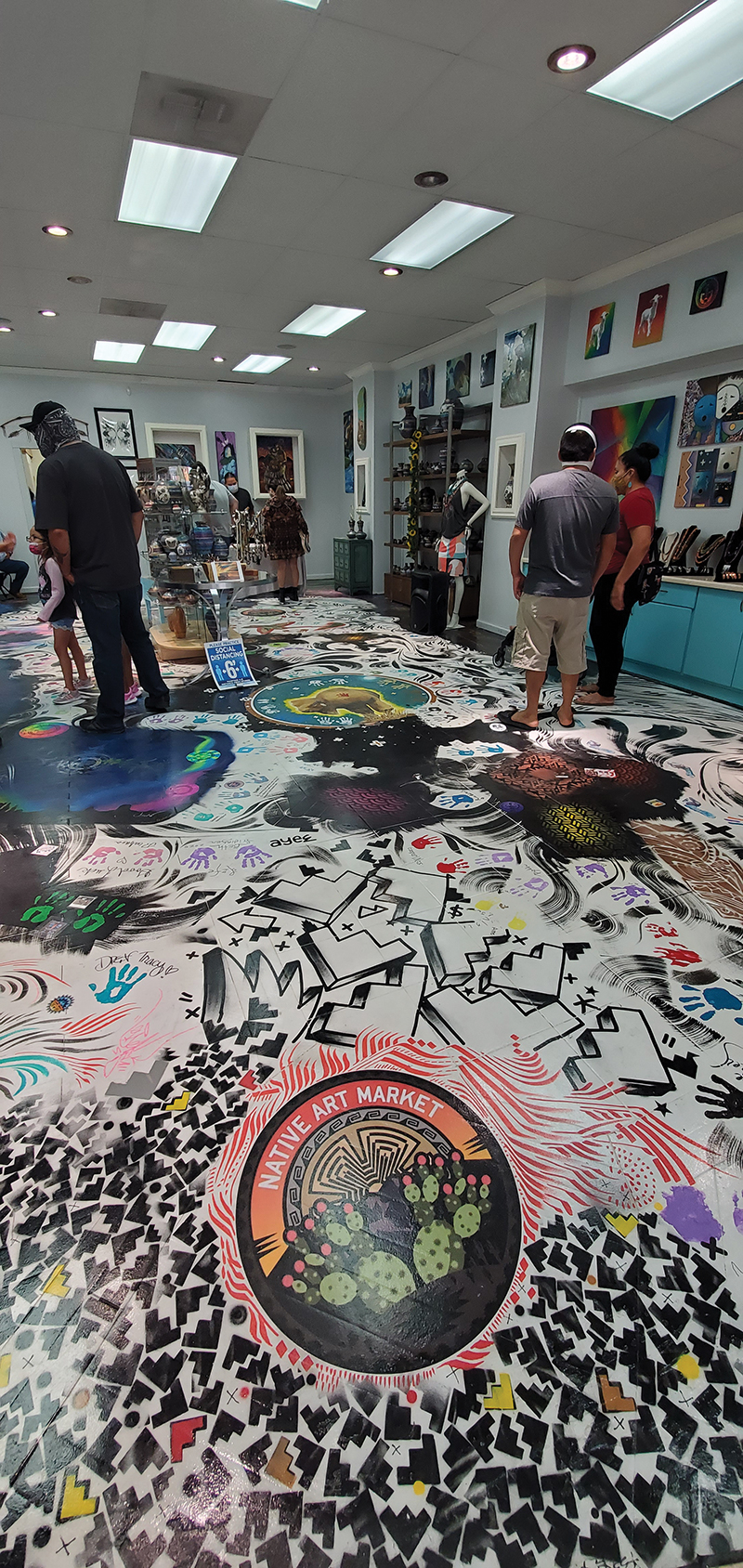 "It did take us a couple of years to actually find a location," Tracy continued. "We had a lot of meetings with different venues to see if we could host a market. We got a lot of no's, got a lot of 'maybe in the future.' But when we met with management at the Pavilions at Talking Stick, we walked in the office with our business plan, super nervous as usual, and before we even sat down he goes, 'This is a great idea! I'm so excited you're here. I can't believe no one is actually doing this!' So, he was one of the first people who saw what we were envisioning for the market and how we wanted to do it. He was just the first person who actually said, 'You have my full support.'"
Tracy added, "Discover Salt River has also been a super big supporter in this, especially Blessing McAnlis-Vasquez, who is the head of tourism in Salt River. When she heard the idea, she was the one who suggested the Pavilions. She was and still is a huge advocate for what we are doing, which is really cool."
When the Native Art Market first began, they started with one performer who played the flute to give the market some American Indian ambience. After a month, more performers and dancers came forward wanting to help contribute. They now have more than 25 different performance groups that rotate on the weekends. They use the vendor space fees to pay for all the marketing and to pay the performers. They do not profit from the market; it goes back into the market to make it bigger and better for everybody involved.
COVID-19 put everyone's plans on hold. This includes the Native Art Market, which is usually up and running by now.
"It was a struggle [this year] because this is a lot of people's livelihood, how they make their money," Tracy said. "We had to cancel two of our biggest weekends; it was hard for us to do that." But she said that the vendors who had to be turned away this year were flexible; they refused refunds and asked just to be scheduled for opening weekend. "That's how much the community supports and trusts us in that sense."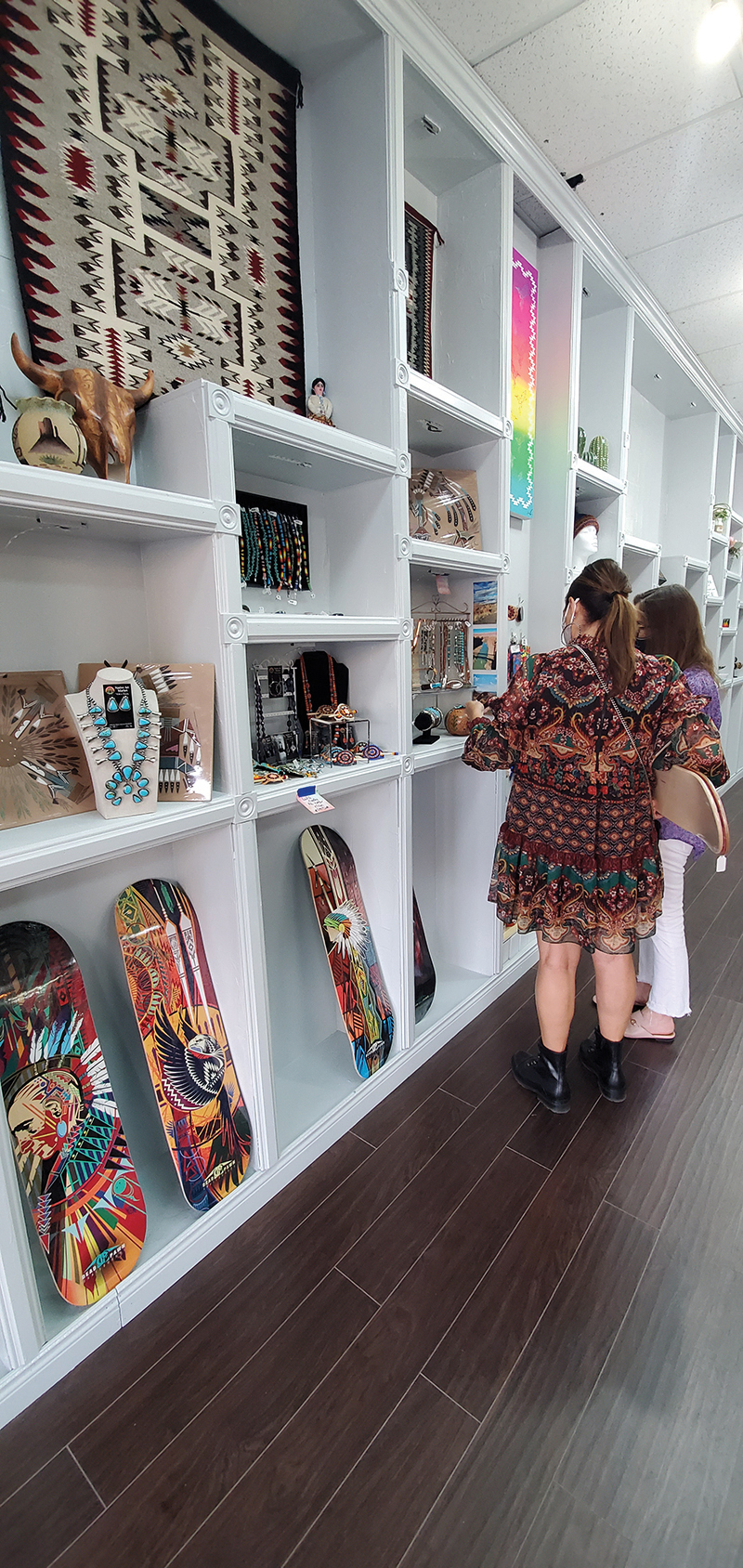 COVID-19 has slowed the process of getting the permits needed to continue the market this year at the Scottsdale Pavilions. This has only pushed Tracy and her family to go for their dream of opening the second location, a permanent store, a dream that started with their mother when Tracy and her siblings were kids.
"We've already been renovating for the last couple of weeks," Tracy said. "And we're scheduled to open the indoor market this Saturday at 4 p.m. We'll be doing the ribbon-cutting and we'll have all of our people here so you can meet and greet with them. … We're in Old Town Scottsdale, right across from (Gilbert) Ortega on Scottsdale Road and Main Street. My mom has been dreaming about this store since we were young little kids."
The indoor Native Art Market will continue to run every weekend. The layout will be an open and safe environment, following COVID guidelines. The Native Art Market at Scottsdale Pavilions will also open in a few weeks, once redesigned layouts are placed for social distancing. Vendors will be spaced 20 feet apart, and a maximum of 50 shoppers will be admitted at one time. In the future they plan on adding a farmers' market section featuring the Indigenous agriculture community at the outdoor Native Art Market in fall 2021.