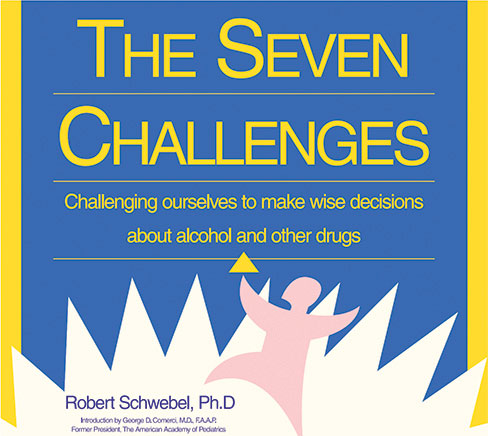 The Seven Challenges program is being offered to teens in the Salt River Pima-Maricopa Indian Community through the Behavioral Health Services department as part of a new approach to substance abuse counseling.
The program was developed by Robert Schwebel, Ph.D., in 1991, and meets teens (and adults) where they are in their developmental stage and partners with them in a decision-making model.
"We know that youth have a need to feel heard," said BHS manager Erin Wilkinson.
"We know that youth developmentally need a space and support to think for themselves, and we know that kids use drugs and alcohol for a variety of reasons. They need a program that encourages them to work on all the issues in their life. We want better outcomes for the youth, and Seven Challenges is evidence-based, showing great outcomes."
Youth are guided by the counselor through the program using a combination of readings, support, interactive journaling and counseling. Developing a trusting, honest relationship in counseling is the foundation for the program.
"We know that drug and alcohol use is not a stand-alone issue, so the program emphasizes cognitive and emotional decision-making, focusing on what is important and relevant to the youth and their substance use and mental health," said Wilkinson.
The Seven Challenges counseling approach was being used in individual counseling sessions with clients until BHS had a large enough roster to start a group, which was slated to begin on November 8.
The group format also includes individual counseling and family/parent involvement. Currently, the group is only for teens ages 13 to 17, although a 12-year-old can join if appropriate.
Once enough teens join the group, they will meet on Mondays and Thursdays from 4 to 5:30 p.m. and Tuesdays from 4 to 5 p.m. at the BHS building at 10215 E. Osborn Road.
BHS counselor Cora-lei Marquez, M.A., is facilitating the Seven Challenges teen group. She is a member of the Yavapai–Apache Nation, and much of her experience and knowledge has been gained while working within her own community as the drug court coordinator, a tribal leader, a substance abuse counselor, a domestic violence advocate and UNITY advisor.
Marquez earned a B.A. from Northern Arizona University in interdisciplinary studies–applied human development, with an emphasis in community sustainability. She also has an M.S. in addiction counseling from Grand Canyon University.
"We know the need is present and there are young people abusing substances [every day]. We encourage their caregivers to contact BHS to add them to the group or ask us questions to help them make that decision," said Wilkinson.
Wilkinson added that a Seven Challenges group will be offered for adults soon. To join the teen group or to have your child assessed for counseling needs, call BHS at (480) 362-5707. If you or someone you know is experiencing a crisis, or if there is a need to receive Narcan, call the Crisis Intervention Team at (480) 850-9230.