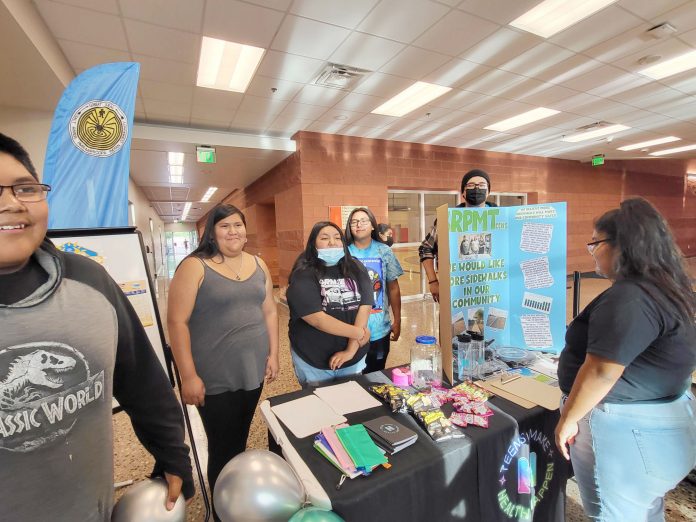 For the past couple of months, 13 teens from the Lehi and Red Mountain branches of the Boys & Girls Clubs of Greater Scottsdale have been working with the nonprofit organization HealthCorps on a project in a program called Teens Make Health Happen.
The Teens Make Health Happen club provides educational leadership programming and service learning for teens centered around physical activity, nutrition, mental resilience and community engagement.
The teens had to come up with a project to improve the health of residents in the Salt River Pima-Maricopa Indian Community. They came up with the idea to raise awareness about the benefits of having more sidewalks in the Community to both encourage exercise and improve safety for Community members.
"We decided to do the project because people will walk through fields and in dirt areas where there could be snakes and rats if they don't have sidewalks available," said teen participant and current Jr. Miss Salt River Robin Ramirez.
Participant Domingo Pedro said that the teens also noticed that only Community areas with larger buildings, or the housing communities, have sidewalks.
"Where I live, [there are no sidewalks]," said Pedro. "The sidewalks would help me and other Community members be healthier and safer."
The teens set up a booth at both the Lehi Club and the Way of Life Facility to distribute information about their project and conduct surveys to see how the Community feels about the topic.
On May 7, the teens submitted their proposal for inclusion in the HealthCorps National Project Health Showcase, in which students from across the nation presented ideas and projects to combat health inequities in their communities for a chance to win funding toward their project.
"[The SPRMIC teens] were awarded honorable mention for the Physical Health category, winning $100. We are proud of team Salt River Pima-Maricopa Teens!" said HealthCorps Regional Program Manager Taneesha Watson.
Angela DiCicco, teen development specialist for the Boys & Girls Clubs of Greater Scottsdale Red Mountain and Lehi branches, said she is also very proud of the project that the group put together and hopes it will create lasting change in the Community.
"A project like this means exposing our Community teens to healthy life choices and giving them the support and resources they need to try to make their community healthier as well," said DiCicco.
Voting for the National Project Health Showcase People's Choice Award, which included the SRPMIC teens' project, ended on May 22, and winners will be revealed at a later date.
The program provides grant funding so the teens can put their ideas into action. The team whose project receives the highest number of votes will receive access to $500 in Project Health funds, and three runners-up will receive access to $300 to go toward their project initiative.
"With the funding, the SRPMT team would like to continue their campaign to bring more awareness about their concern to the Community," said Watson.