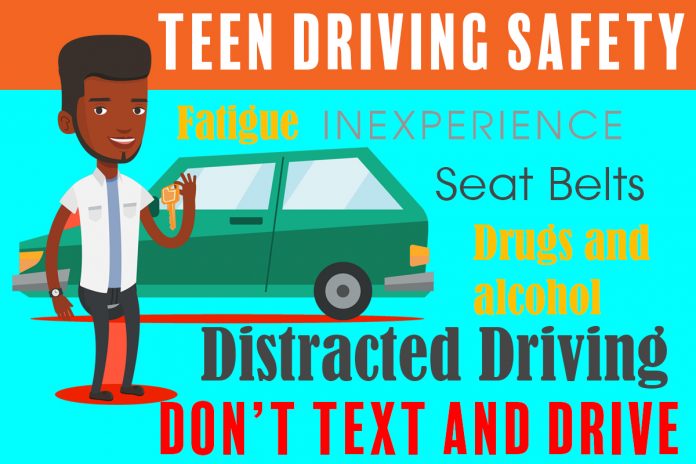 In our household we have a new teenage driver. When she leaves the house, a flood of uncertainties goes through my head: Did we teach her enough about driving? Is she paying attention to everything around her? She better not be texting! I'm sure these thoughts go through the minds of a lot of parents and guardians when their teens begin to drive on their own.
As teens learn to drive, it's important to emphasize safety and make sure they understand seat belts, speeding, distracted driving, and driving under the influence of drugs or alcohol.
Wearing seat belts saves lives. In 2019, according to the National Highway Traffic Safety Administration (www.nhtsa.gov), the national rate of seat belt use in the U.S. is 90.7%, and seat belts saved 14,955 lives in 2017. Reminding your teen to obey speed limits will help keep them from becoming a statistic; teach them to simply leave earlier and allow more time to reach their destination.
In 2018, distracted driving claimed the lives of 2,841 drivers, passengers, pedestrians and bicyclists. Distractions in the vehicle include making or answering phone calls, reading or sending text messages, and holding a device to change music. Two years ago, Salt River Police Department officer Clayton Townsend was making a traffic stop on Loop 101 near McDowell Road when he was hit and killed by a texting driver.
For several years now, the Salt River Pima-Maricopa Indian Community has had a No Texting While Driving law within the Community's borders. The state of Arizona's hands-free driving law went into effect on January 1, 2021. The Arizona law prohibits drivers from using and holding a phone or device, reading or sending text messages, and watching video while operating a car. Drivers are allowed to use a device with an earphone or speaker, and they may use the phone to call 911 in an emergency. Drivers also may engage or disengage a function on a GPS device while using it for navigation. For information on fines associated with the law, go to www.azdps.gov/handsfree.
Driving under the influence of alcohol or drugs is not only a killer, it carries many associated punishments such as losing driving privileges, fines, mandatory jail time. interlock devices installed on the car, and disqualification for certain jobs that involve driving. Each day, according to www.nhtsa.gov, 30 people die in drunk-driving crashes in the United States, claiming more than 10,000 lives each year. It's important to educate your teen driver about the responsibility of driving and never drive under the influence of alcohol or drugs. Let them know they can always call you to pick them up if they find themselves in a situation where they have been drinking or they don't want to get into a car with a driver who has been drinking. Tell them you will put your anger aside because their safety comes first.
Visit www.nhtsa.gov/risky-driving to learn more about risky driving behaviors and educate your teen drivers about driving safely.