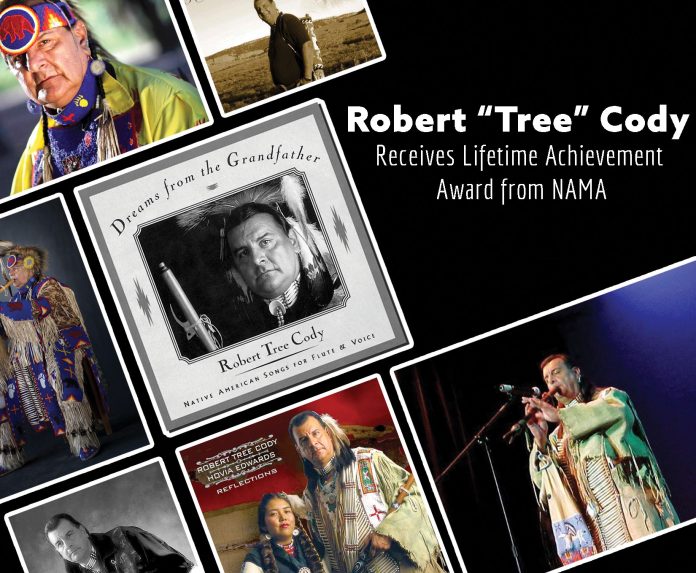 Grammy Award–nominated and five-time Native American Music Award (NAMA) winner Robert "Tree" Cody received the NAMA Lifetime Achievement Award during the 20th Awards show in Niagara Falls, New York, on November 19.
Cody, who is a member of the Salt River Pima-Maricopa Indian Community, has been playing the Native American flute since he began learning about his Native heritage from his adopted parents, actor Iron Eyes Cody and Bertha Parker (Seneca) as a child. He knew music was his calling after seeing a flute hanging on a wall in his grandfather's home when he was 5 years old. In 1988 he began recording and started a musical journey which has taken him around the world.
Recording music with Canyon Records led Cody to countries including Mexico, Ireland, Great Britain, Belgium, Spain, France, Germany, Australia, China, Japan, Korea and Thailand. This gave him an opportunity to play the flute with other Indigenous people around the world.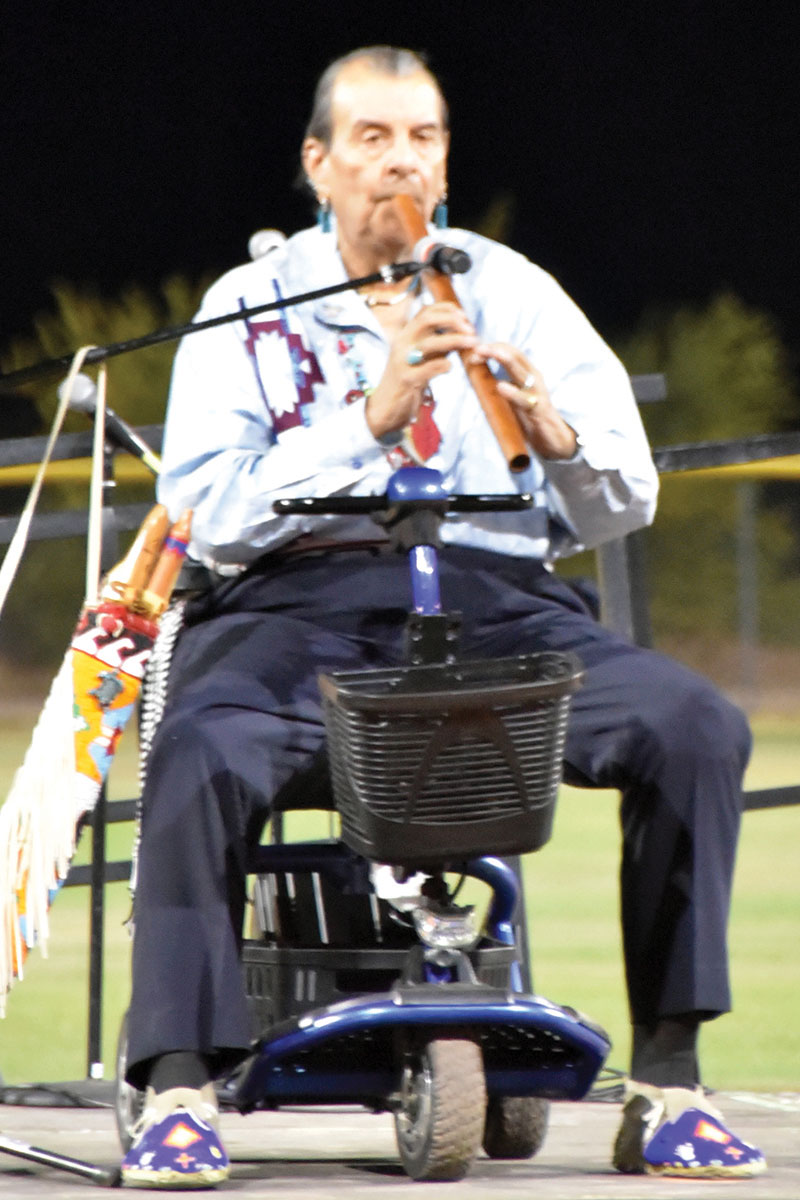 Cody has been nominated 14 times in categories ranging from Best Latin Recording to Artist of the Year. He has won Nammys for Best New Age Recording, Best Latin Recording and Best World Music Recording, and in 2001 he was named Best Male Artist. In 2007 he was also nominated for a Grammy with Will Clipman for the album they recorded together, Heart of the Wind.
"I think it's pretty cool! I've been with the NAMA for quite a while," said Cody on what he thought about receiving the NAMA Lifetime Achievement Award. "It caught me off guard when they mentioned this to me; I just sat there in shock. I feel that this is an award that is pretty cool to receive …. I've been working with Native American [music] since 1988. It takes a lot of work, hard concentration and lot of history research. On some of the songs I had to research and get permission from the families. One of the most prestigious songs I've done was with the Yaqui people of Guadalupe. I feel very humbled and honored to be chosen for this award."
Along with Cody, artist Paul LaRoache of Brulé/AIRO is also receiving the Lifetime Achievement Award. The group Brulé has won eight Nammys, released 20 CDs and sold over 1 million CDs worldwide. The NAMA Hall of Fame inductee this year is Micki Free (Comanche/Cherokee), guitarist for songs "Dancing in the Sheets" from the Footloose soundtrack and "Don't Get Stopped in Beverly Hills" from the Beverly Hills Cop soundtrack. He is currently touring for his latest album, Turquoise Blue, which features members from The Santana Band. To see all award winners, visit www.namalive.com.
Cody is currently working on a new album that he would like to dedicate to the people of Salt River and the Santa Ana Pueblo in New Mexico, which is where he currently resides with his wife Rachel.
"I'm working on an album, … and I've talked to an elder man and he's going to open up my album with the language of the Santa Ana Pueblo people," said Cody. "It will be quite a different album because it'll be dedicated to a lot of the different tribes here in the Southwest."
Cody was very thankful for all of his family's support throughout the years.
"I want to thank all … the people from Salt River, my Gates family, and all the other members of my family, in-laws and the relatives that are related to me," said Cody. "Most importantly, my late aunt Flo Gates, my late uncle Buddy Gates and of course my aunt Esther Moya and her husband, Courtney. They've been there for me and it's really, really good to have people to support you as well."