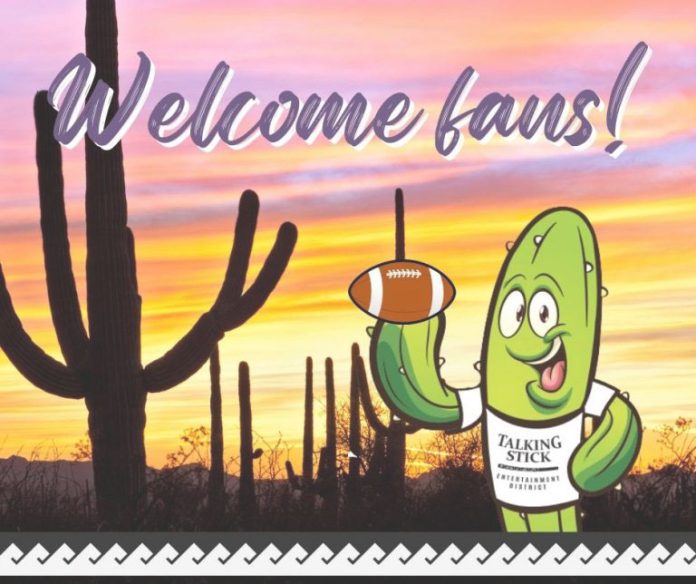 The NFL Super Bowl is back in the Valley, and the big game will be played at State Farm Stadium in Glendale on Sunday, February 12.
Super Bowl LVII is expected to bring more visitors and traffic to the surrounding area and to the Salt River Pima-Maricopa Indian Community's Talking Stick Entertainment District.
Here are some of the events happening around the Community and the Valley.
Superzona at Talking Stick Resort
From February 9 to 12, SRPMIC enterprise Talking Stick Resort will be hosting Superzona, four days of big parties and even bigger stars to celebrate Super Bowl LVII's return to the Valley.
Superzona begins on February 9 with The Kick-Off Party live at Talking Stick Resort's main pool, featuring two-time Grammy-nominated artist/DJ/producer Steve Aoki.
On February 10, NBA legend Shaquille O'Neal will bring Shaq's Fun House presented by Netspend, a festival/party hosted inside of a custom-built megastructure adjacent to the resort. The event will feature Snoop Dogg, Diplo, Myles O'Neal and Shaq's music persona DJ Diesel, along with a full carnival with games, bumper cars and the Netspend Ferris Wheel.
The day before the big game, on February 11, two events take over Talking Stick Resort: Gronk Beach presented by The Beast Unleashed and Sports Illustrated (SI) The Party presented by Captain Morgan.
Gronk Beach will be a beach party located at the resort's main pool, and it will feature a celebrity volleyball game and music from 21 Savage, Diplo and Lil Jon.
Later in the day, SI The Party will feature performances by Machine Gun Kelly and The Chainsmokers. The event will be open to the public and allow for fans to mingle with sports and entertainment figures.
On Super Bowl Sunday, Superzona will conclude with the Big Game Watch Party in the Salt River Grand Ballroom. The party will feature appearances by NFL legends Bo Jackson, DeAngelo Williams and Doug Flutie and will be hosted by Mike "Roc" Muraco, Dan "Manuch" Manucci and Jimmy B of Fox Sports 910AM.
The game will be available to watch on multiple large-screen TVs while guests can enjoy food and beverage specials.
All Superzona events are for adults 21 and over and are expected to sell out, according to Talking Stick Resort. For more information and to purchase tickets, visit www.talkingstickresort.com.
At Casino Arizona, you can watch the game starting at 3 p.m. in the CAZ Showroom hosted by Fox Sports 910AM's Bauer, Grose and Jax. Admission is free, and there will be theatre-quality projection screens for the game and a chance to win cash and prizes. Visit www.casinoarizona.com/entertainment/the-showroom/big-game-viewing-party/ for more information.
Within the Talking Stick Entertainment District, Mavrix will be welcoming guests to watch the game on their dozens of 4k televisions and a 20-foot jumbotron. The entertainment destination will offer Trophy Room packages and Jack Daniel's Patio Table/Lounge Packages (ages 21+) with an option to order the Mavrix Four Quarters of Food Feast.
Super Bowl Events for Youth
Nike N7 is partnering with the Notah Begay III Foundation, First Tee-Phoenix and US Sports Camps to provide camps for youth 7-17 years old, regardless of gender or playing ability, from the SRPMIC, Gila River Indian Community and Ak-Chin Indian Community. Pre-register for the events at www.N7sportscamps.com.
Dates and times:
February 5: Jr. Golf, Talking Stick Golf Club, 1-5 p.m.
February 10: Football, Accelerated Learning Academy/Salt River High School, 5-7 p.m.
February 18: Baseball/Softball, Accelerated Learning Academy/Salt River High School, noon-2 p.m.
On February 11 from 10:30 a.m. to 12:30 p.m., the Fritz Pollard Alliance will host a youth bowling experience at 810 Billiards & Bowling at 50 W. Jefferson St. in Phoenix. SRPMIC Recreational Services will participate in this event with 60 youth who attend their programs. The youth will have the opportunity to meet former NFL players and coaches at the event.
Super Bowl Events Around the Valley
Here is a list of events around the Valley:
February 4-5 & 9-11: Super Bowl Experience presented by Lowe's at Phoenix Convention Center
February 6: Opening Night presented by Fast Twitch at Footprint Center, Phoenix
February 8: Super Bowl Gospel Celebration at Mesa Center for the Arts
February 8: NFL Origins LVII at the Showcase Room, Tempe
February 8-12: Historic Old Town ESPN Main Street Tailgate in Old Town Scottsdale
February 9-11 Bud Light Super Bowl Music Fest at Footprint Center, Phoenix
February 9: NFL Honors presented by Invisalign at Phoenix Symphony Hall
February 9-12: Super Bowl Experience presented by Lowe's at Hance Park, Phoenix
February 10: FanDuel Party at Tempe Beach Park
February 11: Taste of the NFL at Chateau Luxe, Phoenix
February 12: Official Super Bowl Watch Party at Hance Park, Phoenix