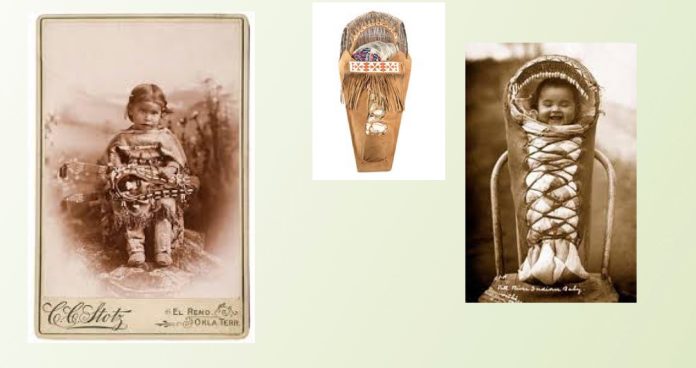 The Behavioral Health Services Department of the Salt River Pima-Maricopa Indian Community is offering Positive Indian Parenting classes online to all interested Community members. The classes are designed to help build stronger children and families. The eight-week series features class every Thursday from 12 noon to 1:20 p.m.
So far, class participants have learned about parenting topics such as Traditional Behavior Modifications, Harmony in Childrearing, Traditional Parenting, Lessons of a Storyteller and more.
In the second class, participants focused on storytelling as a technique to help parents communicate with their children and share knowledge about their cultural identity.
In the third session, participants examined bonding, nurturing and child development. In reviewing and understanding how traditional ways helped child development, Behavioral Health coach Tania Hatathlie focused on how the cradleboard is used as a method to nurture children and teach parents about children's needs.
Traditionally, the cradleboard was useful and practical. Babies were wrapped up tight and laced into the cradleboard so they could stay close to their mothers as they went about their daily duties with their children strapped on their back or placed on the ground close to them. In the cradleboard, unable to use their hands or feet, children learned to utilize other senses. This gave them the opportunity to sharpen their eyes and ears at an earlier age. Using more of their brain to figure out what they are seeing or hearing gives the child time to observe a situation before fully reacting.
Wrapping babies calms them down, as it gives them a sense of being in the womb. The secure feeling relaxes them enough to go to sleep. The cradleboard is also a bonding element with the mother and family, as in some tribes all the women get together to make the new baby a cradleboard. Elders and other mothers help design the cradleboard and instruct the new mother on how to wrap her baby and lace the child onto the board.
In the next class, participants will be learning about harmony in childrearing. For more information on upcoming Positive Indian Parenting sessions, email Tania Hatathlie at tania.hatathlie@srpmic-nsn.gov.