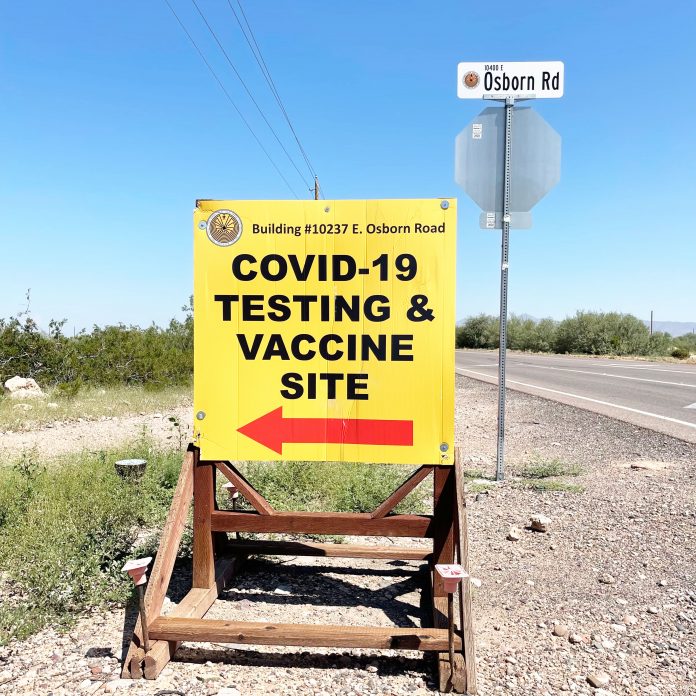 The Salt River Pima-Maricopa Indian Community Council has approved a directive to make full COVID-19 vaccinations mandatory for government employees as a condition of continued employment.
Government employees included in the directive are regular, temporary, part-time, day labor, interns, youth workers and volunteers.
This plan does not include SRPMIC Enterprises, which can develop their own COVID-19 plans.
As of August 24, 55% of SRPMIC employees were fully vaccinated.
On August 27, in a video released on www.srpmic.tv, SRPMIC President Martin Harvier said that the decision to make the employee vaccinations mandatory was difficult.
"With the thought of membership in mind, and with the government created to provide services to the members of our Community, the Council felt that we as a government needed to be fully vaccinated," said Harvier.
"The Tribal Council is trying to do our part by setting an example. And hopefully with that example being set, you also will make that decision to get vaccinated. What is being done here at the [SRPMIC government] is also being done outside the Community. Other tribes are [making vaccinations for government employees mandatory]. I know we all have a choice; I just want employees who haven't been vaccinated or who are having to make a decision [to be vaccinated] to get vaccinated."
The only exemption from the SRPMIC employee vaccine requires a legitimate medical reason signed by the employee's doctor. This exemption must be in written format and come from a medical doctor (M.D. or D.O.). Employees with a medical exemption will take a COVID-19 test every seven days until further notice or until they become vaccinated.
Every employee will also be required to participate in any additional booster shot that the U.S. Centers for Disease Control (CDC) recommends, if and when the booster is recommended and available.
As of August 24, the vaccine booster is not immediately available to the public. According to the CDC, the goal is for people to start receiving the booster vaccine beginning in the fall, with eligible groups starting to receive the booster eight months after their second dose of a Moderna or Pfizer-BioNTech mRNA vaccine.
The CDC said that people who received a Johnson & Johnson vaccine will most likely need a booster dose. The data expected in the coming weeks from Johnson & Johnson isn't available yet because the vaccine wasn't given in the United States until 70 days after the first mRNA vaccine doses.
Non-vaccinated SRPMIC employees must receive their first vaccine no later than September 30 and be fully vaccinated no later than October 30. With vaccines that require two doses, if an employee received the first dose and declines to take the second dose, their last day of employment will be November 1.
Employees who do not comply with the vaccine mandate will be provided verbal counseling and written notification of pending employment termination one week prior to the deadline. Employees failing to comply with the directive as of September 30 will not have appeal rights for this specific cause for termination.
If an employee chooses not to take the COVID-19 vaccination, all annual and sick leave will be paid out according to Policy 2-4, Leave.
The employee vaccination mandate comes on the heels of a Council-approved transition back to a modified Phase 2 of the SRPMIC Return to Work plan, Phase 2.5, with medium mitigation efforts. The change is due to how hard the COVID-19 Delta variant has hit the Community and surrounding communities. The total number of active cases of COVID-19 in the Community rose to 37 as of August 25. Under Phase 2.5, the skate park, pools, ball fields and parks will remain open with proper social distancing required between you and persons that reside outside of your home.
Because the Delta variant of COVID-19 is affecting young children, Harvier said that the Tribal Council decided to approve the 11th Directive, which prohibits any wakes or any type of funeral services in private homes.
The SRPMIC clinic will continue to provide opportunities for employees to receive vaccinations, and SRPMIC Health and Human Services will adjust the clinic hours to meet demand. However, employees may secure their vaccinations at any facility offering them.
Effective August 27, the COVID-19 vaccine clinic moved to the Salt River Gymnasium. It is open every Friday from 7:30 a.m. to 5 p.m., with a lunch break for staff from 12 p.m. to 1 p.m. Appointments are preferred and walk-ins are taken up until 3 p.m.
Tribal governments around Indian Country are making similar moves to implement mandatory vaccinations for government employees.
Recently, Navajo Nation President Jonathan Nez announced that all Navajo Nation executive branch employees will be required to be fully vaccinated by the end of September. Employees will face disciplinary action and will be tested every two weeks if they don't show proof of vaccination by September 29.
Cheyenne and Arapaho Nation Governor Reggie Wassana issued an executive order stating that government employees will have until September 6 to get their first vaccination shot. If the employee does not get the vaccination by this date, the employee will be placed on leave without pay until the first shot is received. The order states that employees are not being dismissed or terminated from their employment from the tribes.
SRPMIC vaccination status as of August 24
Community Members:
40% of CM population in AZ aged 12+ received at least one dose
Total Individuals Receiving Partial Dose = 432
Total Individuals Fully Vaccinated = 2466 (31% of eligible CM's fully vaccinated)
CM's vaccinated over 65 =
326 (79% of all in this group in AZ)
CM's vaccinated 12 to 17 = 382 (36% of all in this group in AZ)
One dose = 148
Fully vaccinated = 224
SRPMIC Employees Fully Vaccinated = 55%