In March, the Salt River Pima-Maricopa Indian Community's Public Works Department will begin operating a new hub for its Utilities and Roads Division off Osborn Road and 92nd Street.
The new Utilities and Roads building will be divided into two sections: storage for street signs and equipment, and an office space for about 60 to 65 employees, who include floor managers, supervisors, engineers, project managers and field staff.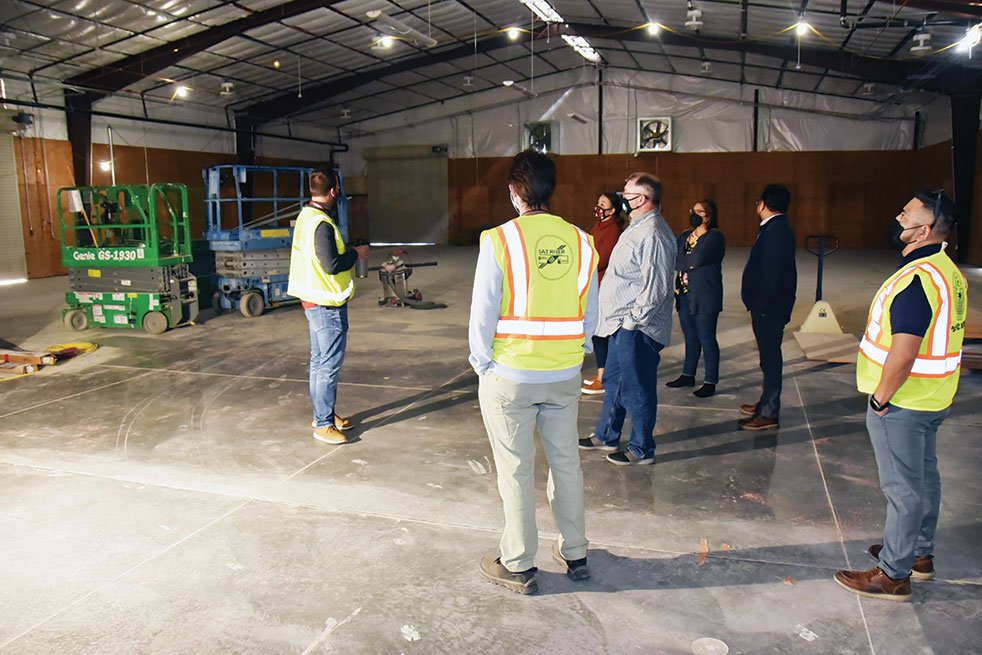 Within the complex will also be a new 12,000-square-foot storage building for SRPMIC departments to store their legal documents, files, decorations and other items. This will replace the current space at the Pima Center on Via de Ventura and 90th Street, which is a leased space that the Community does not own. The SRPMIC Storage Facility will begin operation in February.
"We now have a facility that the Community owns and can expand, because there is no room for expansion at the other facilities," said Senior Facilities Manager Jeffrey Littrell.
The Community departments were running out of space at the Pima Center storage facility, so four to five years ago, former Public Works Director Kirk Beaty suggested adding another building to solve the problem.
"We immediately started talking about a metal building because of cost efficiency, expansion and utility. You can tear out the entire inside and rebuild if you want to. It made a lot of sense for the Community to build its own storage," said Assistant Public Works Director Mike Byrd.
The Community has the ability to expand the SRPMIC Storage Facility another 12,000 square feet 20 to 30 years down the road if needed, using additional space directly behind the current building.
Between the two buildings will be a new chemical storage station for the crews that do roadside landscaping and irrigation ditch maintenance. These crews use herbicide to help with weed control.
"It is a dangerous chemical, and used improperly it is harmful to your health. We're always trying to improve safety for that staff; that's what that building is for, so they never come close to touching the chemicals. You go up, there is a panel and you can punch in how much of the chemical you need based on the size of the tank you're using. It will meter it out for you, and you stick the nozzle in the tank and fill it up. It's a nice automated system that protects the employee and the chemicals."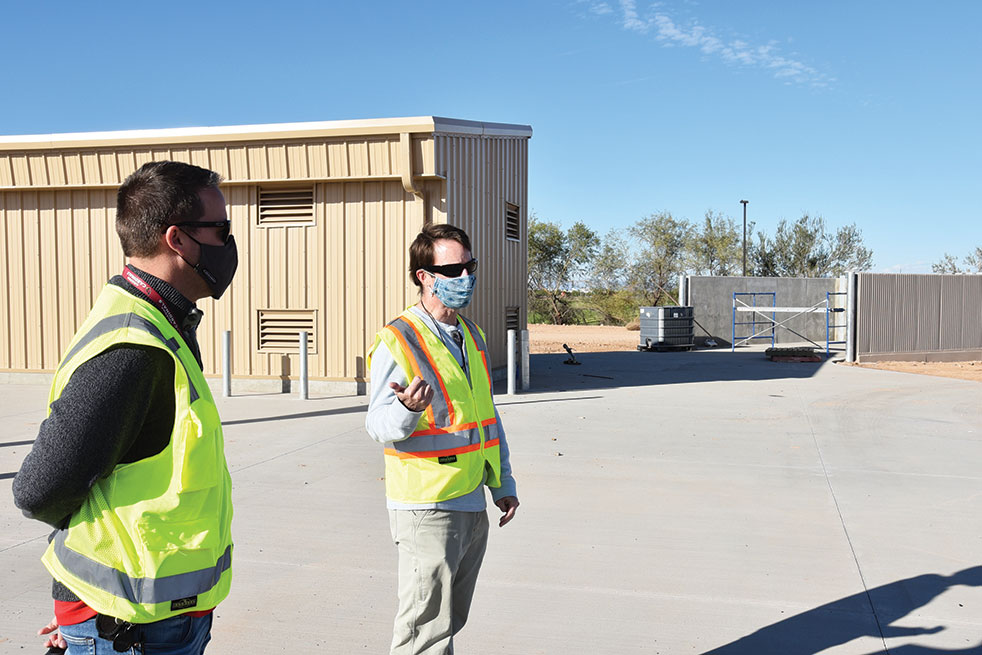 Next to that station will be a place for street sweepers who pick up debris and hazardous chemicals on roads to have a proper disposal space to let the materials dry before moving them elsewhere.
There will also be a new water "gooseneck" hose filling station for trucks that spray water on dirt roads and construction sites. This replaces the current usage of fire hydrants. The gooseneck hose allows the water to fill up straight into the tank, eliminating the job of cranking open and closing fire hydrants.
In the middle of the new facility will be shade parking for certain vehicles, such as asphalt patching trucks that carry certain tools that can benefit from the shade, on especially hot, sunny days. There will also be a large parking lot for other Public Works vehicles.
Much of the work, including the metal studs, drywall, paint and tile flooring in the facilities, was done by Community employees.