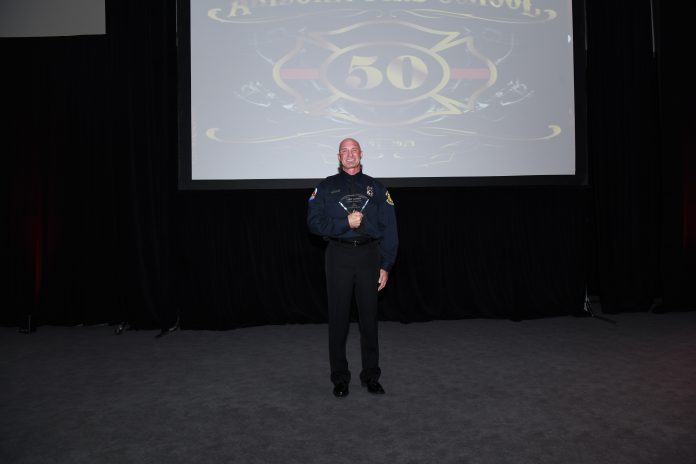 Every year, United Fire Equipment Company, which has offices in Tucson and Tempe, presents its Firefighter of the Year Award to a firefighter in Arizona as a way of recognizing the brave actions of the men and women who protect the state's people and property. This year's award ceremony took place on September 7 and marked the company's 30th annual award ceremony.
"The winner of this award has been not only a hero, but a role model. The program recognizes an individual who executed their skills in an especially effective and inspiring manner," said United Fire Equipment President and CEO Daniel Matlick. "For these reasons and more, it is our pleasure to induct [Salt River Fire Department] Firefighter Christopher Gannon as the 30th Annual Firefighter of the Year."
The judges this year were John Kemp (Florence Fire Department), Dave Staub (Payson Fire Department), Bob Badgett (Gilbert Fire Department), Tom Shannon (Scottsdale Fire Department) and Dave Kean (Casa Grande Fire Department). They judged the award finalists without knowing their fire department affiliation, location or gender, or whether it was a volunteer or career firefighter.
Gannon was recognized for his heroic effort in saving the life of fellow SRFD firefighter Tyler Packer in a tragic accident last year.
Packer recovered and is now back to work again at the SRFD.
"I'm not only very honored, but extremely humbled," said Gannon as he received the award. "Little did I know how much that day's events would impact my life. When I heard about the nomination, I thought to myself, 'I just did my job.'"
Gannon said that he wasn't the only person who responded to the call. As far as he is concerned, everybody else who responded did their job.
"Several people had major roles that day, and this award could have gone to any one of them."