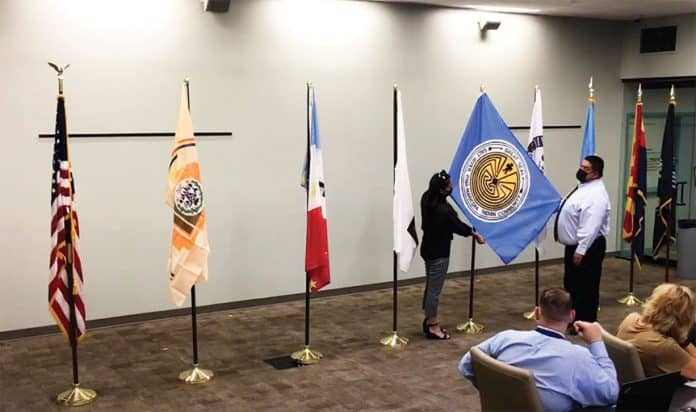 At a Tempe Union High School District (TUHSD) Governing Board meeting on September 15, representatives from the Salt River Pima-Maricopa Indian Community, Ak-Chin Indian Community, Gila River Indian Community and the Pascua Yaqui Tribe hosted a special presentation of each Community's flag. The Navajo Nation flag also was included, but a representative was not present.
The school district said that the purpose of this event was to honor and hear from the tribal communities where TUHSD students come from, and also to honor the ancestral lands upon which TUHSD school sites are located.
Currently, 980 students in total attend school within the TUHSD, including 14 students from the SRPMIC.
SRPMIC Vice-President Ricardo Leonard attended the presentation and gave an opening blessing.
"I would be remiss if I did not explain what this maze [on the SRPMIC flag] means to our people," said Leonard as SRPMIC veterans representatives Troy Truax Jr. and Amanda White held up the SRPMIC flag after the presentation of the colors. "[All four Southern Tribes] look at this maze as something that is sacred to us."
The idea for the event originated from TUHSD Governing Board President Brian Garcia (Pascua Yaqui) and Ismael Osuna, a Marcos de Niza High School parent from the Town of Guadalupe who is also a member of the Pascua Yaqui Tribe.
"Mr. Osuna had written to our Governing Board members and Superintendent asking them to consider placing the Pascua Yaqui flag in the boardroom as a sign of respect and inclusion," the school district said in a statement.
"This idea broadened to include all tribes who have students attending our TUHSD schools. To quote from Mr. Osuna's original letter, 'Having our Yaqui flag in the boardroom will help instill pride in our youth and help them see they have a place at Tempe Union.'"
Megan Sterling, TUHSD executive director of community relations, said that earlier in the school year, a land acknowledgement statement was implemented before every board meeting.
"We also have an employee dedicated to Native American students who works on connecting [the students] with resources—anything they need to find their path and be successful," said Sterling.
The flags are currently posted in the school district's Governing Board room and can be seen during each meeting.