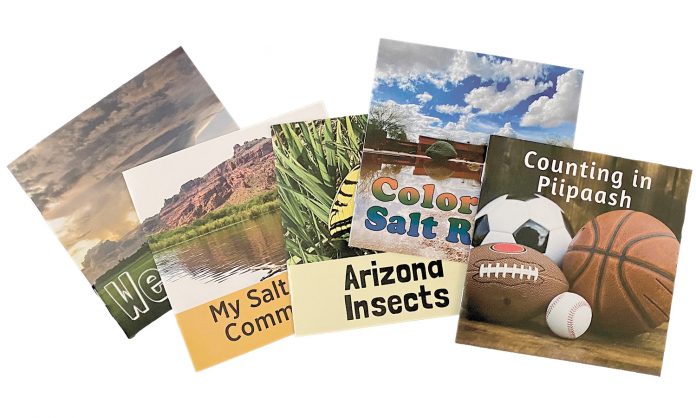 Salt River Schools has received a Literacy for All grant from Native Youth Community Projects (NYCP), which is funded by the U.S. Department of Education. The four-year grant began in 2018 and has since resulted in more than 3,300 books produced for Salt River Pima-Maricopa Indian Community children and their families.
"We work with Unite for Literacy, which is our vendor that makes the books; they do the printing and publishing," said Trinidad Yazzie, the SRS Literacy for All project manager. "And we are also going to have a digital library which we are still in the process of getting up and running."
The Literacy for All grant has opened doors for many teachers, students, parents and staff to help create small 12-page books that tell short stories on numerous topics such as the solar system, ice cream, hiking in the desert, random acts of kindness, Arizona insects and how to count in O'odham and Piipaash, just to name a few. These books are designed to help get Salt River kids reading and learning about new things and their own Community.
"Some of our cultural books are written by SRS staff and other SRPMIC tribal employees. The Step-Up [program] tutors have written over 300 stories for the books, and there has been help from Early Childhood Education Center parents as well," said Yazzie. "We also are going to be getting some help from SRPMIC Cultural Resources Department Outreach Coordinator Cody Achin to get more traditional-language books translated in the near future."
Because of COVID-19, it has been difficult to get the books distributed, but the food distribution events hosted by Salt River Schools, such as the Halloween and Christmas food distribution events, helped provide a way to get the books to a number of Community families.
Writers Wanted!
If you have a story to share, here is your chance to get it published. Literacy for All is seeking Community writers to author children's books that reflect the O'odham and Piipaash way of life. If you are interested, email literacy@saltriverschools.org.
The books are short and easy, focused on younger readers. "We have a process for the writers; they start off with a storyboard and pictures and they write a sentence or two for each page," said Yazzie. "Unite for Literacy has gone above and beyond [with their printing and publishing services], and we look forward to getting more writers to create more books."
Literacy for All is looking to work with Salt River Department of Corrections detainees to help create books, and Salt River Police Department officers have expressed interest in writing a book about Native American police officers so children realize they can become police officers in the future.
You can find some of the books online at www.uniteforliteracy.com/saltriver/sps. The books are there, but some of the extra features such as translations and audio are in progress.
The grant will end in September 2022. For more information, email literacy@saltriverschools.org.