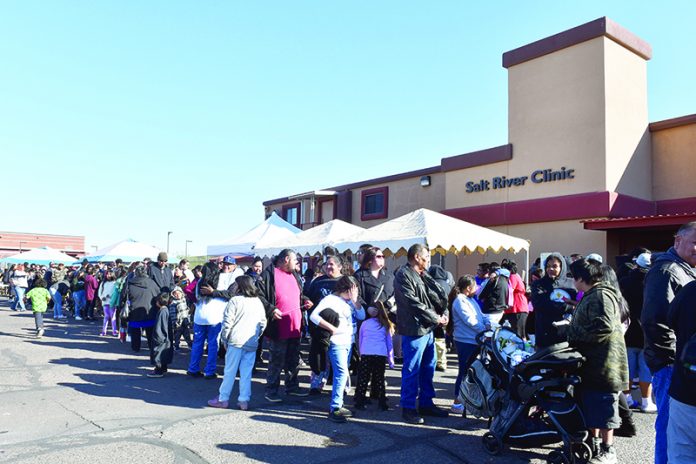 The StrongLife Wellness Program held its first event of 2020 on Saturday, January 11 at the Salt River Clinic. More than 1,000 Salt River Pima-Maricopa Indian Community members and their immediate family members began standing in line shortly after 8 a.m. on the brisk morning. The doors opened at 9 a.m. for attendees to receive a biometric screening and a $100 gift card. Screenings lasted until 2 p.m.
Unfortunately, some people had to be turned away because of the very high turnout. Everyone who attended was served breakfast and lunch and enjoyed entertainment by DJ Tony S. and a bounce house for the children.
There were 589 participants who received their biometric screening and information about the StrongLife Program, which followed the screening. They also had the option to participate in a five-minute training in the use of Narcan for patients with drug overdoses; 289 people received Narcan kits.
The 487 people who were unable to participate will be contacted in the future to attend a similar event with the same topics and a $100 gift card.
The Five Pillars of the StrongLife program are family wellness, social and cultural wellness, emotional and spiritual wellness, physical wellness and financial wellness.
For more information about the StrongLife Program and how SRPMIC members and their immediate family members can start earning points, call Community Wellness Manager Toni Harvier at (480) 362-6995 or visit SRPMIC StrongLife Wellness on Facebook.