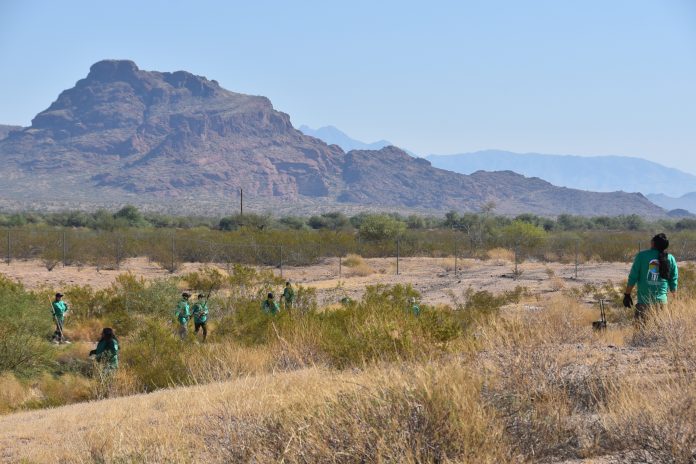 On October 20, Salt River Pima-Maricopa Indian Community employees came together for the annual Fall Overhaul cleanup event held throughout the boundaries of the Community.
The Community Development Department (CDD) and Environmental Protection and Natural Resources Department (EPNR) put the event together with the assistance of many different SRPMIC government departments.
This year's theme was "Working Together For a Brighter Future." In total, 1200 employees participated in the cleanup.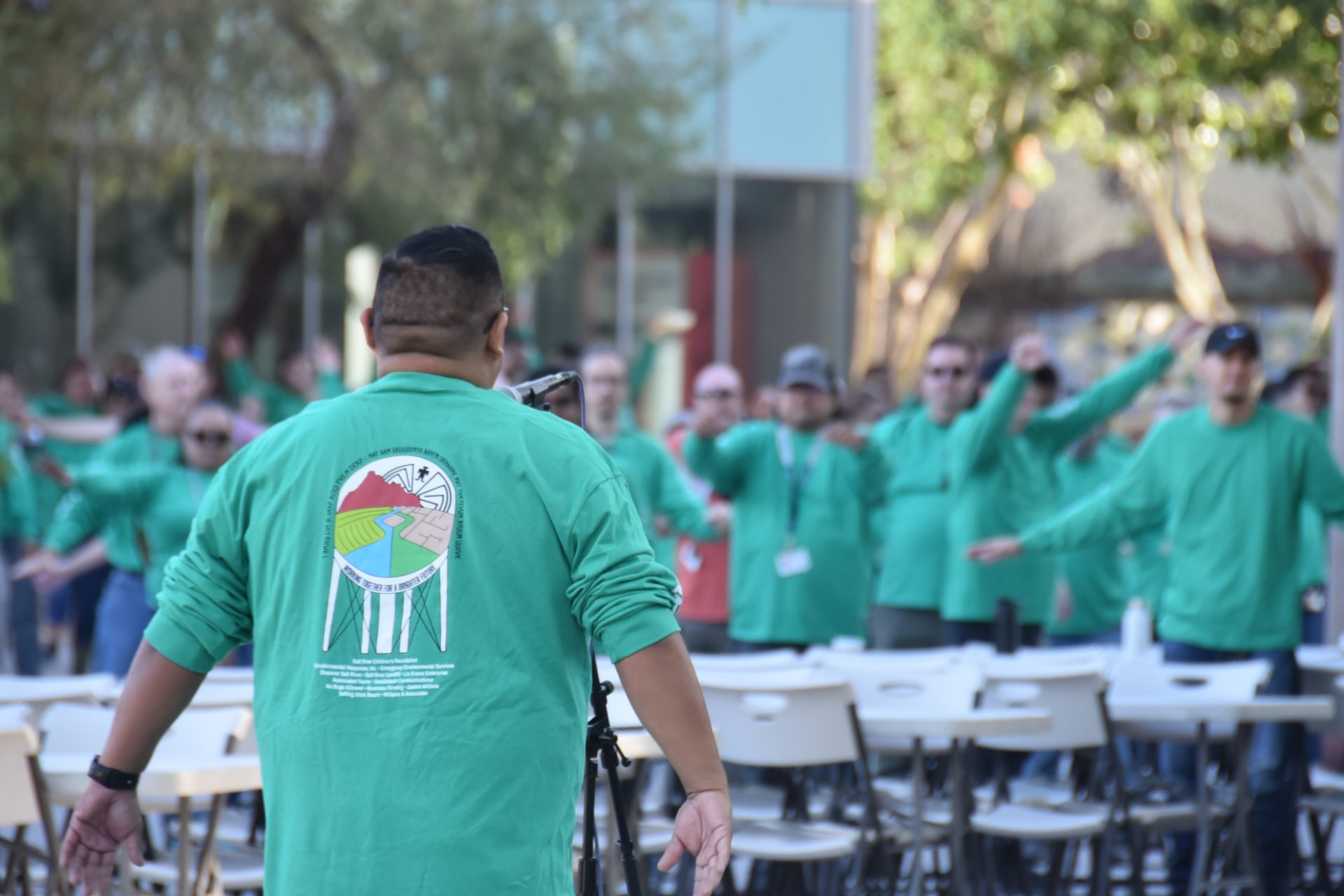 Before the event, employees gathered in the Two Waters Courtyard for a prayer by Amy Miguel, a welcome by SRPMIC President Martin Harvier, and a full body warm-up exercise demonstrated by HHS Injury Prevention Coordinator Monte Yazzie to get everybody stretched out and ready to work. The warm-up was intended to loosen the shoulders, neck, back, chest, knees, feet and legs.
"Warming up the muscles by doing stretches and increasing the blood flow by getting your body moving is a great strategy to decrease injuries before activity," said Yazzie. "Fall Overhaul is such a great event; taking the time to give back to the Community with projects, increase team building with co-workers, and meeting new people in the process is a wonderful opportunity."
Fall Overhaul service projects included clean-ups at the Cottonwood and Lehi wetlands, cleaning standpipes, making garden boxes for seniors, working in the Community Garden, and cleaning up a piece of brownfield-turned-greenfield land across from the Salt River Landfill called the Environmental Ediucation Garden, that will hopefully become a new garden and gathering place for the Community.
CDD-EPNR ambassadors and Youth Services staff helped with the greenfield project.
"Today we're working on creating a path and lining it with rocks, trimming trees and doing landscaping," said Tribal Brownfields Senior Environmental Specialist Lily Bermejo. "The vision is that one day, this is going to be a place where we can do some environmental outreach."
Limited-mobility projects were available for those who were unable to participate in the more physical service projects.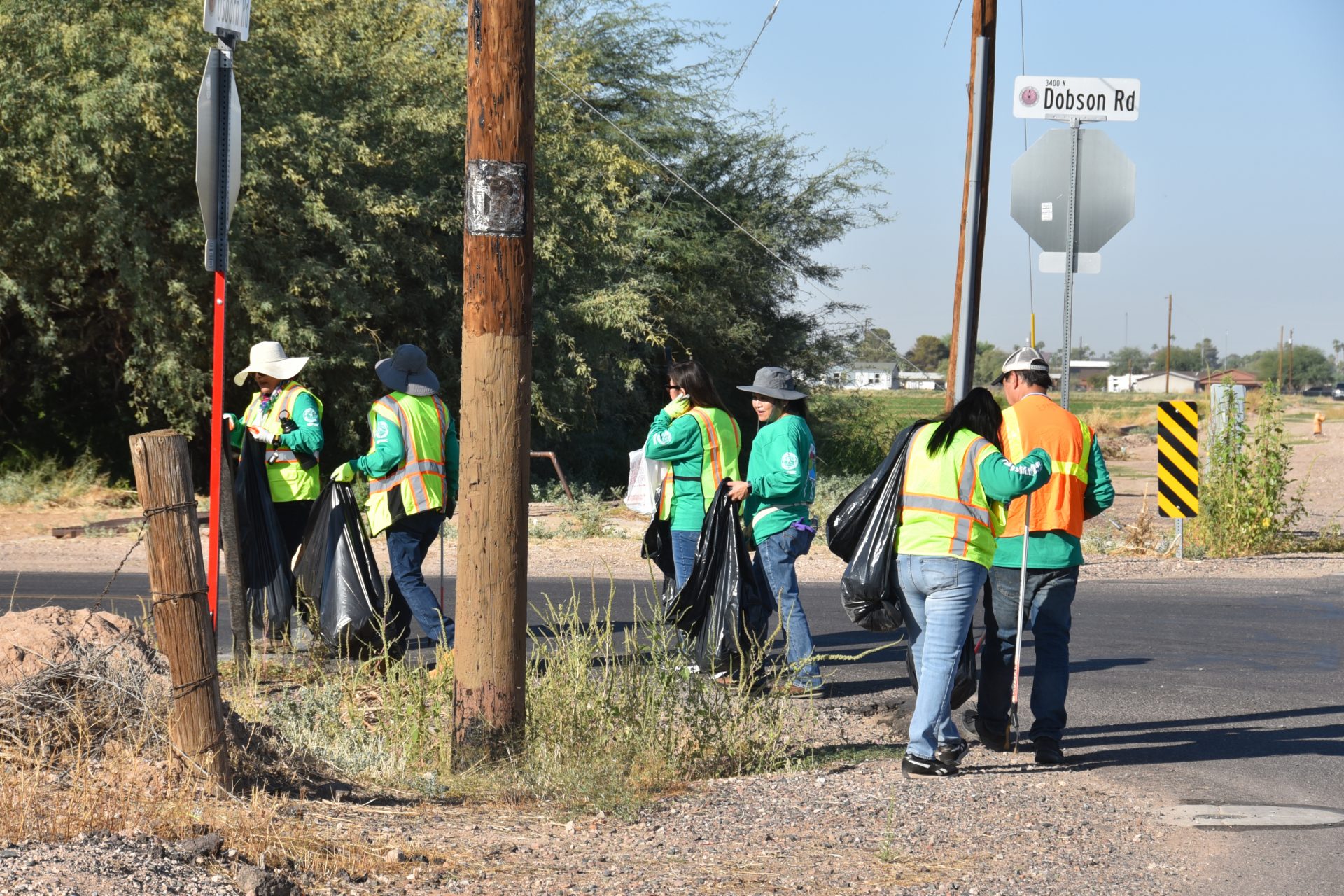 Household Hazardous Waste/Paper Shredding
On October 21, the Household Hazardous Waste/Paper Shredding event was held across the street at the Two Waters Complex north parking lot. Community members and employees had the opportunity to dispose of hazardous materials in a safe manner at a variety of stations that were set up.
A total of 7,552 lbs of household hazardous waste were prevented from entering the landfill, more than double the weight collected during the most recent Earth Day Household Hazardous Waste collection event.
Senior Environmental Engineer Jeremy Phillips said that Community members were excited and happy that the event was hosted again.
"We had a great turn out. We had over 40 cars dropping off papers for shedding," said Phillips.
Approximately 4,000 lbs of paper was shredded by the truck on-site.
Emergency response contractor Emergency Environmental Services donated two cubic yard boxes of pumpkins to give away, and emergency response contractor Environmental Response, Inc. donated a pallet of water to get volunteers through Fall Overhaul and the HHW/Shredding events. The Salt River Landfill also donated 30 cases of water.
Hazardous Waste Collected
2 fire extinguishers
36 waste tires
20 lbs propane cylinders
500 lbs e-waste
3,200 lbs latex paint
21 lbs fluorescent bulbs
8 lbs Li-ion batteries
3 lbs ni-cad batteries
75 lbs medical sharps
120 lbs non-DEA
930 lbs flammable liquids
360 lbs aerosols
1,900 lbs used oil
130 lbs used antifreeze
190 lbs pesticides
95 lbs corrosives