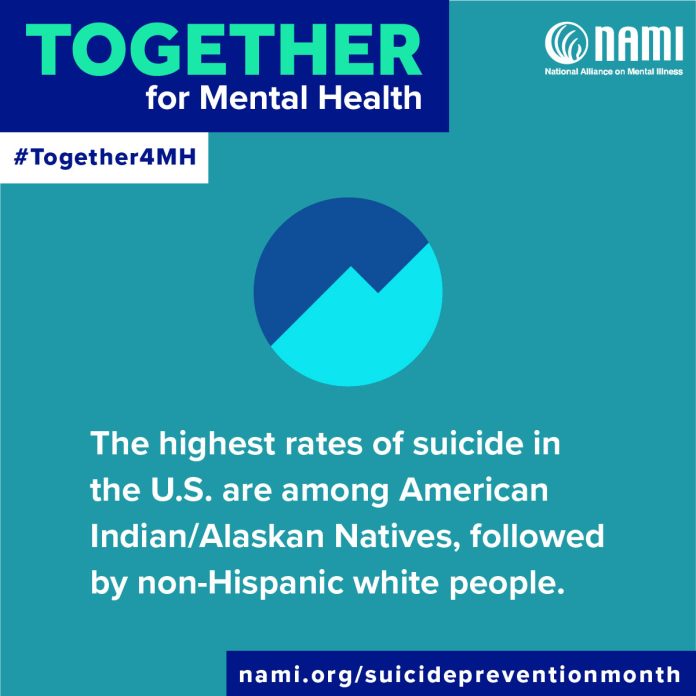 According to the U.S. Centers for Disease Control and Prevention (CDC), American Indians and Alaska Natives (AI/AN) are at higher risk of dying by suicide compared with other Americans. In 2019, non-Hispanic AI/AN people had a suicide rate 60% higher than that of the general population.
The Indian Health Service (IHS) says that complex, interrelated factors contribute to an increased suicide risk among AI/AN people and include mental health disorders, substance abuse, intergenerational trauma and community-wide issues.
Having a strong tribal/spiritual bond and a sense of belonging to one's culture, along with the opportunity to discuss problems with family or friends and feeling connected to family, can promote positive emotional health and help protect AI/AN youth and young adults from suicidal behavior.
With September being Suicide Prevention Awareness Month, the Salt River Pima-Maricopa Indian Community's DHHS Prevention & Intervention Services is taking the opportunity to address these issues by holding suicide prevention outreach and awareness webinars and workshops throughout the month.
On September 1, staff began the month with outreach at the Round House Café, where Community health educator Melanie Nosie, MSW, LMSW, handed out suicide awareness information to the Community and employees during breakfast and lunch. People were then encouraged to raise awareness of suicide by sending a selfie wearing yellow to receive an incentive.
On September 13, a webinar was held called "Know the Signs," which focused on learning how to recognize calls for help.
"We put out as much information as we can to the Community with regard to suicide," said Nosie. "This year we are bringing back a two-day in-person training open to Community members and employees called ASIST, which stands for Applied Suicide Intervention Skills Training."
The interactive suicide first-aid workshop on September 21 and 22 will be held at the Two Waters Building A, rooms 109A and 109B (River), from 8:30 a.m. to 4:30 p.m. The workshop is open to anyone 16 or older who would like to feel comfortable, confident and competent in helping to prevent suicide.
In this workshop, attendees will learn how to reach out and offer support to a person who is at risk of suicide.
The workshop is limited to 25 participants; to register, contact Nosie at (480) 362-6678 or Melanie.Nosie@srpmic-nsn.gov.
How to help someone who is suicidal:
Ask direct questions
Listen to their answers
Do a safety check
Don't keep it a secret
Ensure they get help
How to get emergency help:
Call 911 in an emergency
Call 988 for the National Suicide Prevention Line
Call (480) 850-9230 for the Salt River Crisis Line
Call (480) 362-5707 for Salt River Behavioral Health