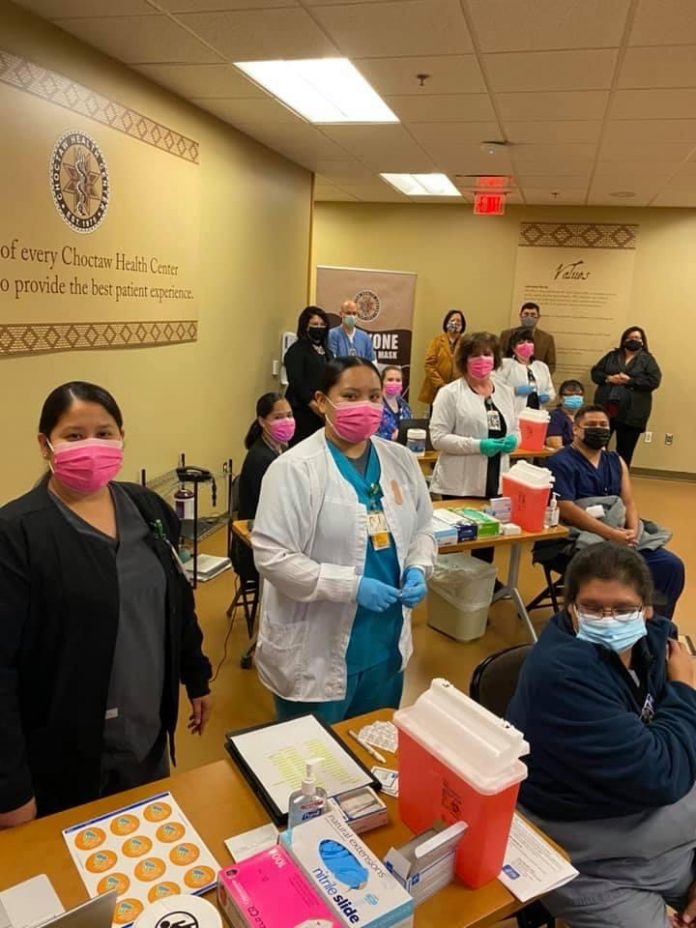 The U.S. Centers for Disease Control and Prevention (CDC) released a study on December 17 which shows that American Indians (AI) and Alaska Natives (AN) have a death rate from COVID-19 at 1.8 times greater than non-Hispanic whites, based on data from 14 participating states.
According to the study, there is excess risk, especially for AI/AN males and persons ages 20 to 49 years.
In its November 2020 COVID-19 Pandemic Vaccine Plan, the Indian Health Service (IHS) stated that AI/AN populations across the country have infection rates more than 3.5 times higher than non-Hispanic whites and are more than four times more likely to be hospitalized as a result of COVID-19.
IHS is currently implementing the plan across the country, allocating the Pfizer vaccine to tribal communities either through state or federal channels.
"By offering Indian health providers a choice in how COVID-19 vaccines are delivered, the Trump Administration will ensure that vaccines are effectively delivered throughout Indian Country in ways that make sense for tribal communities," said Health and Human Services Secretary Alex Azar. "Tribal nations have been a key part of our planning for the vaccine rollout so that American Indians and Alaska Natives will have equitable access to safe and effective COVID-19 vaccines as soon as they become available."
Here's how a few tribes are handling the vaccine distribution:
Alaska Natives: The federal government has allocated 11,700 doses of the vaccine to the Alaska Tribal Health System for distribution through Alaska Native IHS facilities.
Montana Tribes: According to the Great Falls Tribune, tribal communities in Montana such as the Confederated Salish and Kootenai Tribes, Blackfeet Nation and Little Shell Tribe have elected to receive their vaccine allocations through the state, while all five of the state's urban Indian health centers and IHS sites went the federal route through IHS.
The Sault Ste. Marie Tribe of Chippewa Indians: The tribe began its vaccination program at 9:30 a.m. on Wednesday, December 16, by administering the first vaccine injection to Sault Tribe Health Director Leo Chugunov, M.D. The first shipment of 185 doses, which arrived on December 15 in a U.S. Coast Guard helicopter, is intended for Health Division employees before being administered to critical personnel of the Sault Tribe (non-Health Division) and then Sault Tribe elders.
The Mississippi Band of Choctaw Indians: According to a Facebook post on December 16, the Choctaw Health Center (CHS) received its allotment of the first shipment of the Pfizer vaccine from IHS, making the CHS the first hospital in Neshoba County to get the COVID-19 vaccine. The first three doses were administered the next day, and the first 100 doses were given over the course of a couple days to frontline healthcare workers.
The Navajo Nation: As the vaccine becomes available in the coming weeks, COVID-19 cases are still rising across Indian Country. On December 16, the Navajo Department of Health reported 160 new positive cases and four deaths. The total number of deaths in Navajo Nation as of the morning of December 17 was 731, with 10,779 recoveries.
Navajo Nation President Jonathan Nez said in a statement, "Officials with the Chinle Comprehensive Health Care Facility indicated on Tuesday (December 15) that they are beginning to see a flattening of the curve in their region. This is very good news, but we have to keep our guard up and keep fighting. Stay home as much as possible, wear a mask, practice social distancing, avoid gatherings and crowds, and wash your hands often." The vaccine was shipped to the Gallup, Chinle and Tuba City healthcare facilities at the beginning of the week of December 14. Nez said that by December 20, all 3,900 doses were administered to nursing home staff, first responders and elders, with the rest of the population receiving initial doses by late spring 2021.