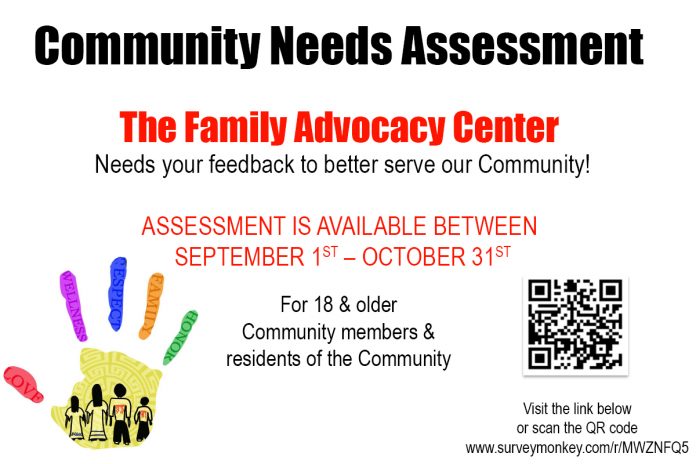 For those who may not know, the Family Advocacy Center in the Salt River Pima-Maricopa Indian Community helps Community families facing domestic violence, child abuse and sexual assault by providing resources to help them heal and help authorities prosecute the offenders.
The Family Advocacy Center's goal is to be a one-stop shop where victims can get all the services they need in one place. The center works with a number of Community departments such as Behavioral Health Services, Social Services, the Tribal Prosecutor's Office, the Salt River Police Department and Legal Services.
Currently the Family Advocacy Center is asking Community members to provide feedback about its services through an online Community Needs Assessment survey. The survey will be available at www.surveymonkey.com/r/MWZNFQ5 through Sunday, October 31. This is a voluntary and confidential survey; any questions, comments and suggestions are strongly encouraged and will remain anonymous. The survey questions relate to the type and quality of services that Community members have received during their experiences with the Family Advocacy Center, and the feedback will help the center's staff get a better idea of what is working well and what improvements might be made.
In 2016, the Family Advocacy Center received a grant that provided a victim advocate and therapy.
"That is so important, because the Family Advocacy Center is the hub for investigations for crimes against children as well as individuals who have been sexually assaulted or in an aggravated domestic violence situation," said Family Advocacy Director Carol Colmenero. "Many times, when a victim comes in they will recant their story or don't feel safe enough to tell it. They may be struggling with depression or other underlying issues that we're unaware of. Having a victim advocate as well as an in-house trauma therapist is a one-stop-shop; they can follow the case and client throughout the duration of the entire investigation to provide that support."
After receiving the grant, the Family Advocacy Center applied for other grants, including a grant from the Office for Victims of Crime to produce this online Community Needs Assessment survey.
"There are questions geared toward those who have received resources at the Family Advocacy Center," said Colmenero, "such as what services did they receive and what their experience was like. What we are trying to find out is if the services provided by the Family Advocacy Center are working. If they are not working, what suggestions does the Community have, and what needs does the Community have for us to modify our services to ensure that we are meeting those needs?"
By mid-September, the Family Advocacy Center had received 56 responses after posting the survey to the SRPMIC Facebook and Instagram pages. One need they identified immediately housing for victims of sexual assault in an aggravated domestic violence situation.
"[W]hen we receive a referral, the victims, Community members or not, might not own that home [in which the domestic violence is taking place]. It might be the perpetrator's home or their family's home," said Colmenero. "Victims become displaced and may become homeless. In the Community Needs Assessment, we are asking questions about the housing need. It's really exciting because I think this [survey] will give us an opportunity to [identify] what we are doing well and areas we need to work on."
The Office for Victims of Crime grant will also help the Family Advocacy Center with analyzing the data. They will work with a tribal technical assistance program to help gather the results, interpret the data and eventually share the results with their partners and Council.
Colmenero explained that during the COVID-19 pandemic, the Family Advocacy Center saw a rise in sexual assault cases as well as aggravated domestic violence. She also explained that they receive a number of referrals on child sexual abuse, but most of the time it's a late disclosure, which makes it challenging because they would have to try and gather the facts and timelines of events that happened years ago.
"Sometimes we have received late disclosures from older women and men who were abused as children but want to heal. So they will come to us, even though we can't do anything [to prosecute the perpetrators] due to the time frame and the statute of limitations. We still definitely provide services and support to them. They would come in and talk to a detective; it's a part of their healing process," said Colmenero.
Part of the Family Advocacy Center's efforts involves getting the word out about the services offered. On Wednesday, October 6, the center is hosted a drive-thru event called Start by Believing to help promote awareness on ending the cycle of silence and transforming the way we respond to sexual assault.
For more information on the Start by Believing campaign, visit www.startbybelieving.org/home/.
Again, if you have received services through the Family Advocacy Center, please complete the online survey. It is accessible at www.surveymonkey.com/r/MWZNFQ5 through October 31, and all responses will be anonymous. 
If you need support, please call the SRPMIC Crisis Line at (480) 850-9230 or the 24-hour hotline at (855) 331-6432. For questions about the Family Advocacy Center, call (480) 362-5425.