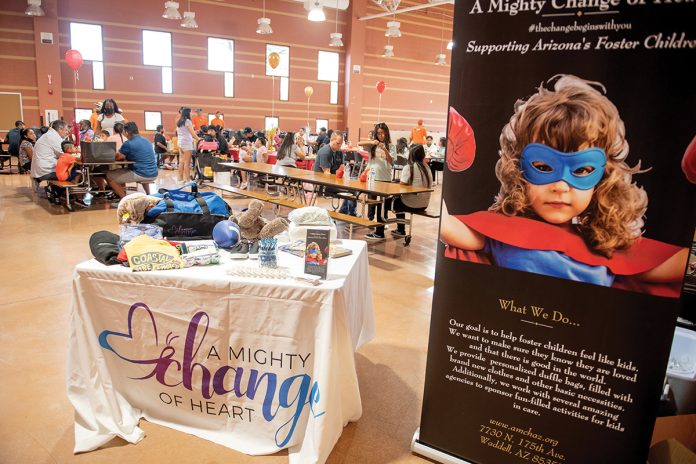 Up to 80 Salt River Pima-Maricopa Indian Community member children who are currently in the Foster and Kinship Program were treated to an early Christmas thanks to the kindness of TEPCON Construction Inc., a Tempe-based general contractor, and A Mighty Change of Heart. Christmas in August was held at the Accelerated Learning Academy cafeteria on Saturday, August 27.
The children and their families were treated to a cookout meal of hot dogs, hamburgers and sides, including chips donated by Frito-Lay. They enjoyed games and music, and each child received a personalized gift bag.
This event came together in under two months and was spearheaded by TEPCON. The company had been seeking organizations to help, and after a Christmas in July event, one of their employees who is a foster father suggested finding a foster care program to sponsor. This led Tom Pritscher, CEO and founder of TEPCON, to seek out an organization through A Mighty Change of Heart, an organization that supports foster and kinship children in Arizona. A Mighty Change of Heart previously sponsored the Community's Foster and Kinship Program's 2021 Christmas event.
"Every year I give everyone in my company $100 around Thanksgiving, and they have to go into their community and find a person that they can have a positive impact on," Pritscher said. "At our holiday gathering, they share how they used that money to help someone in need. It's pretty humbling, and that's originally how we got started. [But then] I [realized] that the humility of that wears off in a couple of days." So the TEPCON employees then decided to make bags for the homeless containing toothpaste and a toothbrush, socks, a first-aid kit, wipes, sunscreen and food. To date they have distributed about 10,000 bags.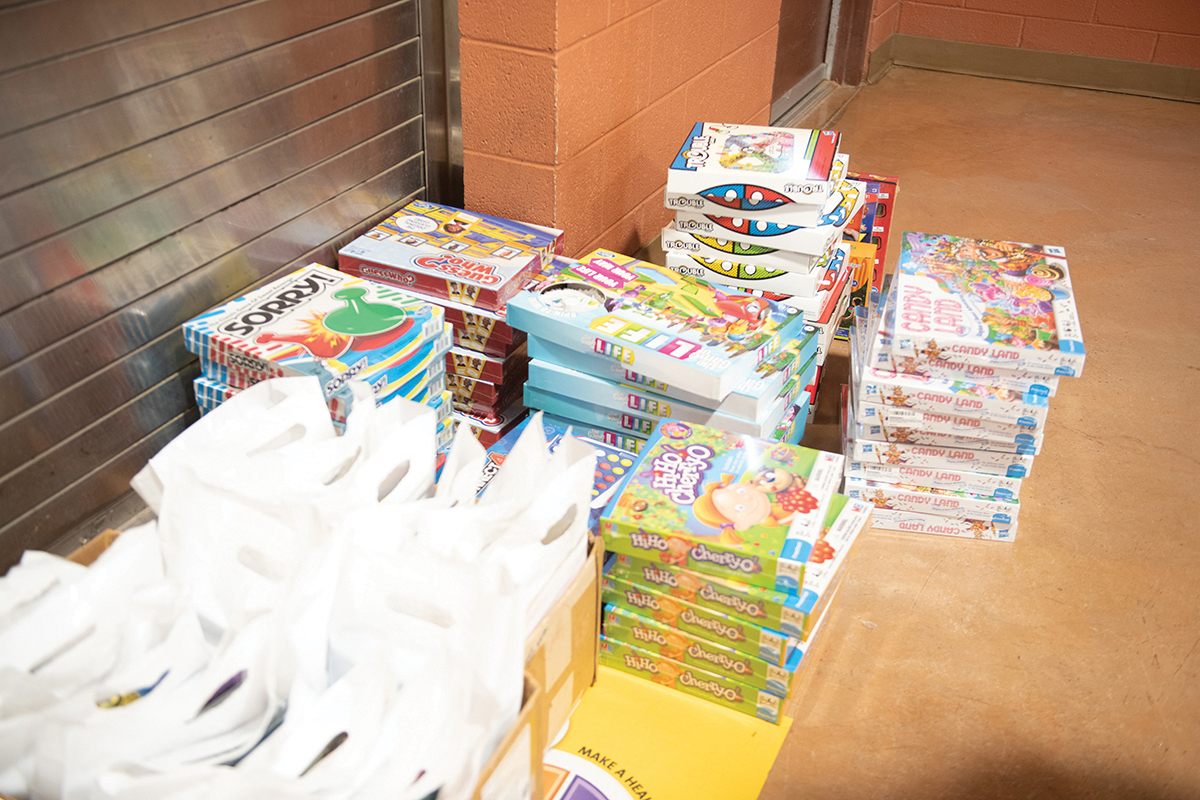 Pritscher said that it's easy for people to get caught up in their own day-to-day outlook instead of thinking about others. "Maybe one of my guys is having a bad day, and he is at the traffic light and he hands a bag off to someone in need and makes their day. Well it's contagious; touching another soul and giving is the most powerful thing a person can do," Pritscher said.
TEPCON continues its charitable efforts year round. The construction company also is donating a number of items to the Navajo Nation and hoping to take its charity efforts to another level in the future.
As families enjoyed their afternoon of fun, games and food, foster parent and Salt River firefighter Lonnie Redhair said that the Foster and Kinship Program always holds great events.
"We've been to a lot of these events. The kids enjoy it, and they are able to see their siblings who are placed with different families," said Redhair.
Redhair felt it was important to help Native children. He, his wife and son became a foster family to welcome Community children into their home. They adopted one of the foster children they hosted.
"Working out here, I run into a lot of these kids," said Redhair on the importance of fostering. "As a Native myself, we have a better perspective and understanding of what these kids are going through, where they are coming from and what a lot of their needs are."
For more information on the Foster and Kinship Program or becoming a foster or kinship family, please call Norma Hernandez at (480) 362-2728 or Norma.Hernandez@srpmic-nsn.gov.