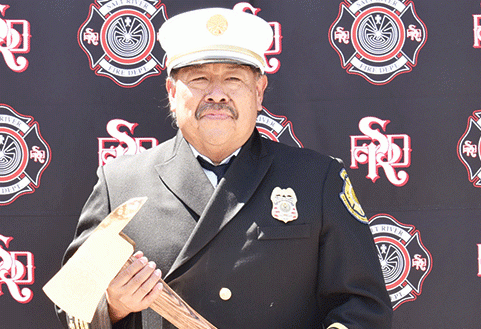 On May 10, Salt River Fire Department (SRFD) Deputy Chief Kevin Makil took his last call, as the SRFD staff gathered around and turned up their radios in unison at Fire Station No. 291.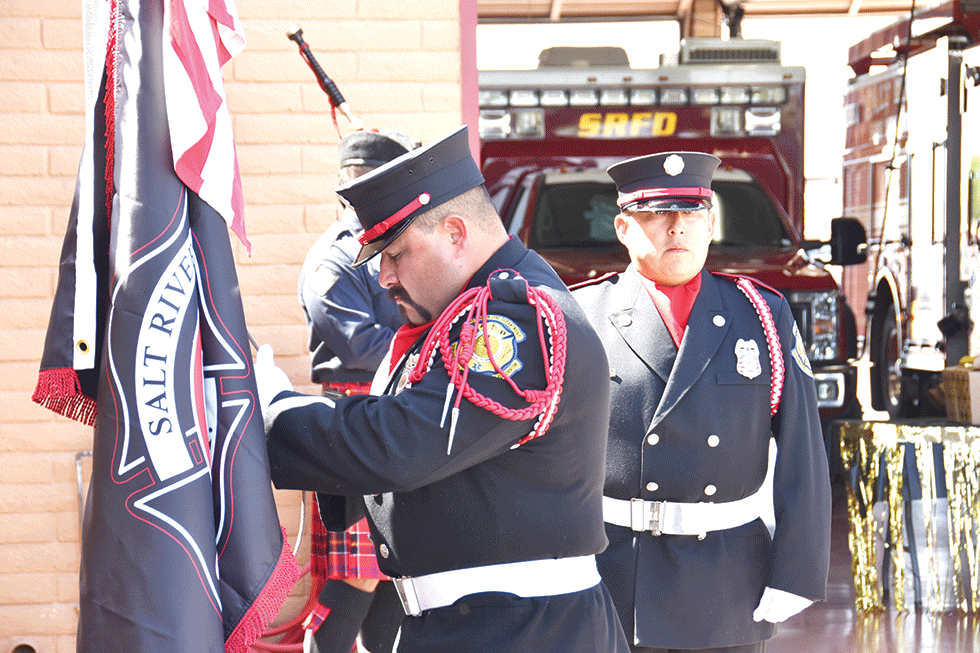 After that came the flag and ax ceremony to mark Makil's retirement. SRFD Fire Chief Daryl Dash began the ceremony by sharing the story about how he met Makil in 1986 on a full day of equipment training and medical scenarios. "Since that time we've been working together in the department, sharing triumphs and tragedies, and witnessing the growth of the SRFD in the Community," said Dash.
Salt River Pima-Maricopa Indian Community President Martin Harvier then presented a retirement ax to Makil for his 37 years of service to the Community.
Holding back his tears, Makil addressed all in attendance: "All of those years have been really good to me and my family. I cherish all those years that I have been here. [Now] I'm just going to take life easy and do what I want to do."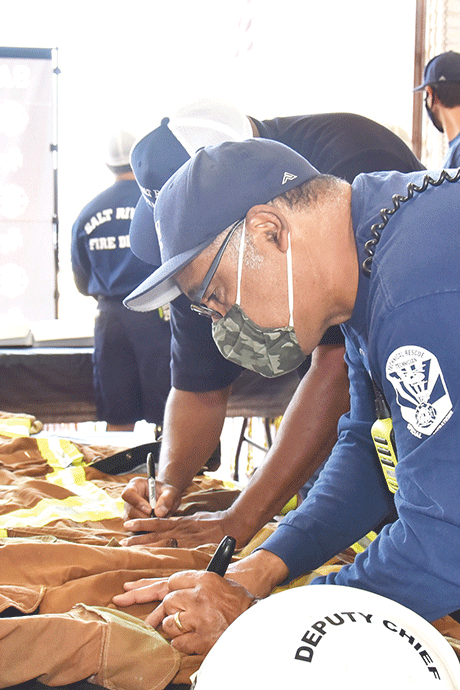 The SRFD Honor Guard then came out of the bay playing bagpipes and proceeded to the flagpole to present a flag to Makil. Then, SRPMIC Vice-President Ricardo Leonard came up to the podium and presented Makil with special gifts from the hearts of the SRPMIC Administration.
"On this date, May 10, [2021], Deputy Chief Makil has served well, providing not only service to the Community, but also through his words, support, encouragement and [most of all] his professionalism," said Dash. "Today we thank you for all you have accomplished for the Community and the SRFD."
Makil started at the Salt River Fire Department in 1984 as a senior firefighter and was promoted to captain in 1989, battalion chief in 2000 and deputy chief in 2012.