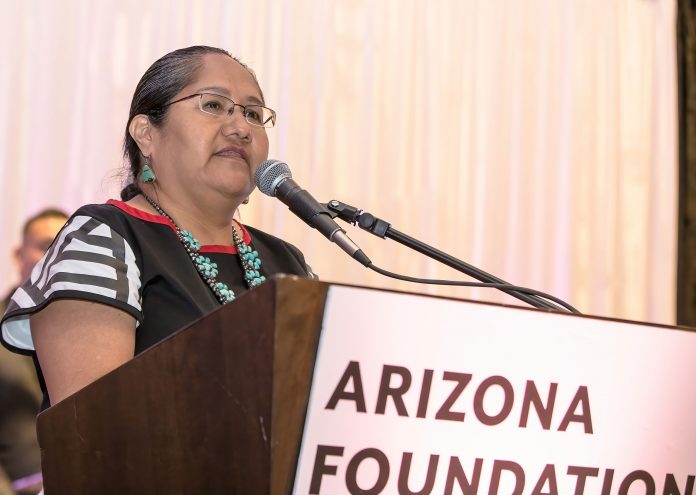 On March 17, the Arizona Foundation for Women (AFW) held its annual fundraising event at the Chateau Luxe in Phoenix. The event, called the Silver Soirée, honored national and local women changemakers. This year, musical icon Sheila E. received the Sandra Day O'Connor Lifetime Achievement Award in recognition of her contributions through her music, advocacy and philanthropy. The group also honored Dr. Candace Lew with the Marilyn R. Seymann award, and SRPMIC resident and spouse to the late Royce Manuel, Debbie Nez-Manuel, received the Voice of Women award.
In addition to recognizing the honorees, the Silver Soirée raised funds in support of programs and services in women's leadership development, community education and financial empowerment.
"AFW is immensely proud to recognize these trailblazing women for their dedication to communities far and wide," said Mesha Davis, CEO of Arizona Foundation for Women. "Sheila E., Debbie and Candace are exemplary individuals who have dedicated their lives to ensuring the safety, health and economic empowerment of all women."
The AFW said Nez-Manuel's community leadership and activism led to her recognition, particularly her understanding of the complexities surrounding the victimization of Native American women and girls.
Nez-Manuel was instrumental in the unanimous passage in the Arizona Senate and House of HB 2570, the legislation that established a 21-member Study Committee on Missing and Murdered Indigenous Women and Girls.
The Voice of Women award made Nez-Manuel think about the sacrifices that her family made while she was out serving in tribal communities, especially at the SRPMIC.
"I worked with victims of domestic violence and sexual assault through Human Services. There were many times I worked closely with the police department through crisis and referrals, and I responded to victims, going to their homes and checking on the victims of the situations and providing services," said Nez-Manuel. "Sometimes when women decided to leave relationships, we acted then and there, and that often meant that not going home right at 5 p.m. when everybody else was. You stayed until the work was done. Some of that work was very challenging in many ways for a young mom. So when I think about the sacrifice it takes for any responder to [answer] any of these types of calls, your family takes the brunt of that."