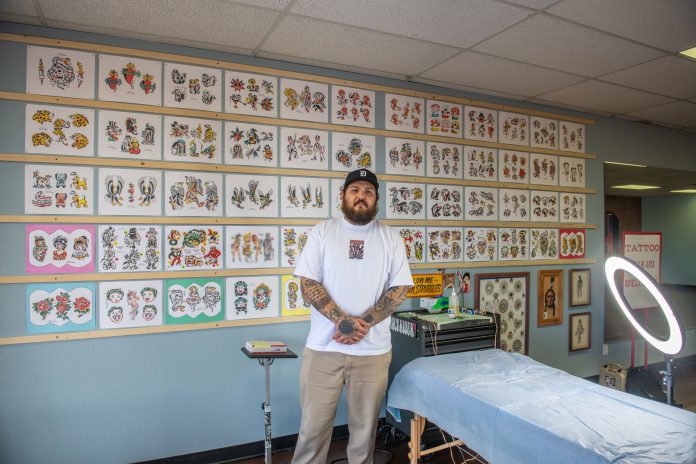 Salt River Pima-Maricopa Indian Community member Leonard Dallas III, who has had ambitions of breaking onto the Arizona tattoo scene, has opened a shop called Horne Lane Tattoo Co. It is located in a small strip mall on the corner of Horne Lane and McKellips Road in Mesa.
The hand-drawn lettering on the front window, "Horne Lane Tattoo," reflects Dallas' creative vibe. Inside, the shop is filled with sample tattoo designs that patrons can choose from. Or, if they prefer a tattoo whose meaning is a little more personal, they can provide an image for Dallas to work from.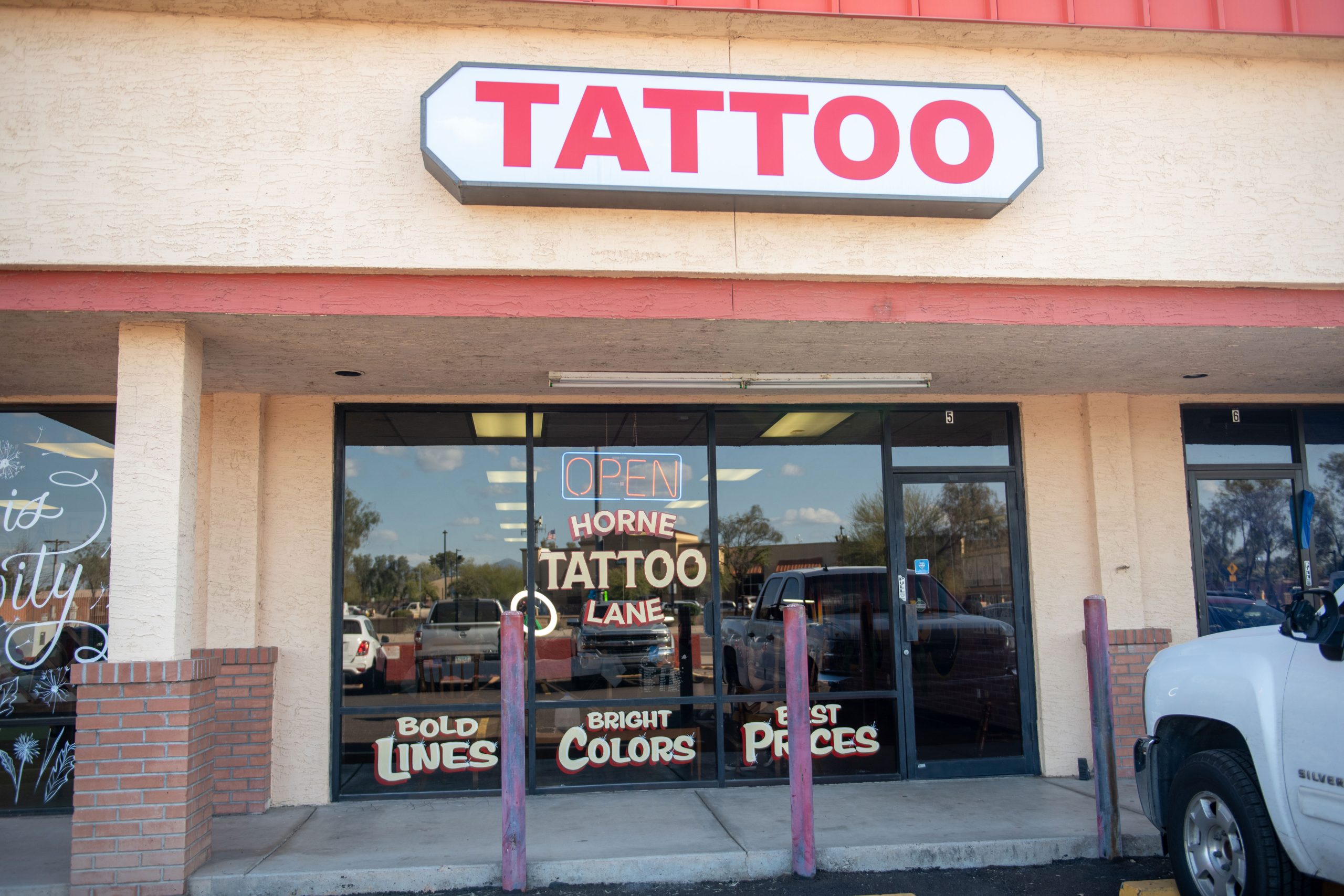 "I have been tattooing for around four years, but I have been getting tattooed since I was young," said Dallas. "It has always been something that I have wanted to do … I got into it when I was young, and then [I worked] on a professional level for four years."
As he worked at various tattoo shops and became familiar with the industry, Dallas said he reached a point in his career when he felt the time was right to open a shop of his own. "I thought it would be a cool thing to do, because I've never seen many shops in this area," said Dallas, who recently moved his family back to the Community.
He said being in the tattoo industry can be challenging for individuals who are not directly tied to one shop. Like a specific hair stylist or a barber, patrons want to judge your skills before "getting inked."
Dallas says that a stigma remains with tattoos. "Some people look at tattoos in such a negative way, but in a way it's a positive thing. I'm offering a business for people that want to look a certain way or express themselves in a way that is different," said Dallas.
Looking at himself as an example of that outward creativity, Dallas said he's always been the kind of individual to personalize his identity. Regardless of what others may perceive about tattoos, Dallas said he is happy about the path he's chosen in life.
For Dallas, the art of creating tattoos has been a way to establish a life for himself and his family by focusing on something that developed out of a series of life experiences. "I think it goes back to life, you know, like skateboarding … I got into skateboarding. Then I got into punk rock, and then I got into other things, and then I got into tattooing," said Dallas.
In his younger years, Dallas said, he would tag, leaving his mark on anything he could, knowing that it may be someplace where he shouldn't tag. As time went on, those artistic talents transferred over to tattoos. "I was tagging and everything, but … I changed my life. It's not something [I'm proud] to admit to. But you can turn it into a positive thing. Like what I do now, it's just like graffiti. I get to do it as a profession and people will pay for it," said Dallas.
Part of what Dallas learned along the way is that you have to love what you do and take the obstacles that come with reaching your goals.
"I feel like it is the key to success—you have to really love what you do, even if there are times when you have to push through the difficulties. If you do something long enough, [success] has to happen," said Dallas.
Individuals interested in getting a tattoo from Dallas and his crew of artists can call (480) 702-0713 or go to @hornelanetattoo on Instagram to book an appointment.